The Northern Beaches Council in Sydney has proposed that half of an 18-hole golf course in Warringah be converted for use as open public space and sports facilities.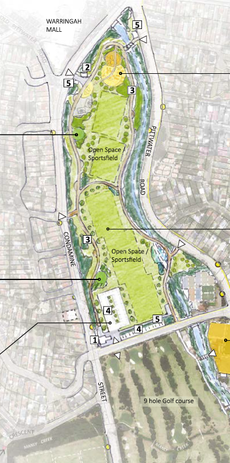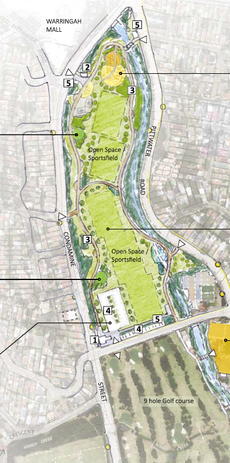 The draft of the Northern Beaches Sportsground Strategy, a planning document that looks at council policy on public open space and sports facilities in the council area over 15 years, is now on public exhibition after receiving council approval. It proposes to renew the Warringah Golf Club's lease for only half of its current site, reducing the course to nine holes from 18.
Northern Beaches Council administrator Dick Persson said, "council will, over the next five years, plan for the potential conversion of nine holes of Warringah golf course to a Centennial Park-style sporting area incorporating fields, playgrounds and passive open space."
According to a summary in the report, the Northern Beaches Council area is home to thirteen golf courses (seven of which are on council land), which cover 453 hectares patronized by more than 10,000 people.
By comparison, 122 sports fields covering 116.5 hectares serve 50,000 people across 17 sports. Participation at public golf courses has declined by 16 percent over the past ten years, while sports fields are overbooked by more than 800 hours per week. A shortfall of playing space is expected to increase from the equivalent of 24 sports fields to 41 sports fields by 2031.
The idea of converting the Warringah golf course, in part or entirely, was first proposed in 2016, when the Daily Telegraph reported a decline in participation rates at golf courses as other sports, including soccer and cricket, saw "huge spikes" of popularity. Of the golf courses in the Northern Beaches area that use council land, Warringah's lease was set to expire the soonest.
Persson said that only converting half of the course was "a balanced solution that provides more sports fields to address the shortage and ensures at a minimum that Warringah Golf Course remains as a nine-hole course. All alternatives to increase supply and improve capacity are to be explored and implemented where feasible, prior to proceeding with such a conversion."
A report by the Sydney Morning Herald in 2015 outlined a number of concurrent proposals to convert golf courses to public parkland or housing developments across Sydney, noting that declining participation rates and fast-rising land prices meant that some clubs were selling periphe­ral parts of their courses to developers. Strathfield Golf Club made $52.5 million by selling its clubhouse and practice fairway for a townhouse and apartment development in 2015. In 2016, City of Sydney lord mayor Clover Moore suggested halving the Moore Park golf course in central Sydney and turning over the freed-up space for public use as part of an expanded Centennial Park.
The conversion of public golf courses has emerged as a relatively achievable way of increasing the size of a city's park estate as the popularity of golf has declined, both in Australia and abroad. Writing in the American Landscape Architecture Magazine (November/December 2011), Peter Harnik and Ryan Donahue of The Trust for Public Land's Centre for City Park Excellence said that at one time golf courses were a financially responsible way of using public land. "The game of golf has never been an efficient use of space (hence the development of miniature golf), but in the past it could be argued that it was still a worthwhile public investment that subsidized a system's other parks through green fees."
"It is the triple combination of moribund rates of participation, high costs and sprawling land use that is putting the squeeze on urban golf courses."
Related topics