Call me Signal Box. Years ago I was little more than a burnt-out shell of blackened brick. No one took particular interest in me, and my former employment for the railways had long been rendered redundant by new electronic technologies. I had grown grim about the mouth, standing there, year in, year out, between the brown flow of the Yarra and the busy network of train lines leading into the hub of Flinders Street Station. But look! Today the young crowds come pacing eagerly down Northbank to gain entry through my newly opened doors. You can even hear my name announced on radio for workshop events and performances organised by the likes of SYN Radio, Xpress Media and Voiceworks. And the architects have done a proper job of me, with a mind to environmental concerns.
After a warm day, my heavy masonry carapace is cooled by the intake of air pulled through my lower perforated steel doors. A weather station mounted atop my roof notifies the machinery to move into action. I have my own solar panels and even a water tank. Upstairs where there was once nothing but open air I shine like a beacon. My clerestory of switchable glass accommodates back projections and, come evening, I transform into a magic lantern show that can be sighted up and down the south and north banks. I've also rather taken to my lime green doors opening in and out of multifunction workshops. Apart from these minor flourishes it's all no-nonsense pragmatics inside, which suits me just fine.
The important thing is that my interior now hums with youthful voices, and there is the promise of creative inks soon to be spilt on my resilient linoleum floor. Looking eastwards my heavy steel doors open onto a small paved plaza. I frame this modest public arena as an operative urban interior onto which activities can spill. Behind these doors half my lower floor can double as a black box ready for small theatre productions - that is, when the whiteboard is not being employed to instruct youngsters, and scuffed shoes are not shuffling under chairs. I'm still pretty much a basic brick box, but every available corner of me has been considered and planned for maximum use and flexibility. Today I can stand here proudly, a bright signal flashing to inaugurate a vibrant youth precinct.
Credits
Designer

City of Melbourne Architects
Town Hall, Melbourne, Vic, Australia
Project Team

Rob Adams, Dan Costa, Chelsea Bortz, Michael Gibson, Paul Di Nello, Jeff Nelson, Ian Dryden
Consultants

Project partner The Erdi Group, City of Melbourne, Myer Foundation, Regional and Local Community Infrastructure Program, Department of Planning a Community Development, Heritage Victoria

Site Details

Location 1a Flinders Walk, Melbourne, Vic, Australia

Project Details

Status Built
Category Interiors
Type Studios

Client

Client name Signal Youth Arts Studio

Source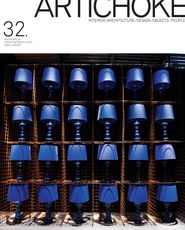 Issue
Artichoke, September 2010
Related topics