This is a story of how a visionary client saw potential where others saw obstacles. Pat and Sonia Gaffney – parents of three children, now adults – bought the vacant block next door to their home for a low price twenty years ago. A main sewer line diagonally bisects the site, and Pat laid out a formal garden for entertaining and playing.
As their children grew older and the need for a large garden diminished, Pat began investigating ways to build a new home around the major constraint of the underground pipe. He approached Giles Hohnen – architect, artist and rammed earth pioneer – who was working on a renovation across the street. Together they produced a workable design and Pat built a model. Originally trained as a carpenter, he had segued first into furniture design and making before establishing a pizza oven construction business. Pat was keen to build the house himself but wasn't ready to begin, so the project was put on hold for several years.
After selling his business, Pat revisited the architecture practice, which had by that time been rebranded as EHDO following Giles' retirement. Designer Dimitri Kapetas – who worked on the original scheme with Giles – refined the design and altered the plan to accommodate the family's changing needs.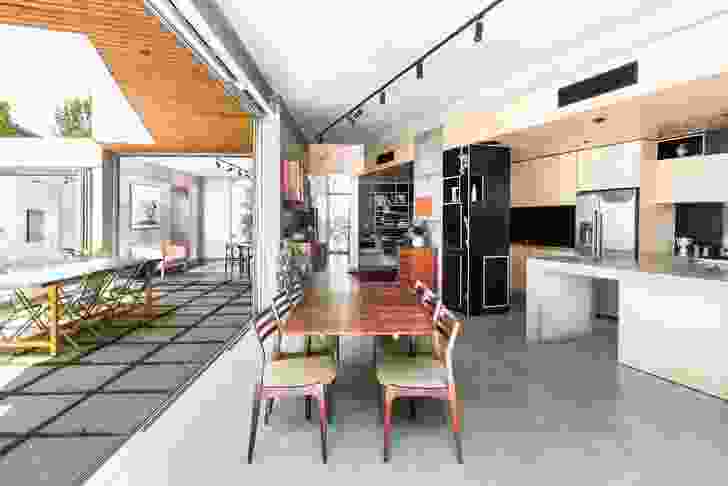 The fact that Pat and Sonia owned the house next door helped to smooth the path through planning approval, and Pat commenced work on what would become a five-year build. During that time, if visitors knocked on the family's front door looking for him, they were told he was "tinkering" on the building site next door.
That "tinkering" resulted in a two-storey, three-bedroom, site-poured, concrete-framed house. It has the unusual quality of being able to open up to allow a bobcat to drive through it. Pat says the sewer pipe was relined and recapped just as he commenced building, so he's confident the bobcat won't be necessary for at least one hundred years.
Working around the sewer line produced an unexpected box of tricks. Two separate wings are pushed to the side boundaries to create the central thoroughfare – a lightweight junction between the heavy concrete wings – which can be opened up to the street and rear garden. On the south-west, the front door and entry hall are angled to capture the "Fremantle Doctor" sea breeze to cool down the house on summer afternoons. Each ground-floor room enjoys access to the garden spaces, including a pond, several courtyards and a generous backyard that boasts an outdoor kitchen and, of course, a pizza oven.
The unexpected delight lies in the way the diagonal walls and triangular-shaped pinch points delineate public and private zones, and accentuate those changes in status. The house also appears much larger than its footprint of 257 square metres on a 369-square-metre site, thanks to the oblique angles of the walls. They shift the occupants' perceptions of the rectangular site and frame views from the street to the rear and vice versa.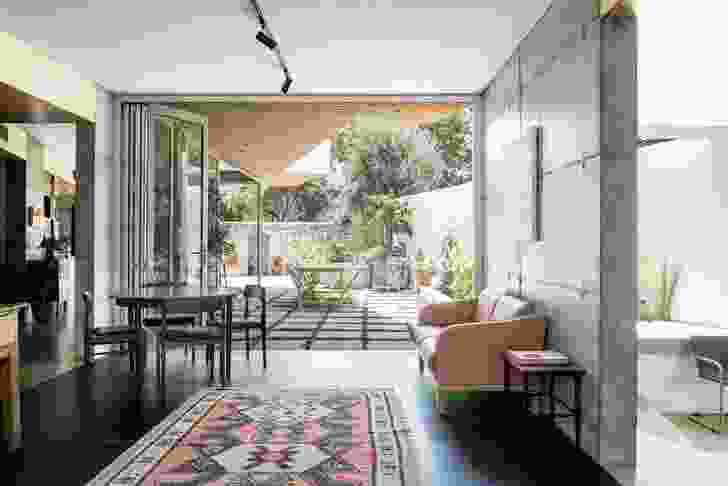 In contrast to the ground floor, the upper level is aligned perpendicular to the boundaries. It also offers moments of unexpected joy, such as the north-facing screened deck outside the main bedroom and the rhythm of enclosed bedrooms interspersed with open living areas. High-level windows frame views across rooftops and through the tree canopy, continuing the connections to nature.
Meticulous attention to detail and crafts manship are evident throughout: it's clear that this house has been lovingly considered and handmade over a long period. There are many highlights, such as joinery that is both functional and aesthetic in the kitchen, and the careful overlay of plywood lining, which softens the beautifully honed concrete walls, floors and ceilings.
Getting those details right required a combi nation of discussions onsite and careful documentation in the studio. "It was a really fun process for us , " Dimitri recalls. "Because Pat was building it himself, he wasn't worried about variations, but it still required a lot of planning from our side to make sure he didn't get to any sticky points. It became more like a friend's project, because we hung out a lot. He'd say: 'Come and have a beer and let's work out how to detail this and that.'"
When the family moved in, they transplanted their thirty-year history from next door and maintained longstanding connections to neighbours. The house is furnished with furniture collected from near and far, and artworks by friends and local artists, including Giles Hohnen.
The project succinctly demonstrates that significant site constraints can be exploited as a catalyst for imaginative architecture, resulting in a far more interesting and nuanced outcome than a regular block might have elicited. "Working with the sewer line was a help for us," Dimitri says. "When you have these constraints, it's helpful because the 'What ifs?' aren't there. It's just a case of: 'How can I make the best of this scenario?'"
Products and materials
External walls

Frencham Australian cypress cladding; R9 insulated wall panel; Danpalon Microcell panels; off-form concrete
Internal walls

Plywood; off-form concrete; plasterboard
Windows

Reva Glass double-glazed anodized aluminium windows
Doors

Custom frameless zinc and ply pivot door by builder; Brown Brothers Furniture Russian birch press-laminated internal doors
Flooring

Big River Formply; concrete from Milan Concrete, honed to salt-and-pepper finish by builder
Lighting

Track lighting from Lightcube
Kitchen

Polished concrete benchtop and zinc benchtop by the builder; Brown Bros Furniture formply and birch ply joinery; Bertazzoni double oven and gas cooktop; Teknobili tapware from Reece; Zip boiling/filtered water tap
Bathroom

Decina bath; Phoenix tapware; BGC compressed fibre cement shower recess
Heating and cooling

Radiant Floor Heating under-floor heating; ducted airconditioning from ACSIS Airconditioning Warehouse
Credits
Designer

EHDO
WA, Australia
Project Team

Dimitri Kapetas, Giles Hohnen
Consultants

Builder Pat Gaffney
Landscaping EHDO and Pat Gaffney

Site Details

Site type Suburban
Site area 369 m2
Building area 257 m2

Project Details

Status Built
Completion date 2018
Design, documentation 36 months
Construction 60 months
Category Residential
Type New houses

Source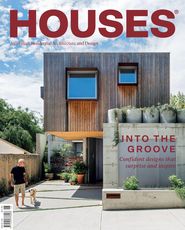 Issue
Houses, December 2018