Melbourne architecture academic and musician Simona Castricum is not a fan of "starchitects" – architects who are elevated to the status of rock star. However, she is trying to become a rock star – albeit through her music, as she explained at the Queer Some Space symposium, held at the 2017 MPavilion designed by Rem Koolhaas and David Gianotten of OMA on 27 January.
The multi-talented Castricum has shared stages with Melbourne bands No Zu and Cut Copy, worked with ARM Architecture and Tom Kovac and is about to complete a PhD in architecture at the University of Melbourne.
It's an impressive, if seemingly incongruous, list of achievements. But she says that her music and performances are very much related to how she understands architecture.
"What I want to achieve is to find a space for empathy in architecture, and my music practice and my performance practice is a lot about empathy and narratives of lived experience," she said.
"If music is an articulation of emotion, the body and of identity, then architecture is more about how I bring those things into practice, community or buildings through process and design thinking."
It is this focus on empathy that has driven her engagement with architecture, with her research examining how gender nonconforming, transgender and queer people can exist in architectural space and professional design practices.
"My role in architecture has become one of protest, activism, interruption and critique," Castricum said at the symposium, where she gave the keynote address. "My lived experience of space is spent as a constant contradiction of escaping violence for being visibly trans-feminine, yet fighting for visibility in a system that is not only run by, but also preferences sexual and gender normativity; as well as whiteness and masculinity."
This contradiction, this failure of public space and architecture to cater to gender nonconforming and queer people ­– something which she has felt herself so keenly – is what Castricum is critiquing and protesting.
Queering architecture
The term often used by Castricum – along with a growing group of architects, academics and advocates – to describe this process of dismantling is "queering architecture."
The Queer Some Space symposium, organized by Monash Art, Design and Architecture's XYX Lab and The Lifted Brow, was the latest in a series of talks and exhibitions held in the past couple of years in Australia that have examined how gender and sexuality intersect with architecture and exploring what the concept of "queering architecture" is.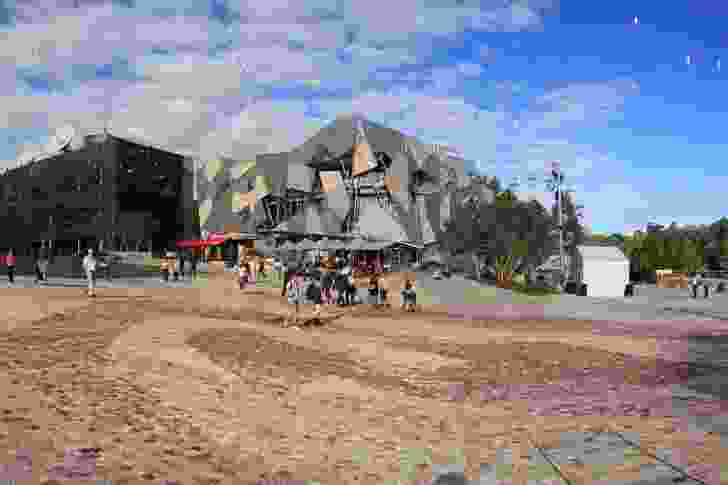 One of the earliest instances of public debate around this issues was a panel discussion titled "Queering Architecture?" held at the National Gallery of Victoria in March 2017, during Melbourne Design Week, which featured Castricum and was moderated by Naomi Stead.
The question mark in the title was quite apt, it seemed, for the concept of queering architecture is multi-faceted and somewhat hard to pin down.
Is queering architecture about making architectural workplaces more welcoming for LGBTIQA people? Is it about designing buildings for queer people? Is it about designing buildings that themselves are non-conforming or queer; or is it about meaningfully involving queer people in architectural processes?
One thing Castricum is keen to make clear is that it is about more than the way buildings and cities look. "Queering architecture is about prioritizing these discussions, it's about changing architectural processes and bringing those stakeholders in to really change the way we think about space," she said.
"Queering architecture isn't about materiality and it's not about symbolism…they're third, fourth and fifth considerations, because there are some really critical issues around inclusivity that need to be sorted out first."
Some of the more visible instances of architecture failing gender nonconforming people are found in spaces where identity is contested, such as in gendered toilets or at airport security checkpoints, which Castricum says can be "seriously scary spaces" for transgender and non-binary people.
There are also more widespread and insidious example of buildings and public spaces designed in a way that ignores the needs of queer people or which tacitly upholds gender-normative and heteronormative values.
"In Federation Square I'm profiled as I walk through, because this space is essentially a very heteronormative space," said Castricum. "When a gender nonconforming person walks through that space they're so visible and so different, it gets a reaction – sometimes that reaction is violence, sometimes it's ridicule."
Part of the problem, according to Castricum, is the "neoliberal corporate business model" which dictates the way in which architecture is produced, who it is produced for and to what end. And the critical factor within that paradigm is the primacy of clients interested first in the bottom line.
"If client values don't include queer people, then queer people are going to be left to their own devices in that space," she said.
What is good queer architecture?
Castricum is cautiously optimistic about the prospect of Melbourne's Pride Centre, to be designed by Grant Amon Architects and Brearley Architects and Urbanists, provided that people who have been traditionally excluded from pride are included in the centre. Beyond that, however, she has yet to see a space or architectural process that truly embraces queer people in Melbourne or Australia.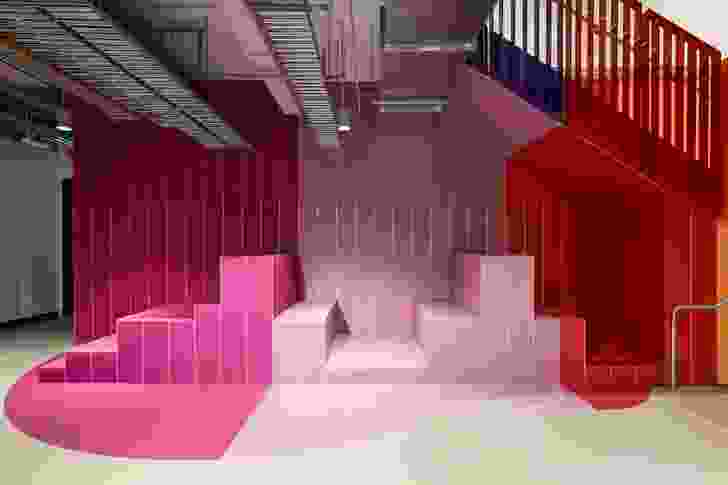 The introduction of gender neutral toilets in the recently completed New Academic Street at RMIT, designed by a team of architects led by Lyons Architecture, has been touted as an example of successful queer architecture.
But Castricum disagrees and says good queer design is more than gender neutral toilets.
"Just putting in a gender-neutral bathroom on the mezzanine floor of a university building doesn't necessarily make that space safe for transgender and non-binary people – what it does is create a third space," she said. "Best practice is doing away with creating contested gendered spaces all together."
"When I walked around that space – there was kind of a chill space – It didn't talk to any sense of queer safety; it was so generic and reduced down so much that it seemed like it didn't have any sense of identity – I didn't know who it was for," she said.
While presenting her work at another university in 2016, as part of the 13th international Architectural Humanities Research association conference Architecture and Feminisms, Castricum did see an example of a building at least doing gender-neutral toilets the right way. The conference was held at the Tham and Videgård Arkitekter-designed School of Architecture at the Royal Institute of Technology in Sweden where the toilets were just rooms with cubicles, with no gender-related signage.
"I didn't feel that sense of being profiled or ask 'do I belong here?'" she said. "Of course I belonged there, because I just wanted to use it as a facility."
Normalized but not normative
Despite what she sees as the scarcity of successful, safe queer spaces in Australia, Castricum believes that architecture has the ability to normalize the existence of gender nonconforming and queer people within the community while, importantly, not requiring queer people to be normative.
"I shouldn't have to change my appearance to look like a cis person to be able to walk through here [Federation Square] without being beaten up," she said. "I should be able to walk through here as myself."
And one way architecture can begin to address the needs and desires of queer and gender nonconforming people, Simona says, is for architects to fight for it.
"Architecture needs to get back to some activist roots," she said. "Rather than being so preoccupied with client driven stuff, I think it needs to understand that it has a really important role in changing community. "And it can change community by inviting minorities or unrepresented people into the process."
Castricum closed her Queer Some Space keynote by saying, queer and gender nonconforming perspectives can enable a new, richer understanding of the built environment.
They can also help make architecture become more inclusive and, yes, empathetic.