A sequel to the influential The Commons housing development in Melbourne's Brunswick is planned for central Hobart. Like its Melbourne namesake, the Hobart iteration of The Commons is designed with sustainable and affordable inner city living in mind.
A collaboration between Hobart-based practice Core Collective Architects and self-described "ethical developer" Small Giants Developments, The Commons Hobart will rise to 20 metres on a north-facing site on Bathurst Street near the city centre.
Comprising 30 apartments and shared amenities, the building will be visually defined by a facade made of charred timber that will eventually be festooned with native creepers.
Ryan Strating, Core Collective founding director, said, "We're using timber externally, which is not standard, and we're protecting it in ways that will give it a long life and make it low maintenance. We have decided to use a natural material to soften the scale and feel of the building."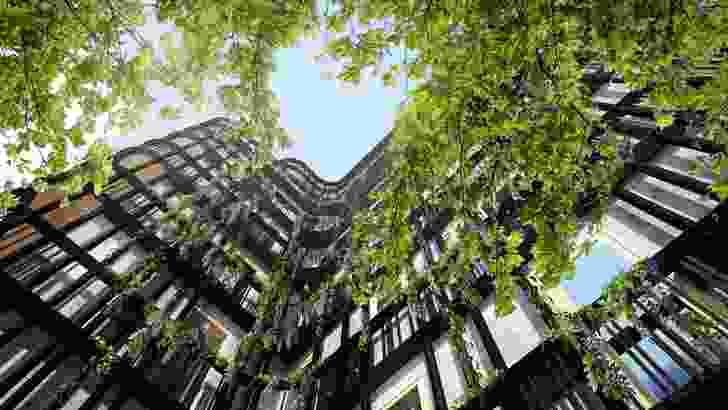 The decision to use raw or unfinished materials throughout the building, which also include raw brass tapware and Tasmanian oak floorboards, is demonstrative of the sustainable nous that define the project. It will eliminate the need for paints, veneers and other finishes, which in turn will reduce the high embodied carbon involved in repainting those surfaces, for instance.
"We are following a design philosophy where if we don't need to use a material, we cut it out altogether," says Strating. "But there's an aesthetic component to that. We're looking for harmony where it's a simple space but it's also elegant."
"Simplicity and sustainability go hand-in-hand."
Highly-insulated interior spaces and energy efficient appliances will keep heating requirements to a minimum, resulting in an on-average nine-star NatHERS rating. The use of solar-generated energy also means that, in what the developers say is a first, The Commons Hobart will be Australia's first carbon positive multi-residential project."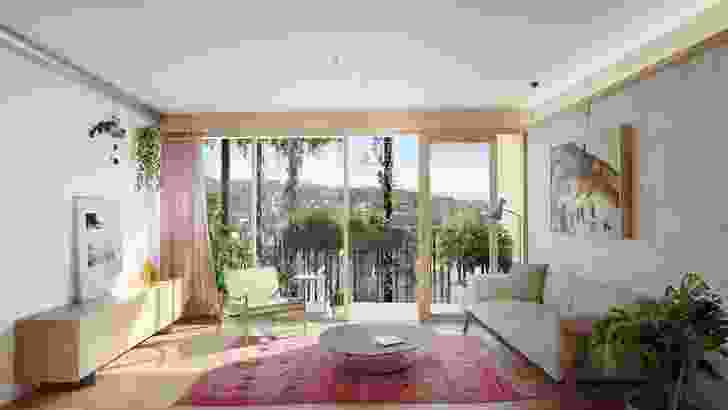 "I think architecture should include all of these things as standard," said Strating. "Sustainable features shouldn't be added on as an option. If you're designing architecture, it needs to be firmly efficient, durable and recyclable at the end of its life."
The Commons Hobart follows The Commons Brunswick designed by Breathe Architecture and developed by Small Giants, which, with a 7.5-star rating, has been fêted for its sustainable design, winning the David Oppenheim Award for sustainable architecture at the 2014 National Architecture Awards and the 2014 Victorian Premier's Design Award for architectural design.
Like the Melbourne building, The Commons Hobart removes certain amenities from individual apartments and condenses them within shared spaces for communal use. The 230-square-metre rooftop terrace will include a shared kitchen space, outdoor dining area and garden. A communal laundry is also included in plans for the terrace.
Strating said, "This building design is about augmenting a very strong, creative community."
"From encouraging circulation in stairwells and mingling in communal areas to dining together in groups on the terrace, it's all about encouraging those encounters and get-togethers that foster a happy community."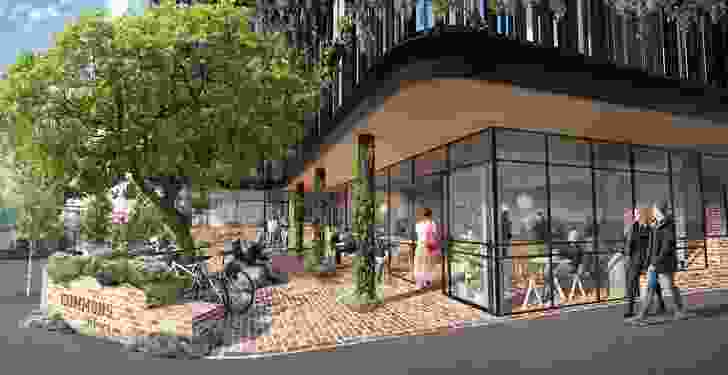 Strating said that he hoped that the Commons model was retained as a way of providing sustainable housing, regardless of his practice's future involvement.
"We would like to see this model improved and extended by others to improve the livability of our cities and to reduce the impact of urban growth on climate change," he said.
"If we build this building well and people live in it and enjoy it, the next time someone plans a building, even if we're not involved, and they use our building as a measure for what can be achieved, then our project has been successful."
Small Giants, which is the developer of both Commons projects, has been certified by B Corp – an organization that certifies businesses that demonstrate their ability to operate in a sustainable and ethical way.
The architects of the Brunswick building, Breathe Architecture, went on to conceive of the "triple bottom line" housing model, Nightingale, which was first put into action on a site opposite The Commons Brunswick, which more than 16 licenses granted across Australia since.
Related topics