'Sinuous,' 'slender' Perth footbridge to be constructed locally after offshore delays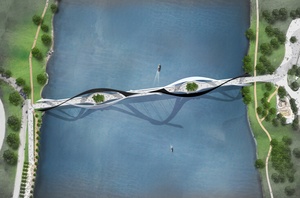 A footbridge crossing the Swan River in Perth, designed by Denton Corker Marshall and Parry and Rosenthal Architects, will be built locally after delays in the fabrication of parts overseas. 
Announced in 2015 and originally slated for completion in 2016, a statement released by the WA state government said that the project was "plagued by delays," with the subcontractor, a Toyota Tsusho entity, which was producing the bridge's steel arches and decks in Malaysia, "repeatedly failing to meet delivery timeframes."
"Following continued disputes, [head contractor] York Rizzani Joint Venture terminated its subcontract with Toyota Tsusho," the government said.
The government has renegotiated its contract with York Rizzani. The date for completion has been pushed back to March 2018. At the time of its announcement, the original cost of constructing the bridge was reportedly $54.12 million. The revised cost for the project will be $80.4 million with an extra $2.6 million once the target completion date is met. 
Former WA premier Colin Barnett was criticized for allowing parts of the construction to be outsourced overseas and later faced criticism when he claimed that he had not been aware that parts of the bridge would be built in Malaysia. 
A change in government following the WA state election earlier this year saw the new Labor government under premier Mark McGowan pushing to have the manufacturing of the deck and arch components relocated in-state. 
Denton Corker Marshall is responsible for the design as part of a joint venture between York Civil and Rizzani de Eccher.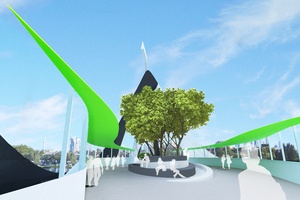 The 400-metre bridge will connect East Perth to the under-construction, 60,000-seat Perth Stadium in Burswood designed by Hassell, Cox Architecture and HKS, which is due to open in March 2018. Only two piers will be driven into the riverbed in an attempt to minimize the environmental impact of the bridge. It will rise to 65 metres at its highest point.
In a design statement, the architects said the bridge design was an "elegant and organic form with a sinuous silhouette and slender profile."
"The unique tensile membrane skin over the curving masts is backlit with colour-change LEDs to transform the night experience and reinforce the distinctive asymmetric composition."
"The journey is enhanced with landscaped 'pause points,' creating a unique crossing experience which delivers shade and shelter to the 14,000 fans on event days and community uses throughout the year."