The Australian prime minister has unveiled the design for the proposed new interpretive centre addition to the Australian National Memorial at Villers-Bretonneux in France, designed by Cox Architecture with Williams, Abrahams, Lampros.
Sited to the east of the original Edwin Lutyens-designed memorial, the partially subterranean building will conform to the governing geometry set out by Lutyens. "The [Lutyens] monument sits within a 200 metre square," Joe Agius, director of Cox Architecture told ArchitectureAU. "The proposed building is effectively two squares that are related to the size of the courtyard space to the monument."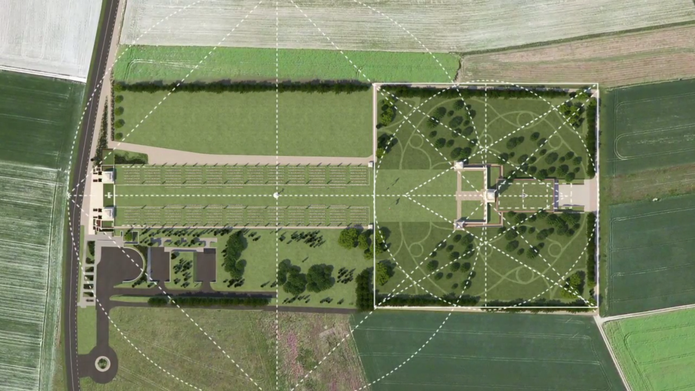 Agius describes the design as a "landscape solution," with the proposed building hidden from view underneath the "lifted" French meadow that forms the roof of the building. It is intended to be "very much secondary, ancillary and subservient to the monument," said Agius. "It's almost an anti-building, connected to the monument from an abstract and geometric point of view."
The proposed building will also be physically connected to the original monument via a pair of ramps attached to the existing flanking pavilions on either side of the tower. The ramps will traverse along the existing walls that bear the names of almost 11,000 lost soldiers whose graves are unknown. The ramps will then turn 90 degrees, providing visitors with a view of the tower, before turning again into the underground interpretive centre. These turns in the ramps also reflect the trenches of the Western Front, which were not straight-lined but segmented, in order to contain the impact of explosions.
The trench-like experience will continue as the ramps lead into a dark and sombre foyer. The descent into darkness will be "a critical part of the experience," Agius said. The path will then lead to an immersive gallery space and visitors will exit the space via a sunken courtyard up onto a landing with a view of a landscape that was once the battlefield where the Australian general Sir John Monash famously won victory. "There's a kind of metaphorical movement that we're trying to describe with the descent into darkness and then ascent into light."
A key feature of the design is the triangular oculus which punctures the meadow-roof of the proposed building, which can be seen from the top of the tower. From inside the proposed new centre, the shape of the oculus is a function of the triangulated, coffered concrete ceiling but also, as Agius explained, "put really simply, it opens up in the direction of the tower and allows the best view of it."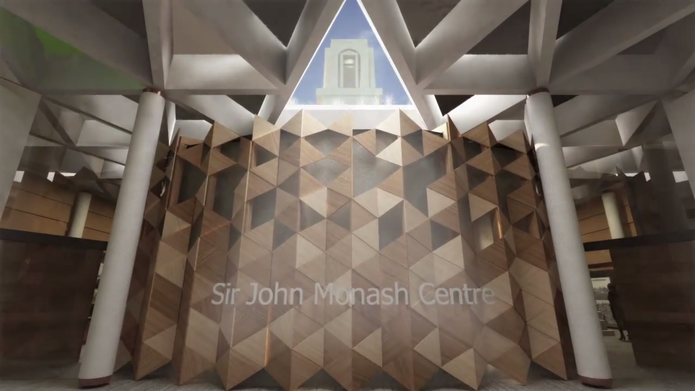 The Sir John Monash Centre will have an educational purpose for visitors, most of whom will be European. It will tell the story of Australia's role on the Western Front in the First World War, where 290,000 Australians served. The centre is expected to open in 2018, 100 years after Sir John Monash broke the stalemate and won the battle at Le Hamel.
Watch the flythrough of the proposed new centre below: