UNIVERSITY OF SOUTH AUSTRALIA KAURNA BUILDING
JOHN WARDLE ARCHITECTS + HASSELL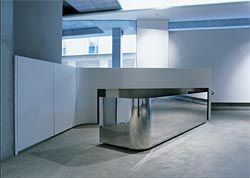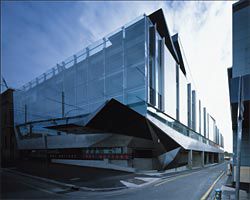 JURY CITATIONSituated between a city pub and a bland-faced, heritage-listed building, the Kaurna building provides a new home for the Louis Laybourne-Smith School of Architecture and Design and the South Australian School of Art.
This stage of development incorporates three distinct buildings, all connected visually by the common architectural language of manipulated surfaces of exquisitely detailed and formed precast panels, juxtaposed with varying expressions of glazed elements.
The work is truly urban and it extends the notion of public domain from the street and land to the building's interiors. Warped concrete and steel forms encourage this reading, from the sculptural entry canopy that suggests veranda to the colonnaded edges that invite exploration and the glimpses of a gallery to the internal "streets" of the various levels. A major staircase structures a sense of place within for meetings, celebrations and display.
The building's interior provides a visual display of its physiology.
A tough, uncompromising approach to exposed services and structure provides a clear teaching reference to the evidence of coordinated services, what they are and how they work. A hierarchy of teaching, studio and "tutorial" spaces allows for flexible interpretive outcomes with constant reference to exterior and appropriate light.
These buildings make no compromises in their sculptural strength and it is clear that a remarkable client/architect relationship prevailed. The architects have achieved a work that exudes a unique Australian strength of character and idea. The result is an architecture of excellence, and the jury applauds this outcome.
For further coverage see
Architecture Australia
vol 95 no 1, January/February 2006.
UNIVERSITY OF SOUTH AUSTRALIA KAURNA BUILDINGArchitect
John Wardle Architects and Hassell, architects in association.
Project manager
UniSA Property Unit, Barry Phillis and Associates.
Structural and civil consultant Wallbridge and Gilbert. Landscape consultant and interior designer John Wardle Architects and Hassell, architects in association. Acoustic consultant Vipac. Services consultant Bestec. Quantity consultant Rider Hunt. Programming consultant Thinc Projects. Builder Built Environs. Building surveyor Katnich Dodd. Photographers Trevor Mein, these pages; Sam Noonan.