The Cherrell Hirst Creative Learning Centre, Brisbane Girls Grammar School
m3architecture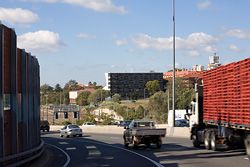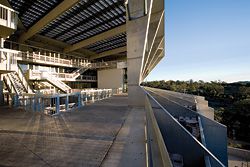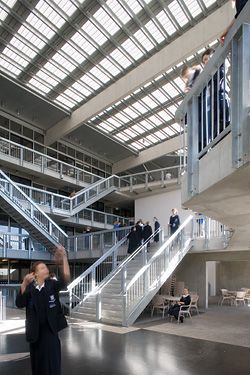 Jury Citation
The Cherrell Hirst Creative Learning Centre at Brisbane Girls Grammar School aims to develop initiative, creativity and independence by encouraging unstructured student interaction in parallel with typical structured learning. To this end, a multi-level "social interaction" space is integrated with specialized teaching facilities. This provides an extraordinary learning environment filled with vitality.
The architecture is directly detailed, well thought out and robust. It conveys a "no-nonsense" message – a bold and purposeful architecture that is heartening to contemplate when considering the education of young women. Future adaptation of facilities has also been well thought out, with accessible services and flexible planning. The design of secondary elements – acoustics, daylight/artificial light, passive and active climate control – ensures the informal and structured learning environments work effectively together.
On-site water management and grey water recycling, along with excellent passive solar control, cross-ventilation, insulation and thermal mass properties, deliver appropriate levels of energy consumption and waste minimization.
The site planning increases the school's usable open space and improves the spatial relationships and connectivity between buildings. Viewed from nearby vantage points, the iconic character, surface treatment and dynamic forms of the building make an outstanding contribution to the public domain.
With this distinctive and memorable building, the school delivers a clear message about the contribution of design to education. The Cherrell Hirst Creative Learning Centre invites engagement with function, sustainability, form and cultural meaning to enrich the lives of those who use and visit the school campus.

Architect m3architecture—project team Michael Banney, Michael Christensen, Bronwyn Grimley, Emma Healy, Jayne Kelly, Ashley Paine, Helder Pereira, Ben Vielle, Dirk Yates.
Civil, electrical, hydraulic, structural and mechanical engineer and lift consultant Connell Mott MacDonald.
Acoustic consultant Ron Rumble.
Landscape consultant Gamble McKinnon Green.
Building surveyor Certis.
Traffic engineer Eppell Olsen and Partners.
Fire engineer Bassett.
Access consultant Rod Warmington.
Kitchen consultant Food Service Design Australia.
Builder, construction and project manager Bovis Lend Lease.
Photographer Jon Linkins.

For full coverage see Architecture Australia vol 96 no 5, Sept/Oct 2007.