JURY CITATION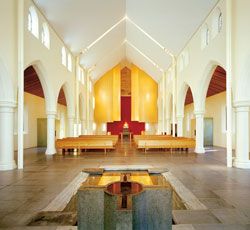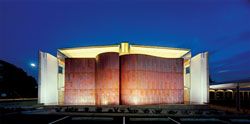 St Patrick's Cathedral was destroyed by fire in 1996, leaving only the masonry walls standing.
The architects' brief, developed through a consultative process, resulted in a masterplan for the cathedral precinct and defined a project comprising three enclosed spaces and two integrated exterior spaces.
The former consisted of the restoration of the ruined St Patrick's Church, the construction of a new cathedral, capable of seating 800, and a new parish hall. The latter is made up of a new forecourt and cloister. The existing presbytery and Murphy House, an old federation building, have been preserved.
The RAIA NSW jury noted, "The spiritual heart of the complex is the new cathedral, with its internal connection to an exquisite chapel made within the old cathedral. Both new and old have been masterfully handled in a restrained yet inventive way, using a limited palette of materials and relying on the manipulation of light, fine materials, major art commissions and large volumes to create poetic spaces for spiritual contemplation and ritual. Both internally and externally the junction between the new and the old cathedrals has been handled with great skill and maturity, making interesting spatial and materials juxtapositions." ›› The national jury concurs and was particularly taken by the sensitive and human-scale detailing throughout the project.
The modern planning of the new cathedral has the altar at its centre and the cathedra and ambo located on a central axis, allowing the majority of the seating to be located comfortably close to the centre of the space.
This, combined with the masterful use of natural light and warm timber finishes on the floors and seating, makes a wonderfully serene and peaceful space.
Project Credits
ST PATRICK'S CATHEDRAL, PARRAMATTA
Architect MGT Architects with Romaldo Giurgola, Architect—design architect Romaldo Giurgola; project architect Robert Thorne; project team Tim Halden Brown, Andrew Fox, Wayne Henkel, Cassandra Keller, Robert Patat, Stephen Schrapel. Electrical, mechanical, services and communications consultant Lincolne Scott Australia.
Structural and civil consultant Connell Mott MacDonald.
Hydraulic consultant LHO Group. Acoustic consultant Eric Taylor Acoustics.
Landscape consultant Tract Consultants. Heritage architect Peter Freeman. Archaeological consultant Casey and Lowe Associates. Stone consultant Gordon Inglis. Art programme consultant Pamille Berg Consulting. Art programme sub-consultants J B Design Consultants, Bartlett Design Consultants. Artists/ fabricators Robin Blau, Philip Cooper, Peter Corlett, Derix Glasstudios (Germany), Graham Eadie, Rachael Ellis, Anne Ferguson, Hendrik Forster, H & E Gehrt, Di Lansdown, Kevin Perkins, Sharon Peoples, Fay Skyring, Klaus Zimmer.
Quantity consultants Rider Hunt Sydney. Builder St Hilliers Contracting. Photographers John Gollings (these pages), Hamilton Lund, Romaldo Giurgola.