JURY CITATION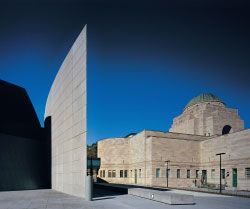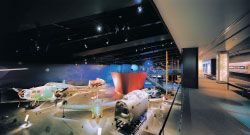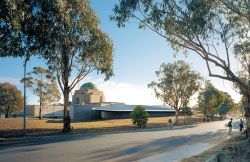 The Australian War Memorial is dedicated to the men and women who fought for Australia in theatres of war.
The existing War Memorial building is a powerful form within the axial landscape of Canberra, and the program for the new ANZAC Hall consisted of a museum with audiovisual display of aircraft and equipment from the wars, together with story telling and events of historical significance.
The new museum space posed significant design issues, in terms of how to relate new and old, and how to respect and enhance the Memorial.
The fan-shaped new gallery is surrounded on three sides by raised planted berms, with a simple aeroplane-wing roof floating above the landscape. It is defined in plan by a major cross axis wall, which creates a courtyard between new and old.
An elegant glazed bridge connects to the existing Museum on the long axis and creates a clear "parti" for the whole building.
The materials of stone, concrete, metal and glass meld well with the heritage qualities of the existing building, and the powerful and contemporary form of the new building complements the old.
Interior spaces provide a compelling audiovisual experience within a dark and mysterious envelope and the discipline of clear planning and detailing make this a memorable project.
ANZAC HALL, AUSTRALIAN WAR MEMORIAL
Architect Denton Corker Marshall. Project manager Root Projects. Structural and civil consultant Taylor Thompson Whitting. Services consultant Norman Disney Young. Quantity consultant Donald Cant Watts Corke. Builder John Hindmarsh (ACT). Exhibition designers Freeman Ryan. Photographer John Gollings.