JURY CITATION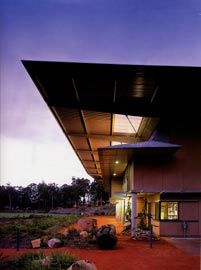 Birabahn, the new Indigenous centre at the University of Newcastle, provides an outstanding teaching and research facility for the Wollotuka School of Aboriginal Studies. It is a counterpoint to the similarly scaled 2002 winner of the Sir Zelman Cowen Award – RMIT Biosciences Building by John Wardle Architects and DesignInc.
Although the building has a neat and legible plan, with a wide internal axis curving around the central meeting place, its essence deals with "edge conditions" rather than with ideas of "centrality" or "front door". Users and visitors enter through a discreetly scaled entrance, an experience more akin to coming through the back door. This means that the conceptual front door – an enormously scaled industrial folding door that connects the building to the outlook across the playing field – is approached from within. Ground level offices have direct access to the exterior, just as the upper floor seminar rooms have direct access to the outside through full-height window-like doors with balcony rails.
The building has an internal atmosphere not easily found in other educational buildings due, in part, to materials choice. This is particularly so in the detailing of the rammed earth wall on the ground level and the steel roof structure and its supports on the upper level. These supports have an almost bone-like character, giving prominence to the central access route. Despite these details, the construction was achieved on a low budget.
Sustainability is fully integrated. Passive heating and cooling is employed throughout, with floor and door vents to all spaces encouraging the circulation of air from ground level to the roof. Light shelves bounce daylight onto ceilings across the northern elevation, eliminating the need for artificial lighting.
Credits
Architect

Richard Leplastrier, Peter Stuchbury, Sue Harper

Project Team

Richard Smith, Shane Blue
Consultants

Builder Stronach
Electrical consultant GHD Newcastle
Environmental consultant AEC
Hydraulic consultant Hydrotech
Landscape architect MIM Woodland
Quantity surveyor Ian Speight
Services consultant Norman Disney Young
Structural consultant Prof. Max Irvine, Northrop Consulting Engineers

Site details

Category Commercial / public buildings

Project Details

Status Built

Related topics