Site chosen for new Powerhouse Museum in Parramatta
The NSW Government has announced its preferred site for the relocation of the Powerhouse Museum, part of the Museum of Applied Arts and Sciences, from its current home in Ultimo to Parramatta in western Sydney.
The site, known as the old David Jones carpark, is situated on the south bank of the Parramatta River and bounded by Wilde Avenue to the east.
Deputy Premier and Minister for the Arts Troy Grant announced two shortlisted sites in September 2015. The other site that was considered was the Parramatta Golf Course.
Premier Mike Baird said, "The site on the banks of the Parramatta River is the ideal location for the new Powerhouse Museum, which will serve as an anchor for a new arts and cultural precinct."
The government will now proceed with a detailed business case for the chosen site in an effort to work out a timeline and budget for the relocation project. The government estimates building the new museum will take five to seven years to complete.
A spokesperson from the Museum of Applied Arts and Sciences told ArchitectureAU that the government intends to conduct a competition for the design of the new museum, which will take place after the business case has been completed.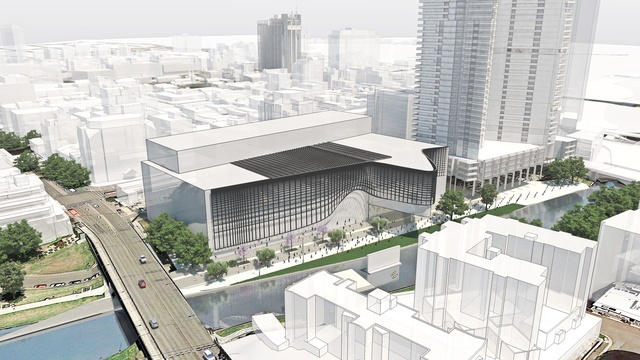 In February 2015, one month before the state election, the government announced the current site for the Powerhouse Museum would be sold to developers for an estimated $200 million. The proceeds of the sale would fund the construction of a new museum in western Sydney.
The announcement attracted a swathe of criticism, including an open letter urging the government to reconsider, which was signed by 178 prominent public figures – including architect Penelope Seidler, former premier Bob Carr and former director of the Art Gallery of New South Wales Edmund Capon.
"Nowhere else in the world are governments moving major museums away from the heart of their cities," the letter reads.
Philip Thalis, principal of Hill Thalis wrote, "To sell the Ultimo Powerhouse is wrong-headed – a mishmash of wedge politics and bad policy."
The Parramatta City Council welcomed the relocation to the Parramatta riverfront site.
"This is a once-in-a-generation opportunity to build the world's next great museum here in Parramatta," said Paul Garrard, Lord Mayor of Parramatta. "The museum will be integrated as part of the wider Riverbank precinct and will form part of Council's vision to deliver a world-class cultural, entertainment, retail and residential hub."
In 2015, the council unveiled a $200 million plan to transform Parramatta's riverfront precinct designed by McGregor Coxall.