Six Degrees Architects has designed 21 apartments for Sydney Road that bring sustainability to the fore.
The apartments will join a ­­string of similar medium-density, sustainability-focused apartments completed in or planned for the inner-north suburb, including a number developed under the Nightingale model.
Six Degrees' Two Eleven Sydney Road project will sit next to Austin Maynard Architects' upcoming Nightingale 3 project, and the design has a similar focus on bringing residents together and fostering community.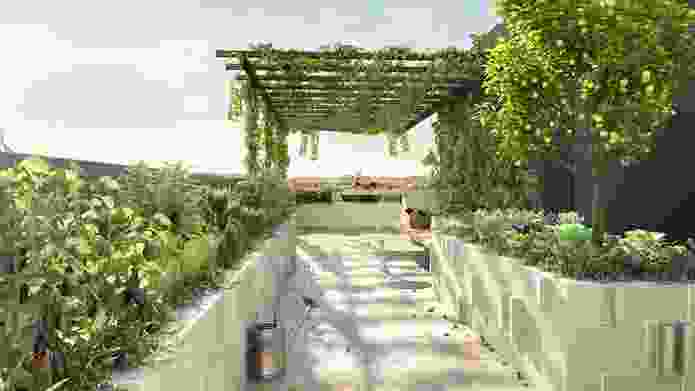 It includes open-air lanes, walkways, a rooftop terrace and a shared vegetable patch.
The project is being developed by Excelon Projects, who collaborated with Six Degrees on the Clyde Mews townhouse and unit project in Thornbury, which was completed in 2018.
Six Degrees says the project will help establish a new type of residential development in Australia "that draws on successful precedents from the densely urbanized cities of Europe, but then adapts it to the specific conditions along Melbourne's inner-city high streets."
The building will retain its 1888 former bank heritage façade, with a contemporary concrete structure rising above it and balconies wrapped in green shutters reaching out to the street.
According to Excelon, the building is designed and engineered to achieve a 7.5-star NatHERS rating. It will include solar energy generation, water harvesting and storage.