Six Degrees to 'reactivate' Melbourne's Capitol Theatre, fundraising appeal launched
RMIT University has launched a public fundraising appeal for the "reactivation" of the Walter Burley Griffin and Marion Mahony Griffin-designed Capitol Theatre, which has been closed since 2014.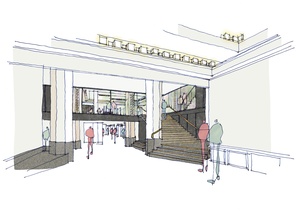 The university has appointed Six Degrees Architects to lead the project, which will see the dormant cinema restored and reopened as a public space for festivals, film screenings, concerts and conferences, as well as learning spaces for the university's film and digital media students and industry collaborations in digital media, film, animation, virtual reality and augmented reality.
The project will comprise a refurbishment of the foyers, upgrades to cinema projection, lighting and sound systems, construction of new offices, and replacement of seating and carpets.
The Victorian government has committed $2.5 million towards the project. RMIT University is seeking $2 million from a public appeal. In all, the university aims to raise $18.5 million, which it will match dollar for dollar, to fund the significant transformation.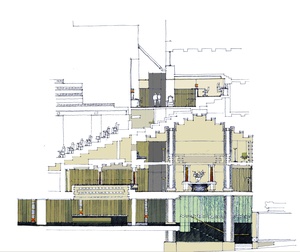 The Capitol House, which contains the Capitol Theatre, was designed by Walter Burley Griffin and Marion Mahoney Griffin in association with Peck and Kempter and completed in 1924. According to the Australian Institute of Architects register of Nationally Significant 20th Century Architecture, it was "the largest civic work executed by Walter Burley Griffin in association with his wife Marion Mahoney Griffin." The theatre is a Melbourne icon due to its ornate ceiling made of modelled plasterwork that conceals lights which shift in colour systematically.
The 10-storey steel and concrete building originally housed offices and an auditorium with capacity for 2137 people. The theatre was used as a cinema until the popularity of television led to the demise of the cinema in 1963. Proposals for the demolition of the theatre sparked one of Melbourne's first conservation campaigns, which drew support from the National Trust, the Royal Victorian Institute of Architects and architect Robin Boyd, who described the building as "the best cinema that was ever built or is ever likely to be built" in The Australian on 24 December 1965.
The capacity of the theatre was reduced to 600 seats after a remodeling, but it was closed again in the early 1990s.
In 1998, Six Degrees Architects was asked by the City of Melbourne to undertake a study exploring the theatre's possible future as a festival- and arts-based centre.
When RMIT University purchased the building in 1999, it retained Six Degrees Architects to upgrade the theatre, which was completed in the early 2000s.
Capitol House was added to the Victorian Heritage Register in 1989. Its statement of heritage significance notes that the building "is of architectural significance for its highly original combination of offices, shops and an entertainment venue in one building.
"Although not unique, it was an advanced concept at the time, developed on a major scale with the inclusion of a vast auditorium."
Also significant are the building's "foyers and auditorium interiors, which are extraordinary and were highly advanced in concept in the 1920s. The auditorium ceiling design, with its spectacular lighting effects, is of particular importance."