An invited competition featuring a line-up of several high profile practices has been announced for a formerly industrial site in the western Sydney riverside suburb of Wentworth Point.
The "Block H" development calls for the addition of up to 1,000 homes to a three-hectare site, the final part of a larger, 10-hectare site that has been developed in stages by property developer Billbergia over several years.

The practices invited to compete for the commission to design the project are 3XN, Bates Smart, DKO, Durbach Block Jaggers, FJMT and Scott Carver Architects/ARM Architecture.
The submitted designs will be evaluated by a jury comprising chairperson Bob Nation (design director, Barangaroo Development Authority) and Kim Crestani (city architect, City of Parramatta Council) and Peter Poulet (NSW Government Architect).
The brief also calls for "further community services" in addition to the residential developments, including a childcare facility, parks, playgrounds and "large open entertainment spaces."
Nation described the site as the "best waterfront site west of Barangaroo," and said, "this is an amazing site that is unique in Sydney Harbour […] we are looking for a world-standard outcome and have invited Australia's best to team up with international leading landscape designers."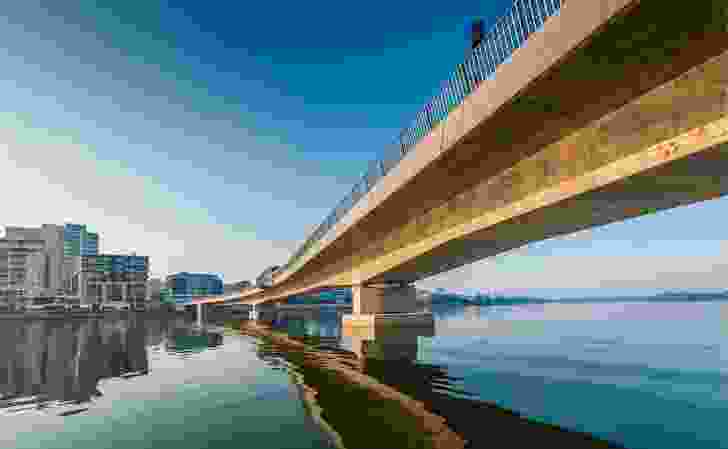 Developer Billbergia have already completed or currently constructing a number of other projects on the 10-hectare site, all designed by Scott Carver Architects, including a library and community centre, a retail centre, a pedestrian, bike and bus-only bridge that connects Wentworth Point with the area of Rhodes and Rhodes train station and 3,000 residential units. A new public primary school, adjacent to the retail centre, designed by the NSW Government Architect's Office, is also currently under construction.
At the time, the developers explained that the bridge was being installed in anticipation of the rapid growth of the area, connecting an area without a train station
"Our aim is an entirely sustainable and walkable community through integrated urban design," Billbergia development manager Saul Moran said.
A free shuttle bus service running at five minute frequencies at peak hour is included in the company's plans as a way of connecting people to transit, encouraging mode shift and reducing traffic congestion.
Related topics