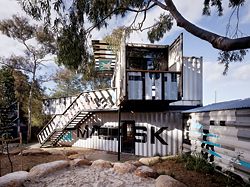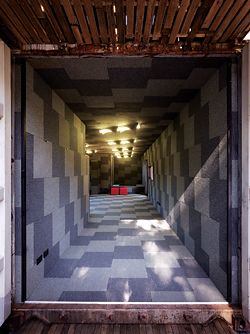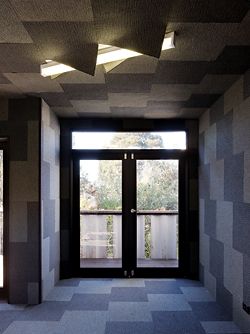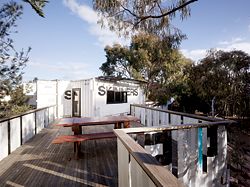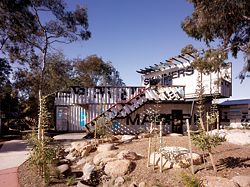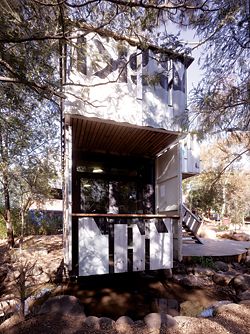 PHOOEY's Children's Activity Centre at Skinners Playground in South Melbourne is locked in a large compound at the back of a slab of concrete flats. Inside the security fence, the environment is a familiar one: micro-landscapes, sheds and objects that are somewhere between toy and assault course. Colour is everywhere, in equal strengths and volumes so that no single colour dominates, and the compound is still shrill when the kids are absent.
Within this, the new Children's Activity Centre is a relatively stable object: largish, black and white, obvious in its geometry and somewhat monumental. The centre consists of four containers: two long ones clamped together at ground level and two smaller ones, also clamped together, placed at an angle on top at the south end. Between the pairs there is an exterior stair leading up to a large deck. At the southern end, a fringe of sheets decoratively stitch up the sky.
In such a semantic enclosure, one can imagine the new work as a commentary on ideas of play and creativity that the compound so clearly declaims. But these ideas fade as you enter the building and observe its use from the furnishings and equipment in it. The interiors are carpeted living rooms with beanbags, toys, desks and chairs; there is a storage-cum-discussion-pit at one end and surprisingly, at the other end, a quiet room with computers for homework! The carpet tiles go from the floor up the wall and across the ceiling, peeling out where the fluorescent tubes are positioned, giving a repeated triangular fringe against the lights.
So this is not a playground, but a kind of house/office/school for the flats in front of it. For once, Activity Centre seems to be an accurate name. And when this difference is established, you can see what the architecture offers, and how it is different from what you normally find in such compounds.
As a comparison, consider the structure on the east side of the new building. This is a large timber construction of poles, slats and various recycled bits, like the ruin of a house or maybe a mine-head. It shows recycling as the reuse of fragments, of combining objects that are still close to origins, such as tree trunks, with those on their way back, such as fragments of windows, found sheets and decorative profiles. A later generation of playground/environments comes to mind here, like the one near my house in Clifton Hill – a skilfully designed assault course of bolted timber bits running over a concrete base made to look like stone, all set in a large sandpit. Flaunting its lack of colour, it extols the naturalness of its materials, which are in abundance.
Not only is the Skinners centre not a playground, it is a critique of the kind of values that are presented by its adjacent timber structure and by my neighbourhood playground. This critique is pursued through two strategies. The first concerns an approach to materials and the second concerns an approach to given objects. In the approach to materials, there is a further division into issues of the "natural" and issues of "craft" as seen through the problem of embodied energy.
"Natural" is one half of natural/artificial or natural/cultural. Strongly manifest in architectural terms in recent decades through rough brickwork, timber poles, earth construction and so on, this duality is the last gasp – perhaps not completely expired – of the Enlightenment division between ourselves and the planet we are part of. For PHOOEY, the duality does not exist. All materials are earth or planet; none is more natural than any other. There may be degrees of refinement, or of embodied energy, but these are not generic to a material. And once all materials are equally "natural", one has to look at them in a different way. This is a creative opportunity.
Further, if you consider embodied energy as a property of a material, then waste becomes a new taboo. There are few – if any – contemporary materials that can be delivered to the site in "just enough" quantities, so there are always offcuts and remnants. What if these were to be fully used up as one imagines the animal is in a hunting culture? Moreover, what if the remnants were fully used up on the site? Here is another creative opportunity that PHOOEY takes up, where "craft" involves the prediction of offcuts and the imaginative use of them, with all the follow-ons of improvization and on-site construction politics.
So, as a new position, no "natural" and no "recycling". But the given object is a bit closer to traditional architectural practice. Often, the designer of a building will compose with ready-made objects chosen from catalogues. Nearly always these objects are small, and used in ways intended by their original designers. Of course architects have often delighted in looking outside the catalogues, and certainly PHOOEY is not the first architect to use shipping containers as modular units. But note: the containers at Skinners were used more or less as given (PHOOEY had to ask that their shipping markings be left), then their particular qualities were enhanced. The end doors were used as structural blinkers for balcony ends; the side walling removed for openings was reused as balustrades and awnings.
To note that these strategies are creative opportunities means that different designers would find different ways of realizing them. In PHOOEY's case there is the explicit display of ingenuity and then, for occupants and visitors, the associated delight of discovery through surprise. It is one thing to marvel at the monumental stacks of containers at the docks, yet another to take in the specific graphics on the Skinners containers, or to be shown, close up, how elegant the profile of the walling is. This Children's Activity Centre by PHOOEY continues their research into actually dealing with the stuff that is around us and giving it some potent imagery – this is also the way that such a rationale might spread to the wider design community.
Credits
Architect

PHOOEY Architects
Melbourne, Vic, Australia
Project Team

Peter Ho, Alan Ting, Jimmy Baradine
Consultants

Builder Speller Constructions
Building surveyor Anthony Middling and Associates
Structural engineer Perrett Simpson

Site details

Location South Melbourne, Melbourne, Vic, Australia
Category Public / commercial

Project Details

Status Built

Client

Client City of Port Phillip

Source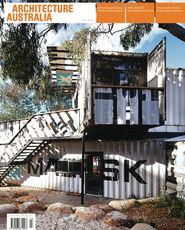 Issue
Architecture Australia, May 2008
Related topics