After visiting several projects by Andrew Burges, one becomes accustomed to the fact that his alterations and additions projects are generally invisible from the street. Skylight House, a comfortable 1930s home in the upper North Shore Sydney suburb of Lindfield, looks just like any other in the neighbourhood from its quiet, leafy street.
This has become one of Andrew's trademarks – he and his team work with a quiet modesty, at a range of scales, often on humble things, to make them beautiful. He celebrates what he finds in an existing building and is extremely respectful of generic, often unloved, standard housing stock.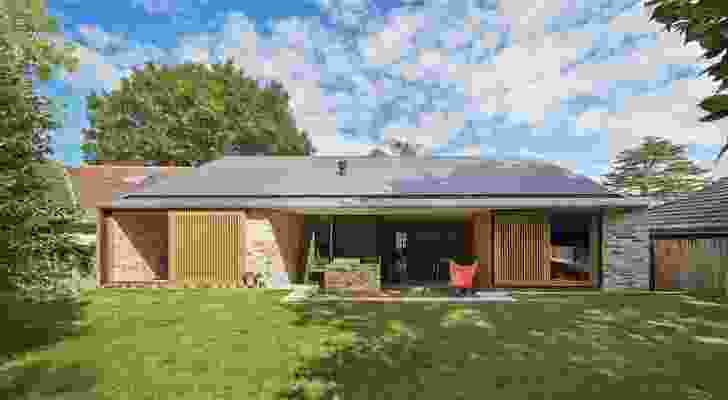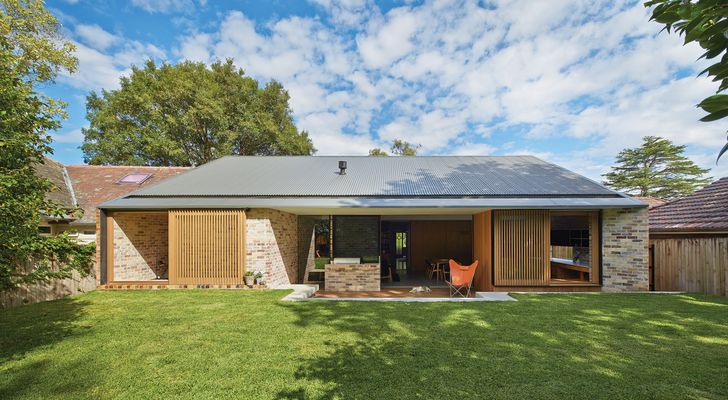 At Skylight House, the work done to the original dwelling involves only a subtle reorganization, with new bathrooms replacing an old corridor and a clearer front–back transparency established. The new wing sits behind the original house and extends a previous iteration of a small kitchen/family room. The new kitchen/eating/family room spreads wide but is only four metres deep, allowing a covered outdoor area between the indoor space and the equally wide, but not deep, garden. The garden is up two steps from the rear deck and the lawn meets windows at each end of the house. This deft move gives a flat lawn that is brimming at the windowsills, so that the garden feels very much a part of the house.
The new rooms have a roof tucked behind the main roof – it has a beautiful simplicity and fine edge/gutter details visible from the garden. By setting up a parallel slope to the rear of the main roof, Andrew allows daylight to fall into the new space through skylight windows. The sloping white ceilings are light and playful above a datum of raw materials. Below that datum, cupboards are timber, or black melamine with ply trim, modestly made but extremely effective. The extent of built-in furniture gives a control and uniformity to the rich messiness of family life.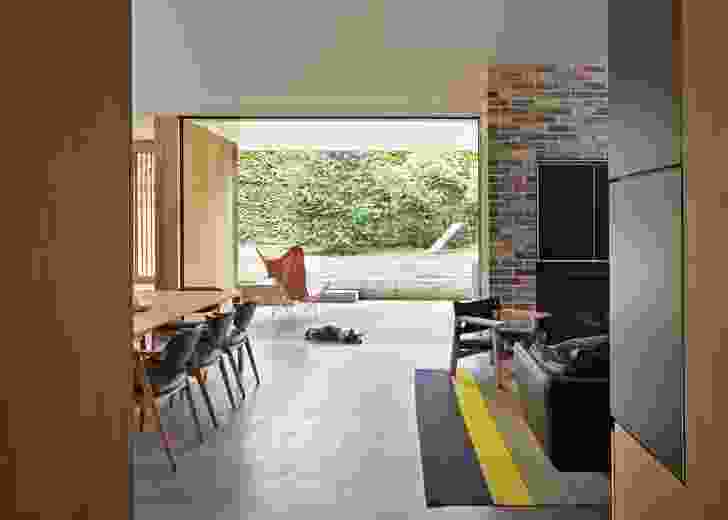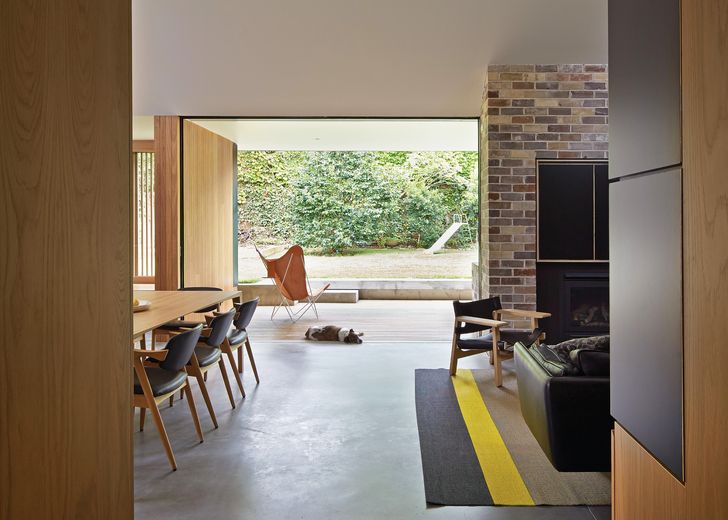 This subtle control over light and material is a skill that Andrew has honed in recent years. When asked about the beauty of the raw materials in Skylight House, he admits that he realized he likes his sites most about 75 percent of the way through the project. He talked of the joy of seeing external construction materials beautifully assembled to make a shell, and then the sadness of those being covered over internally by linings. He therefore set about making a project in which the outside materials at times became the inside materials.
A lot of effort has gone into concealing the complexity of the house's components, to make the main informal living space seem simpler than it is. Complex layers of timber louvres, windows and other screens on the rear elevation seamlessly disappear into cavities so that in summer the blurring of inside/outside lines is so acute as to make the rear elevation seem like a rudimentary garden structure. Andrew worries about the small details – how the main bedroom will have three types of timber (floor, windows, cupboards, wall panels) – and seeks to resolve these. He plays carefully with wardrobes in the old rooms, setting them to a picture rail height rather than full height (which would disturb the original cornice details).
In 2004, when I first met Andrew, Sydney projects were usually grander and more attention-seeking in presentation. His team, then in a large collective office, eschewed glamour and drama and seemed to work hard, with a certain solemnity. He was very much ahead of his time.
In a jury visit to one of Andrew's projects in 2009 for the Australian Institute of Architects' New South Wales Chapter awards, jurors were given sets of working drawings that were incredibly detailed, and care and love were evident in the modest finished project. He has always joked that his level of detail has been his vice, the reason he "never makes money."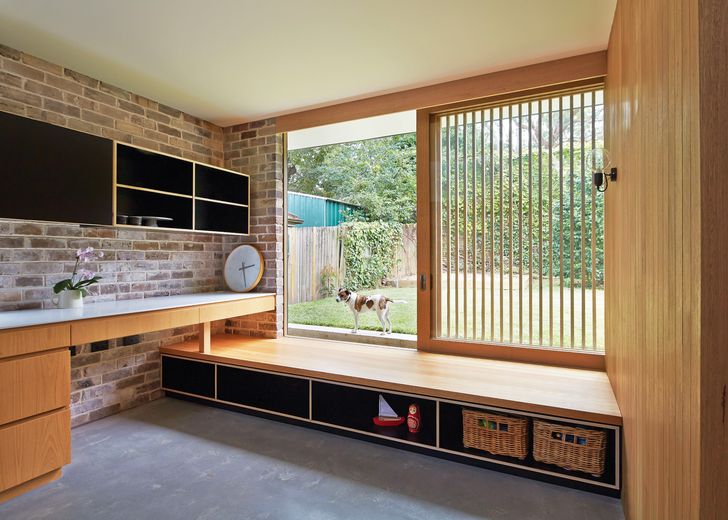 Andrew loves the challenge of matching budgets (rather than pushing for larger ones) and he is candid about how budget restrictions make a project stronger. His work in Sydney is not unlike the similarly fine work of Owen and Vokes and Peters in Queensland. His care for detail allows an ease of living, an informality and a robustness that many architects find hard to achieve.
One feels optimistic about the profound effects such a rich and relaxed environment will have on the four children growing up in the house. We joke that Andrew will be to blame when the children grow up to become architects, spending their modest profit margins on beautiful 1:10 corner details rather than holidays or fast cars. But at least they will have spent their teens in a beautiful, simple house, with history and modernity intertwined, hopefully emerging into adulthood with a passion for design and a feeling for how they too can contribute to shaping their surroundings.
Skylight House by Andrew Burges Architects is a winner of the 2014 Houses Award: House Alteration and Addition over 200 m².

Products and materials
Roofing

Lysaght Colorbond steel in 'Woodland Grey'.
External walls

The Brick Pit recycled bricks.
Internal walls

The Brick Pit recycled bricks; Australian Architectural Hardwoods blackbutt finished in Sikkens 'Silver Grey'; plasterboard in Dulux Wash & Wear Low Sheen 'Natural White'.
Windows

Stockwells Joinery Victorian ash windows and screens finished in Sikkens 'Silver Grey'.
Doors

Aluminium & Glass Constructions aluminium sliding doors in black powdercoat.
Flooring

Tongue N Groove European oak in Hekke pre-finish; polished exposed concrete floor; Australian Architectural Hardwoods blackbutt decking finished in Sikkens 'Silver Grey'.
Lighting

Muuto Unfold pendant lamp; Koskela Yuta Badayala and Bye Bye Birdy (medium) pendant lights.
Kitchen

Bosch fully integrated dishwasher, induction cooktop and pyrolytic oven; Sirius undermount rangehood; Electrolux fully integrated fridge; 10-mm Corian benchtop in 'Glacier White'; Briggs Veneers eco-cert American oak bench in 10 percent gloss polyurethane; black melamine on 16 mm particle board.
Bathroom

Artedomus Glass Mosaic tiles in 'M3'; Bisanna Tiles tiles in 'Gloss White 30J'; Cibo Chetto freestanding bath; Catalano Zero 70 washbasin; Tonic basin mixer and wall mixer; Abey Round Horizontal Shower Head; Vivid floor-mounted bath outlet; Isis wall-faced pan.
Heating/cooling

Jetmaster Ironbark Logs 850; hydronic underslab heating.
Other

Woodnotes paper yarn rug; Johansen table; Kai Kristiansen #42 Chair; Børge Mogensen Spanish Chair; Illum Wikkelso V11 Sofa; Stobie Coffee Table; KS Chair.
Credits
Architect

Andrew Burges Architects
Surry Hills, Sydney, NSW, Australia
Project Team

Andrew Burges, Louise Lovmand, Anna Field, Mitchell Bonus, Sofia Husni, Celia Carroll
Consultants

Builder Shane Green Building
Engineer SDA Structures
Landscaping Susan Miles Landscape Architect

Site Details

Location Sydney, NSW, Australia
Site type Suburban
Site area 800 m2
Building area 206 m2

Project Details

Status Built
Design, documentation 12 months
Construction 10 months
Category Residential
Type Alts and adds, New houses

Source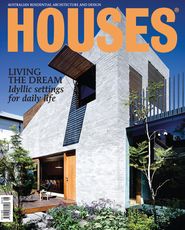 Issue
Houses, October 2014
Related topics