The Small House in Surry Hills provides a maximum experience out of a minimum site. A simple construction technique, that of large precast concrete panels stacked on a floor-by-floor basis, has been employed to create a flowing series of spaces, which seem to spiral upward to more and more open living activities, finally culminating in a delightful and unexpected rooftop garden.
One could not have expected this result from seeing the site prior to construction, when it could just fit two cars squeezed in from a laneway. Robust materiality and scale have successfully transformed this site into a spacious living environment. A building with such small floor plates could also be expected to have small rooms, but this project creates a sense of expansive space through the use of large plate glass windows and by effectively floating storage and kitchen elements within the larger floor plan.
The successful execution of a project such as this requires close collaboration between builder and designer to ensure that a spatial experience can essentially be made out of the construction techniques used. Large-scale precast concrete panels set both the architectural quality of the finished rooms and their spatial limits. The introduction of other materials is limited, thus keeping a sense of robust scale rare in such a small structure.
The project offers potential as a new paradigm for the tight infill spaces that can be found throughout the inner ring of Australian cities and its impact will be felt far beyond the tight confines of its Surry Hills site.
– Jury citation
Gavin51094: When you bought the land, were you confident that council would allow you to build something so quirky?
Dom & Sue: I wasn't sure if I would be able to get away with it but I knew it was adjacent to a 10-storey building and that we lie on the southern side of it so I don't overlook anyone, so I was confident it would be okay.
– Grand Designs Australia episode 2, web chat transcript.
See Small House by Domenic Alvaro for a full review of the project.
For a full list of awarded projects see 2011 National Architecture Awards – the winners and for more awards discussion see Rachel Hurst and Rory Hyde's responses to the awards and the jury overview by Karl Fender.
Products and materials
Roofing

Stramit CapacityPlus.
External walls

Precast concrete wall panels, supplied and installed by Hanson Precast.
Internal walls

Stone walls supplied and installed by Artedomus; plasterboard walls and ceilings by Van David Interiors.
Windows and doors

Powdercoated aluminium sliding doors with Viridian low-e glass; internal toughened glass partitions, supplied and installed by K+K Shopfitters; Somfy motorized sunscreen blinds.
Flooring

Precast concrete; hollow core beams by Hason Precast; stone flooring supplied and installed by Artedomus.
Lighting

Cubo night light, custom alarm light, Raggio stair lights; Cubo Doccia rainmaker by Viabizzuno; Pure Downlight from Euroluce; Tizio, Pipe Terra, Tolemeo Terra, Talak Tavolo, Nesso floor and table lamps from Artemide.
Kitchen

Electrolux E-Line range appliances; Franke Planar undermount sink; KWC Ono sink mixer.
Bathroom

Agape Deep bath and custom stone basin from Artedomus; Rogerseller Tonic tapware; Astrawalker Icon shower handset and wall plates; Parisi Twin-Set Column basin.
External elements

Serralunga Vas-One pot from Space Furniture; Recycled Truck Tyre and Essential Egg pots from Garden Life; Plantation Drum pot from Motyaj.
Furniture

Living – Edra Flap and B&B Italia Mart armchair from Space Furniture; Herman Miller Noguchi coffee table from Living Edge; Kitchen/dining – Joe by Poltranova; custom solid oak dining table by Elan Construct; Cassina Superleggere dining chairs; Bedroom – Zanotta Zeus stool and Gilda armchair; Ando bed from Poliform; Roof garden – B&B Italia Acerbis outdoor chairs, Fat-Fat table, Mart armchair, Shelf X bookcase from Space Furniture.
Other

All artwork by Iain Dawson Gallery, horse head by Trevor Mein.
Source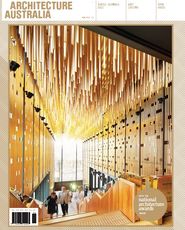 Issue
Architecture Australia, November 2011
Related topics