On a city site of seven metres by six metres, this house by Domenic Alvaro is essentially a vertical apartment that challenges conventional thinking about planning and density.
It is rare to find a vacant lot in inner Sydney, and even more improbable to build a four-storey house on it. However, this is the story of the Small House designed by Domenic Alvaro for himself and his partner Sue Bassett in Surry Hills.
On a site of seven metres by six metres, Domenic built what is essentially a vertical apartment. Adding up to approximately 180 square metres, the design is a wonderful example of tight planning, with creative use of space and ingenuity in construction. It is a house of anticipation in ascent, as each level unfolds and reveals its own unique spatial experience. Equal to its subtle and poetic undertones, the building clearly makes an outward statement, protecting its occupants and proclaiming its place among the various buildings in the back lanes of the area.
The external concrete form is robust and elegantly composed, yet intentionally monolithic. Domenic recalls that the structure, carefully pre-planned in collaboration with the precast manufacturer and engineer, was "built entirely from high quality precast concrete (including floors), fabricated off site and erected on site over a four-day period. Wall and floor panels, cast in provisions for stairs, balustrades, windows and light fittings were produced off site, minimizing on-site construction time and disturbance to the surrounding neighbourhood."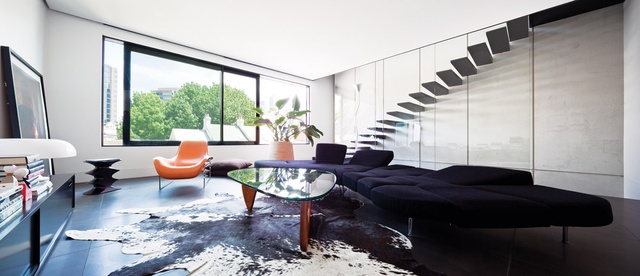 This notion of efficiency and cost-effective construction is a continual theme throughout the house. Circulation is minimal and spaces are only as large as necessary. A narrow staircase runs up from the street entry, bordered on one side by a veneered joinery unit leading to the first level, which contains bedroom and bathroom. Large sliding panel doors modulate privacy and light into the corridor and a continuous floor of basalt tiles blurs the line between spaces, spreading rooms out beyond their perceived limits. From here the staircase opens and cantilevers from the concrete wall, allowing light to filter down from the upper levels while also acting as a vertical path for cross-ventilation.
The living area above was intended as an undefined and flexible space, its configuration determined by function and the changing needs of the occupants. Domenic says the house was designed for "myself and partner Sue, plus one," and this space can be organized to accommodate an additional sleeping zone should the need arise. The programmatic separation of functions, then, is a deliberate move and the compact nature of the space allows interaction, movement and communication, creating a distinctly intimate environment. In such places you can always hear what is going on, even though you may not see it. The aural and the visual, the private and the public dance together and are continually interchanging.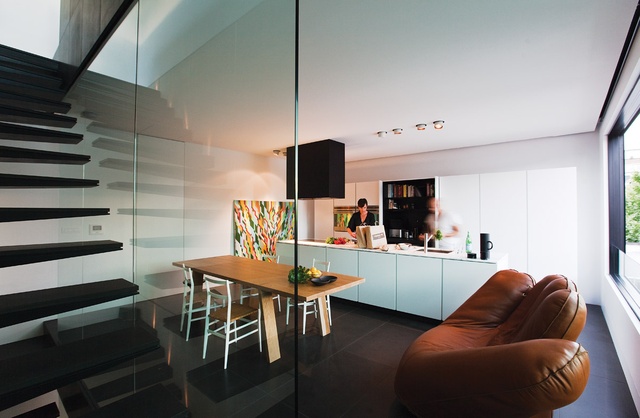 The third floor contains the dining and kitchen area, its function and purpose varied and once again flexible: sometimes used for eating, cooking and entertaining; sometimes as a large work space, transforming the area into a studio environment. A simple and efficient kitchen storage unit occupies the south wall, with a large bench in the centre. Both elements are freestanding and by not occupying the entire width of the space, they avoid the sometimes crowded feeling of built-in joinery. This again reflects the theme of simplicity, openness and mindfulness of budget.
The effect of light in the house is an important element and as one ascends upwards the intensity of light increases proportionally. On a practical level, the large sliding windows on the west facade, with low-e glazing, control heat gain but also allow the surrounding eclectic context to infiltrate the house. A collage of terrace house rooftops, concrete and brick office buildings and the distant city skyline creates an unexpected backdrop, in itself becoming the art on the wall, a live and changing kaleidoscope of light and colour.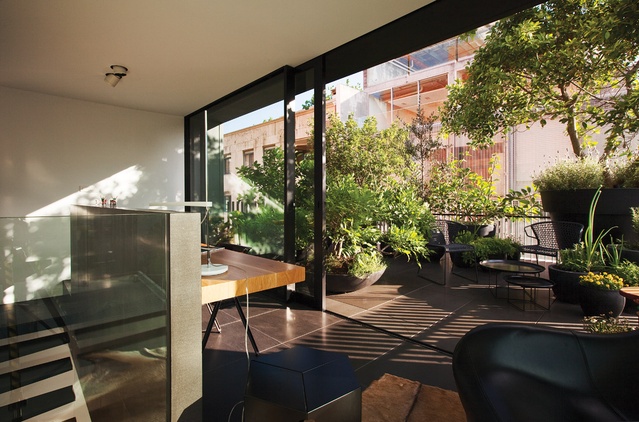 The uppermost level is the crowning space. A small study contained within a glass-and-steel-framed structure opens onto a "working roof garden terrace," a luscious Arcadian experience within a gritty urban context. A varied collection of potted plants and herbs creates a distinct sense of seclusion and privacy, with a large fig as centrepiece. The garden has been inverted and, in a way, placed in its most logical location, high up with ample access to sun and rain. The journey is now complete and the roof space provides a well-earned rest, a place of repose, contemplation and reflection.
Small House is at once both a home and a commentary, challenging conventional thinking on planning and density. It posits a way of living that is effective, efficient and relevant to inner-city locations and it highlights a significant need to re-look and rethink how we consolidate our urban fabric.