National Award for Small Project Architecture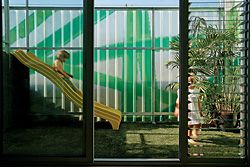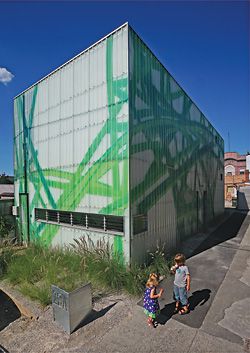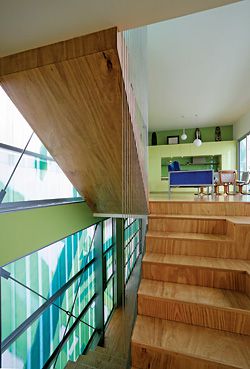 Polygreen
Bellemo & Cat

JURY CITATION
Polygreen – a compact new residence in a laneway of old warehouses in a northern Melbourne suburb – has an experimental expression allied with economical and practical construction and planning.
Designed by an architect/sculptor duo, its container-like volume becomes an external artwork, with a translucent outer skin patterned in shades of green and randomly punctuated by neat window penetrations. The skin is formed of woven fibreglass, with the patterns a screen-printed overlay on its rear surface, derived from a series of abstractions on art projects realized by the duo.
The house's main interior is on an upper level. It is entered via a children's play space, expansively connected by stepped platforms to the main living area, which is then overlooked by a partially screened gallery bedroom. To the north, large windows frame views over a landscaped terrace to pictorial Victorian roofscapes and distant mountains.
The proportions of this space, the quality of light and the successful use of unusual materials in combination make for a very memorable interior. The exterior is similarly striking and the whole design provides a compact and successful framework for family and business life, all at modest cost. The structure has been designed to allow a further storey at a later date.
With regard to environmental performance: the construction system provides good levels of insulation; the main windows are to the north, with awnings and screens; heating is by hot water radiators; and rainwater is stored on site.

Architect
Bellemo & Cat—design architect Michael Bellemo; designer/artist Cat Macleod; documentation Ashley Every

Structural consultant
Felicetti

Builder
Michael Bellemo

Photographer
Peter Hyatt
National Award for Small Project Architecture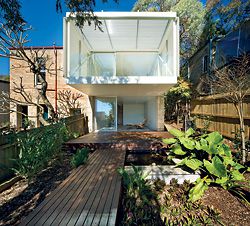 Ang House
Chenchow Little Architects

Jury Citation
Located on a busy street in a fashionable Sydney suburb, this house is half of a pair of semi-detached cottages, and part of a group of such cottages. The local council, therefore, required the retention of the street presentation. The front elevation to the original ridge line and the front two rooms remain essentially unaltered, with radical modernity beyond: a stylish and streamlined set of interiors framed by two beautifully detailed steel trusses supporting a new room and a cantilevered deck, and stabilizing existing side walls. While light-filled and crisp, the house has achieved an openness and generosity quite untypical of narrow terrace houses and semis. Colorbond ripple-iron ceilings in "surf mist" provide the soft off-white colour accent that pervades the addition. Radiata pine floors are limewashed to harmonize.
The addition includes a main level, with living areas and kitchen opening onto the cantilevered deck, which has metal screens to each side and above, enabling sunlight control and managing privacy. Above is the master bedroom, tucked back into the existing roof space, and below is a rumpus room opening into a small, neat garden. The interiors are serene, stylish and minimalist in character, assisted by the client's selection of furniture.
The base of the rear elevation is contained between piers of retained stonework, which provides an attractive link with the adjoining semi.
This is a small and relatively inexpensive project delivered with great panache. It is so neatly resolved that one can foresee the concept multiplied as grouped town houses or home units to good effect. The project shows how architecture can deliver a maximum product at a minimum cost.

Architect
Chenchow Little Architects—design architect Tony Chenchow, Stephanie Little; project team Janice Chenchow, Jenni Dang

Structural consultant
Simpson Design Associates

Hydraulic consultant
T. J. Taylor Consultants

Photographer
John Gollings