It's a rainy May evening and in-between the downpours, Stuart Vokes is trying to keep two Jack Rusells from escaping into the suburbs of Perth. It's not easy. Vokes is guarding the front door of a house in Mount Pleasant where local and interstate guests have gathered at a pre-conference informal double-feature: a walk-through of this newly remodelled house by Owen and Vokes and Peters, and a slide-show of work by WA-based Pendal and Neille.
The host house is part of a cache of west coast work by Brisbane-based Owen and Vokes and Peters. The reconfiguration of an existing house (circa 2000) creates spaces, connections and rooms that blur the usual distinctions between inside and out. Tentatively named the Mt Pleasant Garden Ruin, the project is "more about formalising and structuring a garden around the existing house with a suite of brick enclosures" than building for its own sake says Vokes.
A central block of living spaces and kitchen is flanked by the existing bedroom wing on one-side (accessed by a "corridor to nowhere" from the original house that astounds interstate visitors by its sheer width … even taking into account the insertion of new joinery units to make it a cunningly usable space) and a glazed loggia on the other that opens onto a grassed courtyard, brick outdoor room, roof terrace and swimming pool. Much to the consternation of the Jack Russells, the house gently removes itself from the street, with a brick-floored, timber-screened entry vestibule as transition between front door and front garden and high walls around the internal courtyard bringing views of treetops rather than neighboring houses into the space.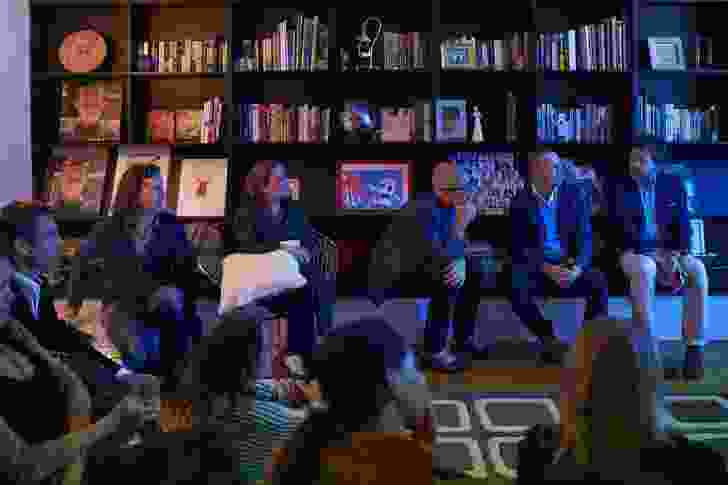 Winding around the outdoor room a narrow and irregular stair accesses a terrace overlooking the compact swimming pool several metres below. ("Yes it's true", responds one of the owner's sons when button-holed, "we do jump off the roof terrace into the pool. You can get about half-way down the length of it, so it's not too shallow there. We got a friend of ours to do it first so we knew it was okay.") By this point in the site the enclosure of the front section has given way to evocative ruins set within suburban greenery. None of these new spaces is large, especially by suburban Perth's new standards, but the breakdown of internal walls and boundaries brings a glorious spaciousness and connection throughout the project.
The residential work shown by Pendal and Neille also demonstrates an economy of space; sometimes by choice and sometimes by the constraints of a given project, but always underpinned with a richness of ideas. Focusing on their domestic work Simon Pendal spoke of the interrogation they apply in design to explore junctions, connections, zones and portals in these projects. With a folio that included Pendal's own Fremantle home and a recently completed project in Carine the work shown artfully uses materials and finishes to activate perimeters and articulate planes. The results are rich, workable, habitable spaces.
The drive back from Mount Pleasant can take you through neighbouring Applecross; the ultimate case study in Perth's ongoing housing transition from modest inter-war bungalows on grassy plots to tightly-packed McMansions occupying every allowable square inch of site. Looking out at this expanse of rain-swept, stuccoed, double-storied porticos, the evening seemed a timely reminder of how much you can do with just a little space.
This event was from the Garden Variety 2014 talk series, curated by Owen and Vokes and Peters. The Brisbane series migrated to Perth for the 2o14 National Architecture Conference, to highlight how the extraordinary can be found in the everyday work of local creative thinkers.
Related topics