Australia- and Spain-based architecture firm Smar Architecture Studio has won an international competition to design the new 33-hectare, €25-million ($36.8-million) National Science and Innovation Centre of Lithuania in Kaunas, known as Science Island.
Second place went to UK-based Simpson Haugh and Partners and third place to China's Donghua Chen Studio. The winners were selected anonymously and announced by Lithuania's prime minister.
The project also encompasses an urban integration plan for the island, currently called Nemunas Island.
The three winners will now undergo a negotiated procedure without publication of a contract notice with Kaunas City Municipality, which will select one architect or team to carry out the design concept. Each winner will receive an honorarium of €15,000 ($22,000).
Smar Architecture Studio will be first to undergo the negotiation process as it won first place. Whether they are successful or not will be announced in November.
Smar Architecture Studio was founded by University of Western Australia professor Fernando Jerez in 2007 and is co-directed by Belen Perez de Juan. The studio is a Western Australia- and Madrid-based group of architects and urban thinkers.
Its proposal was designed in collaboration with students from the University of Western Australia and aimed to design the National Science and Innovation Centre as a landmark that symbolizes Nemanus Island, said Jerez.
"We believe that a landmark of a new era, rather than simply being an object of prominence, should be like an oasis where everyone – locals and visitors – feels the energy of the environment. It requires an appeal that naturally leads us towards this place, as if discovering an oasis in the desert," Jerez said.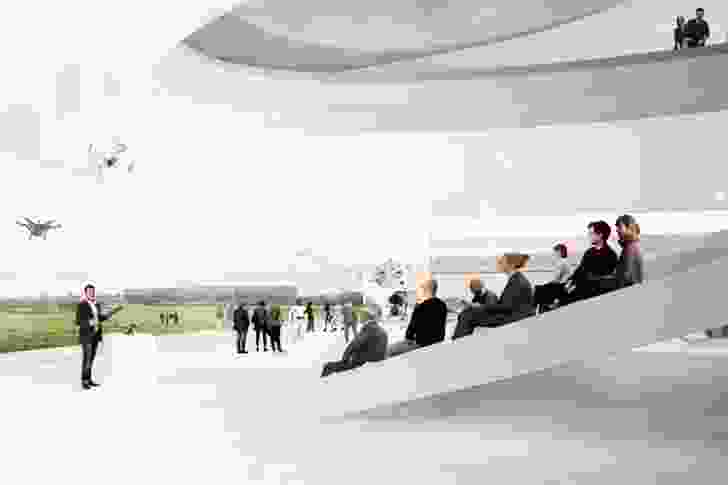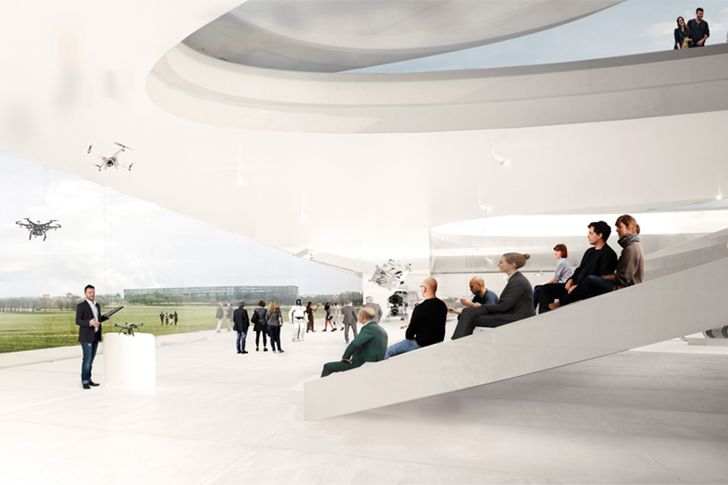 The proposal takes advantage of the natural slope and topographical levels of the island, he said. The upper limit of the centre is an extension of the park – a horizontal green plane that constitutes the top entrance.
"Circular perforations allow access [to] the Science Museum from above, creating at the same time an open-air space to host science screenings and events in the summer. Ground access is a green platform able to generate outdoor activities in summer, which those who come from the Zalgiris Arena will access from above and those coming from the city bridge will access from the ground floor," Jerez said.
He continued: "This proposal offers a new sun for Kaunas – a bright, shining sun that evidences the fact that science is always awake searching for new answers, in an island where the sun never sets."
The prime minister of Lithuania, Algirdas Butkevičius, said, "We have been delighted by the response of the international architectural community to this project. The contest has been the most popular in Lithuania's history – 144 teams entered from 44 countries.
"The initiative has clearly resonated, being both universally and humanly relevant, as well as of great national importance for Lithuania. We believe that Science Island will show how science can inspire positive change for the planet and humanity."
Five honourable mentions were also awarded to Amid.cero9 / Elsewhere (Spain), Mark Foster Gage Architects (USA), Alper Derinbogaz, Salon (Turkey), UAB Architektų biuras G. Natkevičius ir partnership (Lithuania) and Wolfgang Tschapeller ZTGmbH (Austria).
The competition was organized by UK-based Malcolm Reading Consultants, which has run a number of architectural competitions for projects including the Latvian Museum for Contemporary Art, the London Natural History Museum landscape and Guggenheim Helsinki.
Audrius Ambrasas (director of Audrius Ambrasas Architects), Jonas Audėjaitis (dean of Vilnus Academy of Arts' Kaunas Faculty and member of Kaunas City Council), Paul Baker (director of WilkinsonEyre), Sumit Paul-Choudhury (editor-in-chief of New Scientist), Povilas Mačiulis (vice mayor of Kaunas City Municipality), Rainer Mahlamäki (professor and founder of Lahdelma and Mahlamäki Architects), Rolandas Maskoliūnas (chief press officer, Lithuanian Academy of Sciences), and Christos Passas (associate director, Zaha Hadid Architects). The jury was chaired by Malcolm Reading.
It is anticipated that construction of the National Science and Innovation Centre will start in 2017 and that the centre will be open in early 2018.
Related topics