Smart Design Studio designs mixed-use complex for Bondi Beach Post Office redevelopment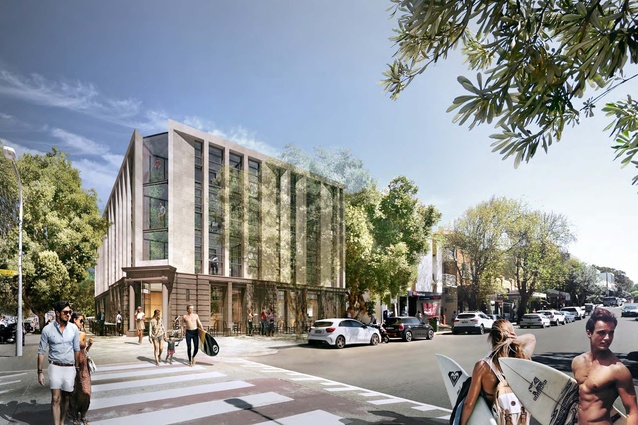 A development proposal would see the heritage-listed Bondi Beach Post Office in Sydney partially demolished and replaced with a four-storey mixed-use building designed by Smart Design Studio.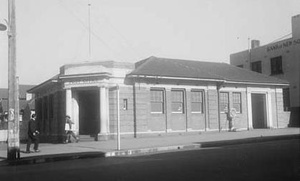 Constructed in 1922, the single-storey Classical Revival building occupies a prominent site on the corner of Hall Street and Jaques Avenue, one block away from Bondi Beach. 
The Australian Financial Review reported that Australia Post had sold the property to Taylors Construction in November 2017, following the company's highly controversial sale of the Sydney General Post Office in July to private developers.
The building is listed on the NSW State Heritage Register. In a statement of significance last updated in 1999, the building is described as a "fine local example of an Inter-War Stripped Classical style public building."
The statement also notes that, at that time, "Intact period buildings are […] rare for this locality."
The building, designed by E. H. Henderson of the Commonwealth Department of Works and Railways, is also listed on the Commonwealth Heritage List for its historic and aesthetic significance.
Architectural designs by Smart Design Studio attached to a development application submitted to Waverley Council outline plans to partially demolish the building to make way for the construction of a four-storey mixed-use building above a two-storey carpark.
The "excessive" amount of streetscape clutter and a number of trees on the street corner will be removed, and an outdoor dining area added for a restaurant at ground level.
The residential floors, to be made of brick and clad in stone, will integrate with the existing brick facade through the alignment of new and existing windows, with an eye to creating visual consistency. 
A heritage impact statement by Urbis, commissioned by the building's proponents, describes the demolition of the existing building as "major," with "the interior, all additions and the existing roof […] removed."
In the report, the architects said, "The heritage Bondi post office deserves an architectural response that is thoughtful and respectful. Our architectural proposal extends upwards using the existing building's language as a basis, which unifies new and old."
Urbis also noted that "the interior of the […] building has been heavily modified and altered [over time].
"The interior has not retained any features that makes a defining contribution to its significance within the precinct."
The redevelopment of the post office has drawn some criticism from locals, with one online petition condemning the proposal drawing roughly 500 signatures at the time of publication.