REVIEW PHILIP GOAD PHOTOGRAPHY SHARRIN REES
Review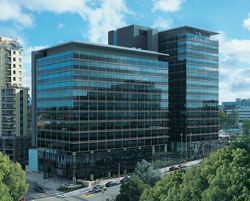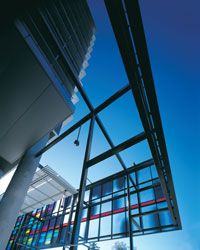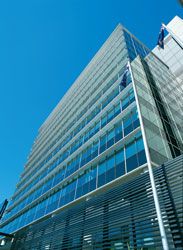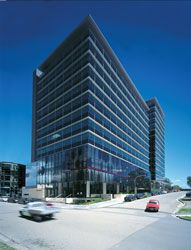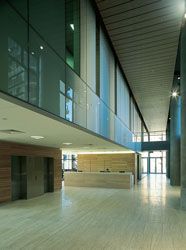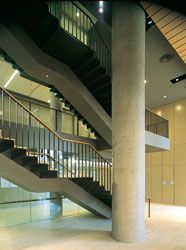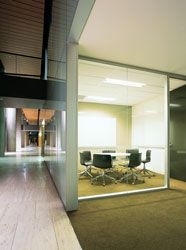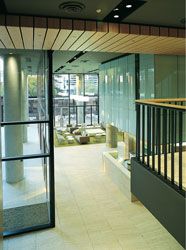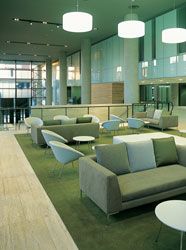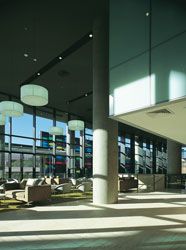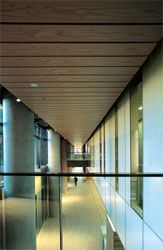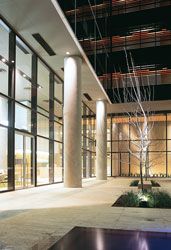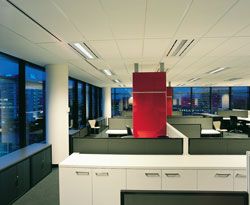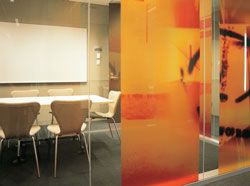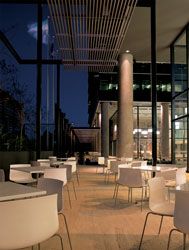 IN SYDNEY'S FAR WEST, the New South Wales Police Headquarters Building at 1 Charles Street, Parramatta signals Bates Smart's critical revisiting of its fifty-year expertise in glazed skyscraper design – expertise first drawn from a brace of tower slabs they designed across the nation for insurance giant MLC in the 1950s, and epitomized by what was then the largest office building in Australia, MLC in North Sydney (1957).
This new building also highlights Bates Smart's concurrent expertise in interior architecture. Designed by the firm's Sydney director Philip Vivian with interiors orchestrated by a team overseen by Melbourne director Jeff Copolov, this $120 million office building establishes a calmly polished corporate image for a government body not normally associated with such a large structure. Indeed this building highlights a practice that has been proceeding for decades in Australia whereby the image of government architecture is almost indistinguishable from its corporate neighbours. The message is clear: government agencies are meant to function as highly efficient, well managed organizations, and within them, issues of accountability and performance are expected to match those of the private sector. And the architecture of their workplace should reflect that.
Not all recent government buildings follow this model. For example, in Brisbane at the Neville Bonner Building (1998), Donovan Hill with Davenport Campbell and Powell Dods Thorpe broached issues of monumentality and representation with boldly modelled sun baffles on one facade and, on the other, a sculpted entry wall like a giant piece of public art offset against a sleek curtain wall. It was a way of differentiating a large government office building from its commercial brethren. Bates Smart have chosen the opposite path, but instead of matching industry are attempting to go one better. The philosophy is that a government agency could and should set an example of how a commercial building might be planned, constructed and detailed, as distinct from redefining the image of governance as a carefully negotiated measure of civic authority.
After all, this building is not a police station but a vast office complex.
The location of the new headquarters enacts contemporary NSW Government policy, which encourages significant development around transit corridors. Hence the relocation of a major government agency, decanted from three buildings in central Sydney (including its former headquarters in College Street) to this one in Parramatta.
The brief was always for two towers (reflecting the arrangement of different police departments within the building) and Bates Smart employed a connecting core like the one in MLC North Sydney (1957) to meld two towers of nine and thirteen office levels above a multi-level podium into a unified composition. Each tower possesses unencumbered floor plates that enable planning to accommodate teams of police employees and hence three "neighbourhoods" of 416 square metres on each floor plate.
Each of these "ideal" neighbourhoods was created from four modules of an efficient 8.1 metre x 12.15 metre structural grid, resulting in an "ideal" floor plate of 1250 square metres. The two floor plates were then aligned according to the street boundaries, with the space between used to create an interconnecting lift core to service both "ideal" floor plates. Such sachlich rigour is hard to fault. There is an undeniable echo of the commercially savvy rationalism of Gordon Bunshaft and Bruce Graham, two leaders of American postwar office design.
The linking element at ground level is the street-level podium, defined at its entry by a patterned glazed screen designed by young artist Regina Walters, the design of which has been abstracted from patterns created by DNA detection devices. Taking advantage of the sloping site, the podium is multi-level and therefore multi-volumed. It is like a mini city with a triple-height public lobby, press briefing rooms and creche at ground level; then up a level but within the same volume, a "boulevard" streaking the length of the development, secure staff lobby and lounge areas, restaurant and gymnasium. Seminar rooms and meeting rooms are another level above but still visible from below. It is this distinct communal and "public" level of the building which gives the complex its visual and experiential strength. Huge 900 millimetre diameter off-form concrete columns give robust grandeur to the lobby, their scale reminiscent of those supporting Lucio Costa and Oscar Niemeyer's Ministry of Health and Education Building, Rio de Janeiro, Brazil (1937–43). But it is the warmth of the travertine floors, natural timber linings, pendant light fittings, moss green Bertoia chairs, soft couches and rich deep rugs that evince an air of Scandinavian comfort. Add to this the fact that this very large building, with its double layer of attached aluminium sunblades that also perform as lightshelves (all derived from aluminium curtain wall technology) and its green tinted glass, has achieved a four-and-a-half-star energy rating and that the whole podium can be naturally ventilated.
A key aspect of the current face of Bates Smart is the design integration across each major commission, at the level of architectural form, planning, interiors and delivery. The NSW Police Headquarters demonstrates Bates Smart's conscientious refinement of the speculative office building model. While the "double-barrel" revolving doors and heavy black steel frame that encase the lobby are for bomb protection, and reflect new measures introduced for Australian public buildings following the Bali bombing of 2002, their visual weight is further evidence of the search for an appropriate language of civic decorum at ground level for what is the largest Bates Smart job to date in Sydney. Adding to this sense of subtle propriety is the landscaping around the podium that includes a memorial garden and reflecting pool to fallen police officers.
In Bates Smart's most recent work it is clear that the firm is now comfortable with the future of what might be called a new-century modernism, an approach also perceivable in the current work of some of the best corporate architectural firms practising in Germany, Sweden and Denmark. It is an architecture that is technologically progressive and programmatically responsible, that has recovered interest in glass and steel and timber as necessary factors in sustainability. There is an understanding of the need for workplace planning to respond to digital technology, environmental control, and human scale and tactility in those spaces where touch and sight are most important.
Thus interiors are given priority and are seen as integral to the overall concept and a design phase not to be squandered in favour of easy returns. Furthermore the city is understood as a complex morphological organism to which any new building must respond. In many respects, there is an echo in such work of the shift that Scandinavian architects like Arne Jacobsen and Arne Ervi made in the mid-1950s towards the embrace of the curtain wall, yet without losing the need to maintain the sense of craft, warmth, and texture in materials and finishes, and also the value of the work of art as a complement to the crafting of technology. The risk with such an approach is that the result might simply be dull, bordering on the mundane, risking what Henry-Russell Hitchcock warned against in 1947: an architecture of bureaucracy. But that complaint is not in evidence here. It seems contradictory to speak of a term like Classical Modernism, but there is a sense of quiet dignity to this work that suggests responsible and valid (rather than conservative) humility in the promise of the architecture's longevity, as an accommodating backdrop to human occupation, and as an unassuming addition of quality to the greater fabric of the city.
PHILIP GOAD IS PROFESSOR OF ARCHITECTURE AT THE UNIVERSITY OF MELBOURNE AND EDITOR OF A FORTHCOMING MONOGRAPH ON THE HISTORY OF BATES SMART TO BE PUBLISHED IN NOVEMBER 2004.
Project Credits
NSW POLICE HEADQUARTERS
Architects and interior designers Bates Smart—project director Philip Vivian, project leaders Neil Stonell, Robert Moore, senior designer Guy Lake, interior design director Jeffery Copolov, interiors project leader Alice Sangster, senior interior designer Kendra Pinkus, project team Katie Uther, Gary Robinson, Aaron Coats, Janine Campbell, Patrick Sim, Donna Lopata, Alice Pennington, Steven Blaess, Suzanne McCormack, Naomi Williams, Natalie Lane-Rose, Andrew Burns, Nassar Etminan. Client Department of Commerce (formerly Department of Public Works and Services). Tenant NSW Police Service.
Developer (pre-tender award) Winten Property Group/ABN Amro. Developer (post-tender award) ABN Amro/Multiplex Constructions (NSW). Builder Multiplex Constructions (NSW). Structural Hyder Consulting.
Mechanical and electrical consultant Lincolne Scott.
Hydraulic and fire consultant LHO. Lifts Norman Disney & Young. Lighting Vision Design. BCA City Plan Services.
Environmental consultant Advanced Environmental Concepts. Landscape architect Aspect Sydney. Access Access Australia. Acoustics Acoustic Logic. Town planning Hassell (DA), City Plan Services (Construction).
Cultural planner Guppy and Associates. Artist Regina Walters. Facility planning StrategicFM. Council Parramatta City Council