The NSW Land and Housing Corporation has unveiled plans for the development of a social housing property in Glebe.
To be located across two sites at 17-31 Cowper Street and 2A-2D Wentworth Park Road, the design of the development is inspired by historic brick woolstore buildings and rendered terrace houses.
Designed by Johnson Pilton Walker, the development will include two eight-storey woolstore-style apartment buildings accommodating approximately 35 social housing units and 39 standard market apartments, along with five three-storey terrace houses.
The smaller northern woolstore building will accommodate social housing in approximately 2,300 square metres of residential floor space and the southern building will accommodate market housing in approximately 3,500 square metres.
Four competing design teams were invited to prepare design proposals for the site, with Johnson Pilton Walker's woolstore and terrace scheme selected as the most appropriate.
Both woolstore buildings will be organized around a single core, with naturally ventilated lobbies linking the five dwellings on each floor.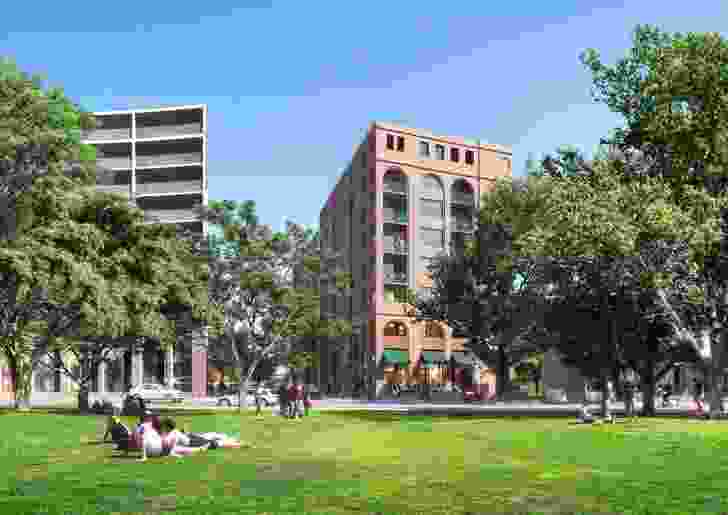 "This lobby is considered an extension of the public domain vertically through each building, and is treated as an external space," the architects state in planning documents. "There is the potential for activation of these lobby spaces, achieving a strong connection with the public domain at ground level."
The rooftops of both the north and south buildings will be given over to communal space, with the social housing southern building having 260 square metres of communal space and the northern building having 215 square metres.
The three-storey terrace dwellings fronting Mitchell Lane East and Doherty Reserve will feature courtyard gardens providing private outdoor space at ground level at the rear, and daylight and natural ventilation to all levels.
Due to changes to precinct planning regulation announced by the NSW government in 2019, NSW Land and Housing Corporation sites are now subject to local council planning processes, rather than state-significant assessments.
The City of Sydney Central Planning Committee is considering the proposal on July 23, with council planners recommending approval.
"At a time when the wait list for social housing in NSW is almost 60,000 people, the demand has never been greater," the report to the committee states. "Combined with a five to 10 year waiting period for social housing in our area, and the extra demand that will be created by the health, social and economic impacts of Covid-19, there is a critical need to deliver more social housing."
Related topics