Soft Architecture lighting collection by Flos
What if a light wasn't an object at all, but a glowing extension of the architecture itself? Soft Architecture by Flos explores this notion.
There is something special about seeing light without seeing the mechanics of it. For many years, the only way to achieve this effect in interiors was through daylight streaming through a cut in the architecture. Since the advent of LED technologies there are a lot more possibilities; hiding a downlight behind a curve in the architecture is not difficult to achieve. Soft Architecture by Italian company Flos takes this one step further.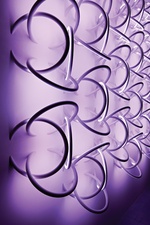 The collection started when Piero Gandini, CEO of Flos, came across Belgian design group Under-Cover, who had been working with a new lightweight composite material that replaces plaster, allowing walls and ceilings to be moulded around lighting in new ways. Seeing the potential in this material for Flos, Gandini bought the patent and Soft Architecture was born. His next move was to get designers inspired by the idea. "We talked to designers and we said 'We have this new stuff, think about it,'" Gandini explains. "They were very impressed. Some of them reacted in twenty-four hours, some in one year, some are just reacting now."
One of the first responses was from New York-based Israeli designer Ron Gilad, who created Wall Piercing – rings of LED light that protrude from the wall, making it look like the wall has a piercing. Able to be used singly or in a series, with white or coloured lights, Wall Piercing can serve as an interesting sculptural wall light or as a full-blown architectural installation that makes the whole wall glow. "Ron Gilad reacted in a super-enthusiastic, powerful way," says Gandini. "He's a natural poet."
Another striking example is Sebastian Wrong's reimagining of his earlier table and floor lamp Spun, designed in 2003. Merging lamp with wall, Soft Spun takes the same form of the earlier lamp but is merged in the wall – only half of it protrudes into the room in the same wall plaster, while a concave space in the wall continues the curve backwards.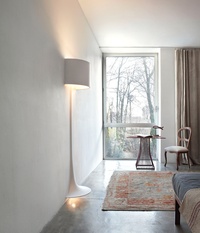 Other lights in the range are much more simple but Gandini wanted to give even these a personality. Speaking to various designers, Gandini asked, "If there was a cut in the wall with light coming out, what would you like to see in that cut?" Some responded in a decorative way, like Marcel Wanders who created a classical floral design reminiscent of plaster reliefs, while others created something more elemental – Philippe Starck's cut in the wall is almost like looking into a cave.
Starck has many more products released in Milan this year for Soft Architecture, while the range will also see new lights from Ronan and Erwan Bouroullec and Konstantin Grcic. Hiding a light element behind architecture is not new, but Flos's strength is in its willingness to push the boundaries of new technologies, to invest in the best designers in the world, regardless of their fame, and to realize that the future of lighting is not just about the lamp, but in the quality of the light itself.
Brand: Flos
+39 0302 4381
www.flos.com
Supplied by Euroluce 
+61 2 9380 6222
www.euroluce.com.au