A 40-storey office and hotel tower designed by the Chicago office of Skidmore Owings and Merrill (SOM) and Fender Katsalidis will be built in central Melbourne's legal precinct, having been given development approval.
With a design inspired by Melbourne's legacy of terracotta and faience facades, the "stacked" tower at 600 Lonsdale Street will feature a 280-room boutique hotel sitting atop around 24,400 square meters of office space.
The building currently on the site, the 1920s industrial building Londsdale Court, will be demolished to make way for the tower.
Fender Katsalidis director James Pearce said the two uses of hotel and office would be well suited to the area.
"The legal precinct in Melbourne is undergoing enormous transformation as part of the city's continual regeneration and we are excited to be working with lead architects SOM to deliver the project," he said.
"There is a natural synergy between the two typologies with their growing number of overlapping facilities, even though the combination of these two uses in a single building is uncommon in Melbourne CBD.
"It's an excellent way for the lower levels of the building to be activated given the distinct times that each use has its peak – office being during the week and hotel on the weekends."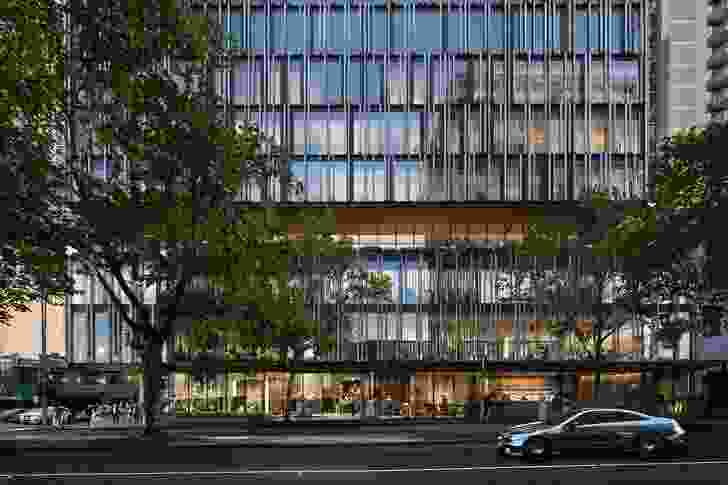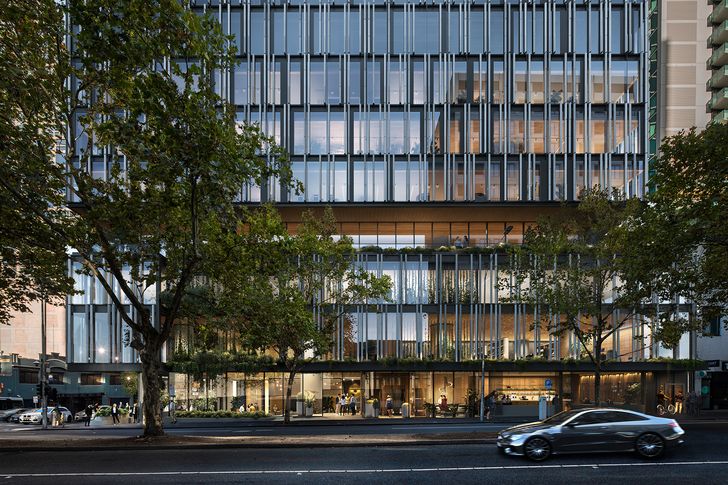 The ground plane is designed to be highly permeable, with operable storefront elements, inviting the public in and blurring the distinction between hotel, office and retail functions.
Four landscaped terraces informed by biophilic principles will be accessible from office spaces at every level to provide "an opportunity for moments of collaboration and interaction, as well as respite and connection with nature."
Scott Duncan, SOM design partner, said that weaving the interior and exterior spaces together was a key aspect of the building's biophilic design.
"Our concept for a 'fine grain' tower respects the historic scale of the neighbourhood and introduces a vertical network of 'laneway-like' outdoor spaces throughout, speaking to how the ability to spend time outdoors has such positive effects on our health and wellness," he said.
The $500 million tower is a project of developer V-Leader; the compnay plans to retain ownership of the building.
SOM has made a number of marks on the Melbourne skyline, including the AMP Square (1969) on Bourke Street, designed by the San Francisco office with Bates Smart and McCutcheon. The Chicago office also had a hand in assisting Yuncken Freeman in the design of the former BHP House on William Street (1972). Both buildings are listed on the Victorian Heritage Register.
Related topics