Behind a tall, blank white wall in South Yarra, a house originally designed by Arts and Crafts architect Harold Desbrowe-Annear had been left in a state unbefitting its history. It was remodelled late last century but not well, and its sloping topography ran down, away from the street and away from the sun. Yes, it sat on a huge tract of land in a wonderful location. Yes, it had an enviable architectural heritage. But no, it wasn't a nice home.
After more than three decades in practice, architect Allan Powell has faced a good many such challenges. His response here is a consummate reconciliation of existing building, new structure and site. The house as it now stands, wrapped around a naturalistic and verdant garden and Hollywood-esque pool, seems neither old nor new, despite the fact that it is both.
In a house this large, it's difficult for both visitors and writers to know where to start, but the central outdoor space provides a fitting entree. The pool, the garden and a new rear wing represent a remarkable transformation of the cursed south-facing slope. Even Allan is lost for words to describe the site's initial inadequacy. "I've been trying to come up with a word for this kind of thing for thirty years," he says, "but I haven't been able to. It's just nothing." And he's right. The land ran away from the house and the sun – it was largely unusable and almost permanently mired in shaded gloom.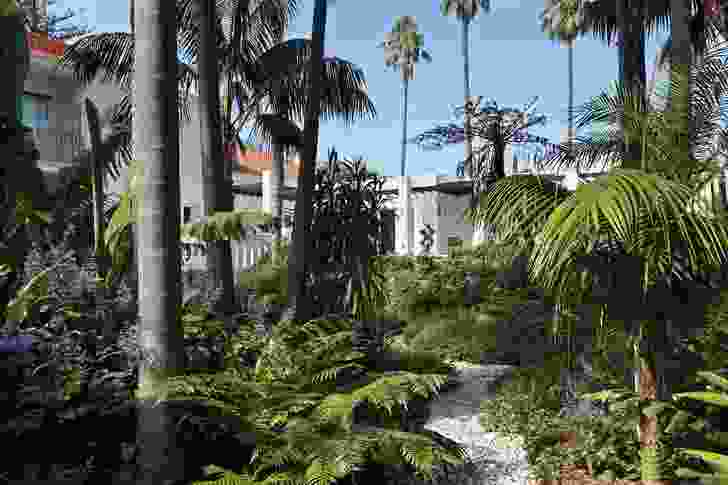 From this nothing, then, to really something: the back half of the block now comes across as a mid-twentieth-century starlet's playground. A rambling mass of leaves and fronds dips gently beneath a stand of palm trees and then rises suddenly to meet the edge of the pool, which is perfectly positioned to capture maximum northern sun. Roughcast white walls amplify the bleaching effect of all this newfound light but are traced over by a spider's web of wires that will soon be covered in climbing vines. Beyond and above the white walls sway three more tall palms. They're an essential part of the composition – exclamation marks to the view from the front section of the house – but they also hint at the continuation of the estate beyond the house. In this sense, they're part of a broader strategy. Sightlines to fences are confused and layered at every turn, obfuscating any clear idea of the boundaries of the property. The block is its own discrete environment, a place beyond the business and busyness of the outside world.
Interestingly, disorientation is an important factor inside as well. The original house is notable for its aversion to ninety-degree angles and consistent patterns of circulation. This begins at the threshold and continues throughout. Any sense of coordinates or compass bearings is abandoned in favour of a proliferation of surprising internal and external views: almost every room offers a different garden view, although not always of the garden that may have been expected. The amount of visual art on the walls heightens the effect, with reflections creating mock windows from framed and glazed paintings.
Whether or not this particular visual trickery is intentional, the client brief did demand careful accommodation of an extensive collection of art. In many ways, the front rooms of the house are as much art gallery as lounge or sitting room. The owners are avid collectors and active supporters of emerging artists, and their collection imbues the house with a particular personality. The interior, by Allan Powell and Margie Bromilow (MBA Design), who had completed alterations and additions to the owners' previous home, allows room for this personality to be seen and understood clearly. It is predominantly white and clear of any significant ornamental detail, and only one feature dares to compete with the works on display: a striking, asymmetrical marble fireplace that is surrounded by art but could certainly be thought of in the same way.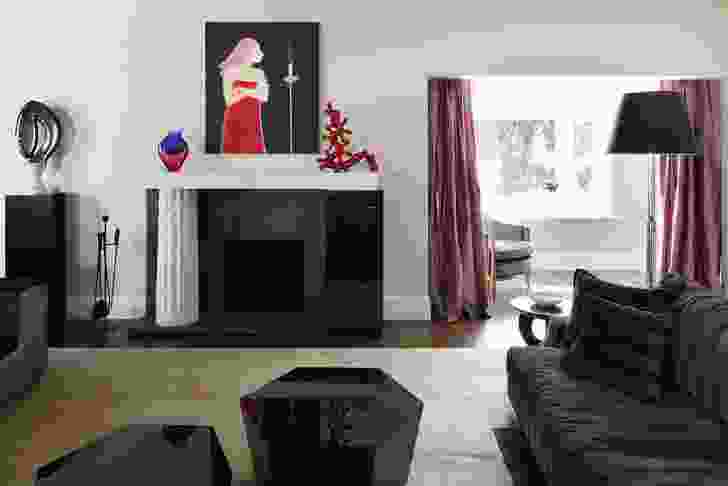 The rest of the house follows a similarly reserved interior style. Beyond the front rooms, the plan contracts into a neat kitchen before turning through a dogleg comprising bedrooms and living spaces and more art. Below this lie a large wine cellar and an enormous garage, accessible from a rear laneway. At the front of the house, a dual stairway rises up to the master bedroom and associated quarters. The amenity here, as in the rest of the house, is bespoke and prodigious.
Despite all this amenity, all these rooms and all this history, the house is remarkable for its cohesiveness as a single building and as a home. Allan and his team have given great thought to every detail – for instance, pillars on the new wing have been cast in proportions and with a combination of smooth and roughcast finishes that match classical Desbrowe-Annear detail – and they have clearly thought of the project as "place" rather than "structure" and "site." Next door, a multi-level apartment building towers above the garden and pool. One of the residents complained to Allan about the noise during construction, but now they must surely be thankful. Where once they had a view of a sloping, shady, depressing nothing, they now have a bird's-eye view of paradise and glamour, a small slice of California behind the blank white wall.
Products and materials
Roofing

Maroondah Roofing French terracotta in Sydney Red.
External walls

Painted Resene 'Bianca'.
Internal walls and windows

Painted Dulux 'Vivid White'.
Flooring

Project Stone silver travertine stone tiles; American oak stained black.
Lighting

Dedece and mLight internal lights; Inlite external lights; Richmond Lighting external floodlights.
Kitchen

Fisher and Paykel integrated fridge; Liebherr under-bench bar fridge and 475L inbuilt fridge with freezer; Panasonic 44L Genius microwave; Smeg microwave; Qasair rangehood; Gaggenau dishwasher, oven and 200 Series Vario stainless steel two-burner gas cooktop, electric barbecue grill and wok burner; Hansgrohe Variac pull-out sink mixer; Bosch built-in blender, shredder, mixing bowl and citrus press; Zip HydroTap; Blum joinery hardware.
Bathrooms and ensuites

Signorino Tile Gallery TGA/7 ceramic tiles and Bianco Carrara mosaic tiles; Starfire glass shower screen; Dolido stone slab benchtop; Bette Starlet freestanding oval bath; Villeroy and Boch Subway wall-hung toilet pan; Walvit, Caroma and Ideal Standard cisterns; Duravit Starck 3 and Villeroy and Boch Loop & Friends basins; Tonic Motion, Zucchetti Bellagio, Grohe Movario Five, Fantini Soho Round Cafe, Waterslide Baton and Hansgrohe Metris S tapware; DC Short Scarpa, Zucchetti Bellagio and Dorf Motif Axis accessories.
Heating and cooling

Designed and installed by Hub-Air Heating and Air Conditioning.
External elements

Signorino Tile Gallery Tundra Grey sandblasted stone; pool by Neptune Pools.
Other

Janusz Kuzbicki fireplace; Peter Cole sculptured lights.
Source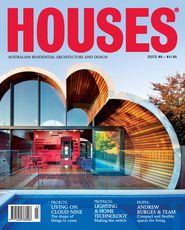 Related topics