Two interactive pavilions have been built in the regional NSW town of Lismore, after winning a national design competition convened by Southern Cross University.
The competition, announced in August, called on emerging architects, designers and artists to submit "dynamic, playful and innovative designs" for one of two temporary structures to be located in a new public space in Lismore in northern New South Wales.
The designs of the temporary pavilions were required to make use of recycled and/or upcycled materials that would be weather resistant and provide a sense of openness while also providing shade and a space for people to walk through and sit under.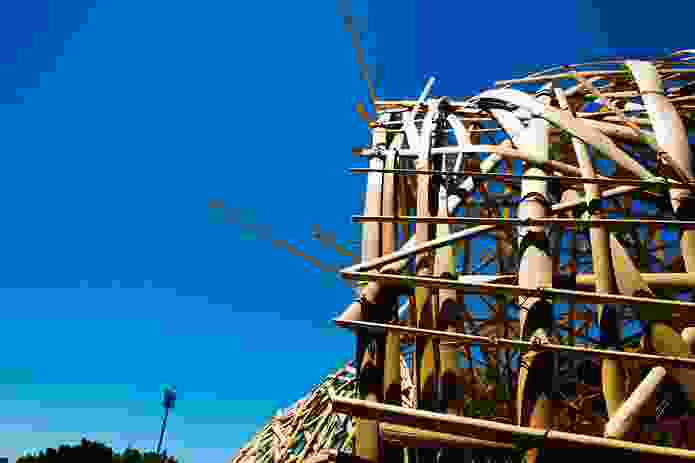 The winner of the professional category, titled Woven, was designed by artists Katie Stewart and Mercurio Alvarado Mendez in collaboration with Sydney bamboo design collective Cave Urban.
The structure comprises two intersecting cups woven from bamboo that is intended to reference the community response, or a pair of "helping hands," in the aftermath of the floods that struck the area in 2017.
Stewart said, "Woven is inspired by gesture and the natural structures we, as humans, can create with our bodies. Its form evokes two bodies entwining and draws upon the human hand as inspiration.
"The installation's design looks to create an intimate space that allows for a flow of movement through the structure that slows the visitor down and creates reason to pause in its centre.
"The woven bamboo creates a highly sensory environment, where light and shadow creates movement across the day and the human form remains constantly aware of the changing texture and form of its surroundings."
The second pavilion, titled Lismore Light Gardens, was designed by Bailey Partin, Beki Davies and Robyn Saurine, three students of the university's engineering and art and design programs.
Lismore Light Gardens comprises a three-tier, two-metre-tall structure made from recycled shipping pallets that doubles as a garden.
Partin said, "Lismore is a community interested in ecology, sustainability and supporting each other. Our main aim as a team was to utilize previously owned materials. The secondary aim was to build a structure that activated the community and promoted sustainability."
The project is part a new annual design competition titled Innovate Situate: Southern Cross University Design Prize.
The structures have been installed at the Lismore Quadrangle designed by Murwillumbah-based landscape architecture practice Plummer and Smith. The quadrangle, which aims to become "Lismore's Creative Playground," is a partnership between Southern Cross University and Lismore Regional Gallery, which recently relocated to a new venue on the quadrangle designed by Dominic Finlay Jones Architects, in partnership with Phillips Smith Conwell.