It can be difficult for an architect to work on a project designed by another architect – the challenge is to remain respectful to the existing work and yet not fawningly replicate it. When Benn and Penna Architecture was commissioned to design a secondary living pavilion on a remote site in the Southern Highlands region of New South Wales, director Andrew Benn was already familiar with the existing pavilions. He'd worked as an architecture student in the office of the pavilion's designer, Beverley Garlick Architect, in 1993 when they were being built. "They are buildings of considerable architectural merit, characterized by barrel-vaulted roof forms," says Andrew.
His brief for the new pavilion was to design a dwelling that would serve as a library-cum-home-office and an alternative living space for the owners, who use the property as a weekender. "We wanted the new building to be distinguishable from the others, yet we also wanted the pavilions to work as a closely integrated ensemble," Andrew says.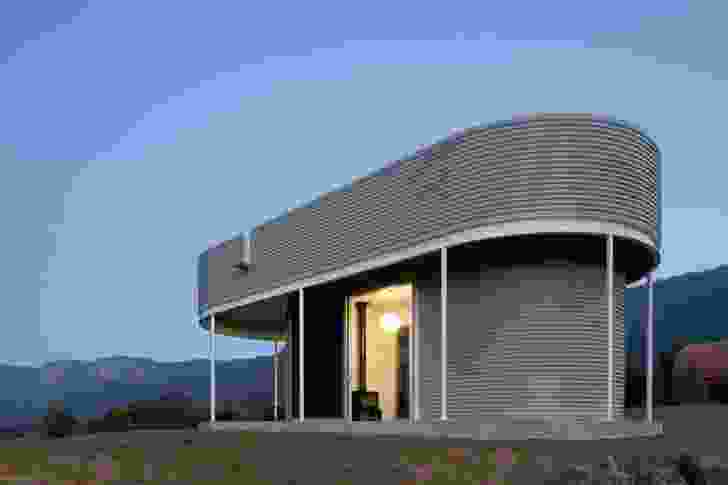 Benn and Penna's new building stands a little apart from Beverley's corrugated ironclad pair that serve as the main living and sleeping quarters, but is linked to them by a covered walkway. The curved roof forms of the existing buildings have informed the stadium footprint of the new building, which is also clad in corrugated Colorbond, the horizontal lines accentuating its curvilinear form. This is a building that's meant to be viewed in the round.
The deep roof above and the polished slab below are positioned asymmetrically to the room that is sandwiched between them, "much like a spinning belt that's come loose from its wheel," says Andrew. This positioning of the roof and ground plane results in a deeper overhang to the north that creates a sheltered verandah.
The room itself takes up just over half of the building's fifty-square-metre footprint, and is bound by the wide verandah along the northern edge and an east-facing deck at one end that looks down into a long valley. The room's other, semicircular end is wrapped internally with bookshelves. "The clients have a large book collection and the idea was to have these entirely encircle one end of the room, as if immersing the space in a thick wallpaper of books," explains Andrew.
Internally the atmosphere is introverted and contemplative; externally the building is neat and self-contained – like an oversized piece of farming equipment or the smartest of contemporary farm sheds.
Products and materials
Walls

Colorbond sheet cladding.
Flooring

Polished concrete.
Furniture

Birch plywood (bookshelves) supplied by CMK Forrest Products; George Nelson bubble lamp,supplied by Spence & Lyda.
Credits
Architect

Benn and Penna Architects
Surry Hills, Sydney, NSW, Australia
Project Team

Andrew Benn (principal), Alice Benn, Thomas Benn
Consultants

Builder A J Corby Constructions
Engineer John Algie Engineering

Site details

Category Residential
Type Residential

Project Details

Status Built
Completion date 2013
Design, documentation 4 months
Construction 5 months

Source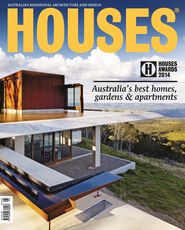 Issue
Houses, August 2014
Related topics