Almost a third of small businesses received orders via the internet in the 2010–2011 financial year.1 As online business gradually expands, retailers are faced with interesting advantages and dilemmas. In principle, it is possible to run a business from anywhere that has good delivery and internet provisions. Consequently some businesses can be "invisible" to the local community as a public face isn't essential for sales. The owners of Southern Swan, Kate and John Reed, embraced the trend towards online sales when they made a lifestyle choice to relocate the homeopathic arm of their Sydney pharmacy to Cygnet, a small rural town one hour's drive south of Hobart. Finding a charming but neglected shopfront in the main street, they engaged local architecture practice Core Collective to establish a retail "living room."
The Green Inn was once known for its excellent milkshakes and adjacency to the town hall, which doubled as Cygnet's cinema. Locals still recall it as a place to meet friends or for courting a beau. When Kate and John purchased the building its booths were gone and the glow had faded, but they were aware of its previous civic role. The buildings on the site comprised a 1920s brick shopfront that was cold, damp and a little dark, and a poor-quality 1970s timber-framed extension. As 70 to 80 percent of their homeopathic orders are received online, the owners did not need to rely on the shopfront, but wanted to make a pleasant workspace within Cygnet that could be a conduit to town life.
Evolving the design with Core Collective, the owners realized that their love of secondhand book trading could offer a way to establish a relaxed retail feel. They are unfussed if book sales are low as the books simply offer a reason for people to share the space.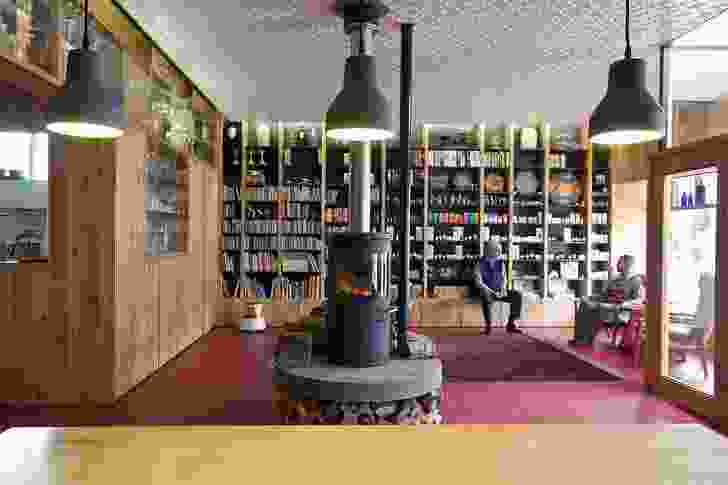 A beautifully worn antique discus forms the handle on the solid timber doors into Southern Swan and a new, sky-lit airlock allows a moment of pause before entering, where one immediately encounters material and physical warmth. A potbelly stove on a raised concrete plinth in the centre of the room heats the whole space and underscores a tangible feeling of homeliness. Deep red linoleum creates a clean, warm floor surface and French polished shelving made from recycled macrocarpa lines the walls and is filled with books, high-quality toys and homeopathic remedies. Above the sales desk is a glass-fronted "museum" bulkhead filled with John's collection of antique medicinal bottles. A new white, pressed-metal ceiling completes the palette and continues through to the awning soffit, connecting inside with out.
Apart from the crisp stainless steel laboratory formed in the location of the old milk bar kitchen, the remainder of the 1920s building has just been cleaned up, re-roofed, painted and insulated where possible. Much of this remaining space is dedicated to full-height storage for hundreds of glass ingredient bottles.
It is at the rear edge of the shopfront that Core Collective has made the largest move, selectively removing large parts of the 1970s fabric to create a separately accessible residence for Kate, John and their son. A new front door and hall off the side lane create a break between the shopfront and the home, offering potential to rent each separately if needed. This residence feels like one large living room defined by white walls, solid timber panelling and joinery, green linoleum and pressed-tin lining. Two bedrooms and a bathroom run along the length of the residence, but the continuity of materials and high-level internal glazing allow them to read as though they are part of the one room. The walls to the lane are solid for privacy, but double-glazed clerestory windows capture north light and frame views to a splendid slice of the town hall's brickwork. A fully glazed end elevation looks across the "antique" tin of the garage roof to rural lushness.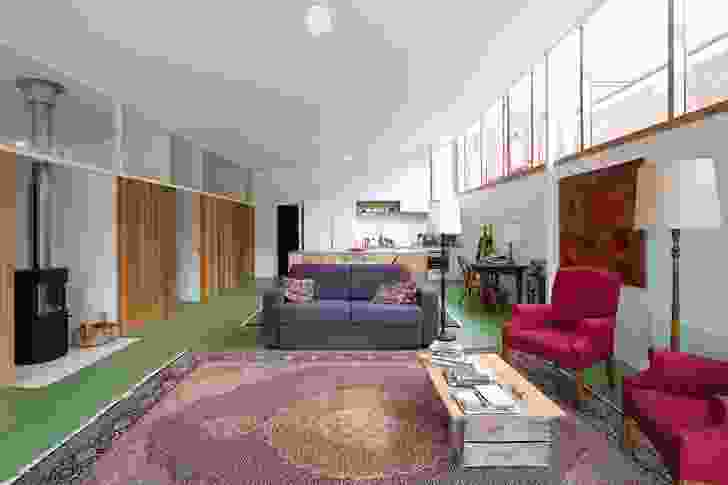 Throughout the project Core Collective, in collaboration with its builders, has re-used or repurposed materials wherever possible. The building contains macrocarpa from the local Oyster Cove Inn windbreak, Lebanese cedar from a demolished church in Ulverstone and excess timber panelling from the builder's previous work. The antique timber discus was imagined by project architect Ryan Strating, and discovered in an antiques store by the builder. The local milkman, who did the Green Inn run, repurposed many of the milk bar fittings for the local football club.
With the intent for good health, healing and sustainability imbedded in each decision for this project, Core Collective, the owners and the builders have created a series of spaces that feel good. While each of the moves is refined, this is not a project about fancy details, expensive materials or spatial trickery. Rather, it is about establishing a logical, flexible, respectful design that is executed with warm, tactile, richly coloured and healthy materials. And over time, Kate and John's generous and alternate model for a retail living space is garnering support. There are visits by locals for Green Inn gossip, occasional buskers, an evening book club and a growing number of people who like to visit to just sit.
1. Australian Government Department of Industry, Innovation, Science, Research and Tertiary Education, Australian Small Business Key Statistics and Analysis (Canberra: Commonwealth of Australia, 2012), 68. This report covered businesses of five to nineteen people.
Products and materials
Walls and ceilings

External walls are existing brickwork with an added timber frame with corrugated, galvanized finish. Internal walls are an existing combination of ecolour zero VOC paint and solid timber cladding, with additions of solid timber with Organoil finish, plasterboard ecolour zero VOC paint and a selection of white/off-white matt/gloss tiles.
Windows

Windows are timber and double-glazed by Trimview Window & Door Spares using Lebanese cedar salvaged from a churchyard in Ulverstone, Tasmania, and was sourced from Timber Wholesale.
Doors

Front door handle is antique discus.
Flooring

Decord entry carpet by Autex from Kingston Floorworld. Refinished and oiled timber floors in store rooms.
Lighting

T5 fluorescent and compact fluorescent pendant/batten fittings. Feature pendant lights in shop by Mud.
Other

Morso wood heaters. Joinery in shop made from salvaged cypress macrocarpa. Enware commercial tapware.
Credits
Design practice

Core Collective
Hobart, Tas, Australia
Consultants

Builder Paradigm Construction
Building surveyor Hobart Building Surveying
ESD Core Collective
Engineer Aldanmark Consulting Engineers
Landscaping Core Collective
Lighting Core Collective
Project manager David Davenport
Signage The Sign Post

Site Details
Project Details

Status Built
Design, documentation 6 months
Construction 8 months
Category Interiors, Residential
Type Adaptive re-use, Shops, Small projects

Source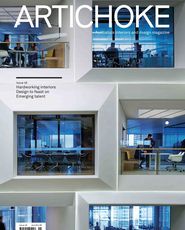 Issue
Artichoke, March 2014
Related topics