Australian brand SP01 has collaborated again with Milan-based studio Metrica to create a flexible storage system that blends colour, materials and a sense of fun.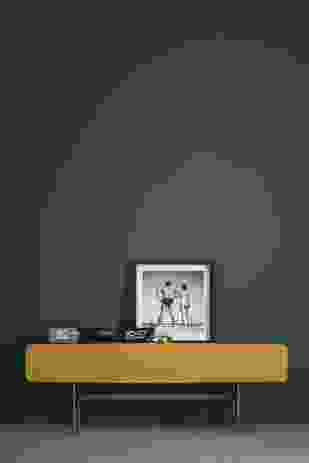 The Yee collection includes a refined wooden bench, a series of colourful storage units and sleek internal metal shelves. By playing with a combination of these elements users can compose Yee to perfectly suit their needs.
First, there is the choice between three variations of a steel-framed bench with a slatted timber top; next, there's a series of multi-dimension storage elements available in a range of colours and finishes that can be arranged in a wide variety of ways; and finally the interior shelves can be placed to create a truly unique storage unit.
The collection can be used to cleverly conceal technology, or to curate and display pieces of art, books or anything at all.
The bench
The bench is a refined standalone furniture piece featuring a slatted wood top made from ash and available in natural, carbon stained or grey lacquered finish. It comes in three lengths, and is supported by a metal stretcher frame in a choice of black, pewter or Bordeaux finish.
Storage elements
The storage elements come in a variety of dimensions, with flap doors featuring a signature soft line profile that is both pure and playful. Each element is available in the three wood finishes – natural, carbon stained and grey lacquered ash – and also in three new satin lacquer colours, brick red, ochre yellow and steel blue.
Internal options
All storage elements come with a flap door mechanism and cable management, and feature a signature soft-profile door shape. Optional suspended steel shelves increase the internal storage combinations and are available in the lacquer colours brick red, ochre yellow and steel blue.
The Yee collection is available through Space. For further information, head here.