From Airbnb to Lego, Microsoft to Medibank, a new publication examines how leading global corporations have embraced the notion that well-designed spaces lead to creativity and innovation. Spaces for Innovation: The Design and Science of Inspiring Environments offers up plenty of workspace food-for-thought, exploring how community, creativity and space inform the best working environments.
The book is authored by Kursty Groves, a UK-based designer, innovation consultant and workplace strategy advisor, and Oliver Marlow, co-founder and creative director of London-based design and architecture firm Studio Tilt, and a specialist in the design of collaborative spaces.
Groves will be one of four keynote speakers at the Work Place/Work Life conference in Melbourne on 31 August, and will discuss how environmental elements impact creative processes and innovative cultures.
In this extract from the book, published by Frame, Groves and Marlow discuss the vital process of involving teams, stakeholders and the wider community in the transformation of a workplace – before, during and after a space transformation.
The Invitation: Engagement and Involvement
Spaces for innovation require a multidisciplinary approach in order to address cultural and business-related needs as well as spatial and operational needs. Equally important is the inclusion of the users of the space from early on in the process, (goal setting, fact finding, insight and idea generation) and continuing through to the latter stages (design, implementation and operation). The more engaged the occupants, the more effective and the more authentic an expression of the company's culture the space (and associated rituals) will be.
Spaces for innovation make people feel welcome, invite curiosity and encourage people to actively participate, behaviours that are fundamental for individual and group creativity. The Invitation is a key part of the creation of spaces for innovation; describing how to engage teams, stakeholders and the wider community before, during and on a daily basis.
Choice and Control
Several research studies have shown that the provision of autonomy contributes to a sense of psychological well-being, which in turn leads to higher sense of satisfaction, happiness and productivity. Happiness, it has been shown makes both individuals and organisations more creative, and the brain works significantly better when you're feeling positive: optimism is the greatest predictor of entrepreneurial success because it allows your brain to perceive more possibilities. Only 25 per cent of job success is based upon IQ; 75 per cent is about how your brain believes your behaviour matters, connects to other people, and manages stress. Beyond the merely practical and functional container for performing jobs, spaces for innovation invite their users to interact and in turn stimulate an emotional, psychological and social setting for creative performance.
However, approaches to workspace sharing as a way of managing flexibility and desk-to-person ratios, which often include 'hot desks' supported by 'clean-desk' policies, can sometimes give rise to 'lean environments' – uniform, clean and depersonalised spaces, while intended to maintain standards and control, can have significantly adverse effects. The psychological impact of lean environments has been examined in the work of Dr Craig Knight, who found that people reported a greater sense of psychological comfort when they felt they have control over their workspace, working in a pleasant environment. This has been associated with greater identification with the organisation and enhanced job satisfaction.
Knight's studies included a series of experiments designed to test measurable impact on business outcomes, with an emphasis on productivity. They were conducted in a variety of different settings: lean (basic office furniture and equipment only); enriched (office space decorated by designer using a selection of plants and art); empowered (office space decorated by the research participant, who was given a choice of plants and art), and disempowered (participant allowed to decorate as in empowered, but then the design was rearranged by management) (Infographic 1, see above). As a result of simply enriching a lean space with pictures and plants both well-being and productivity rise by 17 per cent with no increase in errors. Allowing people to develop their own space saw well-being improve further and productivity increase by 32 per cent, with errors falling. Disempowering workers – the condition where the manager rearranged the space – had the effect of significantly compromising both well-being and productivity.
Creativity requires autonomy and innovation requires productivity. A personal sense of well-being and happiness can be enhanced through enriched and empowered environments, providing elevated levels of psychological comfort. Ignoring this means that you may have people doing their work but their brains won't be operating at full capacity. Worse still, if you take control and choice away from people, engagement in their work and the organisation nosedives.
Curation and Creation
Offering occupants a role in the creation and curation of their working environment creates a sense of belonging, deepens social ties and, through the experience itself, reinforces cultural values of the organisation. In addition, this approach delivers a better design, having had the users of the space help define what it is they need to do their work. There are many ways this can be done and, for the most effective results, the process must go beyond questionnaires and traditional consultative models. The manner in which it is approached depends on existing cultural norms, skill level and creative confidence; often with the invitation to participate being as powerful as the act of participating itself.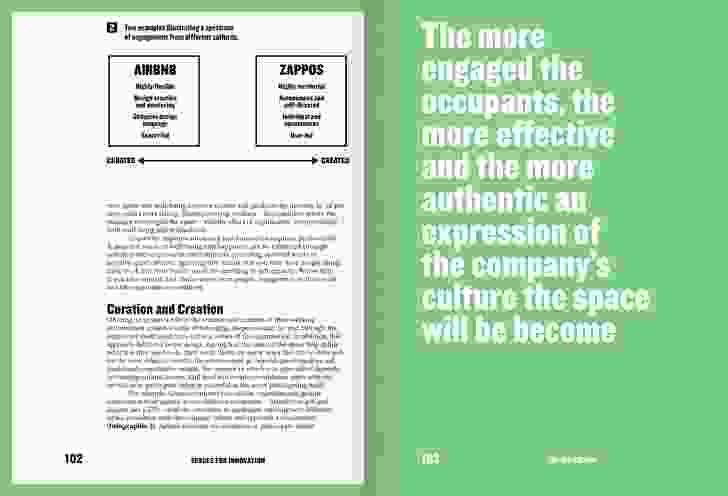 For example, Groves compares two similar organisational groups (customer service agents) at two different companies – Airbnb and Zappos – with the invitation to participate utilising very different styles, consistent with the company values and approach to innovation (Infographic 2, see above). Airbnb activates its invitation to participate whilst maintaining a strong curation of its design ethos. By guiding a small group of volunteers through the process of conceptualising, designing and building distinct spaces in its new working environment, those people with the internal motivation to participate are rewarded throughout the experience of creation. The rest of the organisational community experience autonomy on a daily basis through a choice of work settings. Zappos is at the opposite end of the design spectrum with a 'no rules', decorate-it-yourself approach. Teams are allocated space and allowed to configure their areas as they wish. Each person has their own (small) space they can control.
Invitation for Ongoing Engagement
As we see a shift towards more fluid, dynamic and experiential working environments, the role of the 'host' or 'community manager' is becoming ever-more critical to curate and manage the day-to-day experiences of people as they come and go in the workplace. Whilst not focused solely on either facilities or human resources, this new breed of environmental expert is a passionate connoisseur of experience, navigator of networks and facilitator of collisions. Inspiring work environments invite people to interact with them through the daily messages they send. Stanford University's d.school sets the stage for 'extreme collaboration'; challenging participants to change the spaces constantly in order to experiment with different modes of interaction between people, inspiration and ideas. This challenge is all part of the learning process; the highly flexible and programmable spaces can be set and re-set at will. The inclusion of protocols and instructions of along with an induction into the use of the space is critical for its success and the heightened experience of its users.
Kursty Groves will present her keynote talk at the 2016 Work Place/Work Life conference in Melbourne on 31 August 2016. See the full program and purchase tickets here.
Work Place/Work Life is part of Architecture Media's Design Speaks program. Work Place/Work Life is supported by principal partner Shape, major partners Aspect and Planned Cover, supporting partners Space and UCI, and Design Speaks symposia 2016 presenting partner Taubmans.
Spaces for Innovation: The Design and Science of Inspiring Environments is available to purchase here.
Related topics