Jury Verdict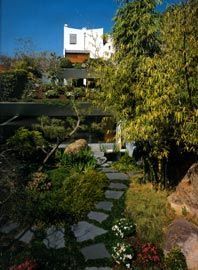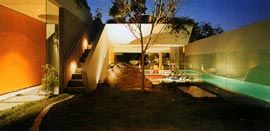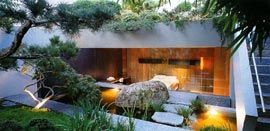 The Jenkins/Robson house is a remarkable addition to a fine Victorian terrace. The architect has created a series of indoor and outdoor spaces of great generosity, within the restraints of a ten-metre wide site at the rear of the terrace house.
This captivating dwelling demonstrates the power that can flow from a brilliant planning strategy. The manipulation of the sloping site, through a cascading sequence of semi-embedded living spaces, has created a generous home ripe with exotic and extraordinarily inventive detail. It nestles below a seductive landscape setting inspired by the design principles and horticulture of small Japanese gardens. The work draws on the tradition of Wright, Neutra and John Lautner, for whom the author worked.
The existing building has been beautifully restored and merges into the new landscape with seductive views over and through the new living spaces.
Credits
Architect

Andrew Nolan Architects

Project Team

Andrew Nolan
Consultants

Builder Kell and Rigby
Electrical consultant Riz Engineering
Heritage consultant Robert Irving
Hydraulic consultant Whipps Wood Consulting
Landscape consultant Ken Lamb
Quantity surveyor Rygate and Co.
Structural consultant Peter Chan and Partners
Swimming Pool Hydraulics Fred Wright

Site Details

Location Sydney, NSW, Australia

Project Details

Status Built
Category Residential
Type New houses

Related topics