JURY CITATION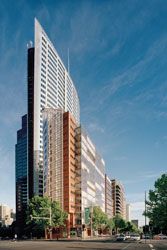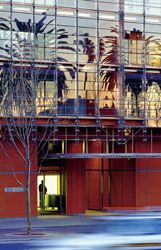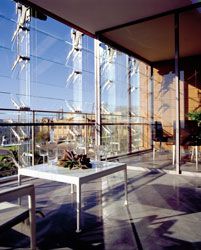 The jury has created a special award for multi-residential buildings to acknowledge the very different programme and response required within medium-density and high-density residential projects, as well as the importance of sustainable strategies for their long-term viability.
The Macquarie Apartments project reflects the historic and architectural quality of the unique Macquarie Street precinct, while promoting and advancing ideas about social and environmental responsibility.
The project is the smaller east-facing component of the Aurora Place complex. The design challenged the Sydney City Plan, which required podium-and-tower solutions. Aurora Place shows that the design process discovers different opportunities from those anticipated in planning guidelines.
The apartment building elegantly curves along Phillip Lane and turns the corner to address Macquarie Street, where the city grid ends and parkland begins. At street level the terracotta tiles create a strikingly modern take on the classic masonry base. Above, a light veil of operable glass louvres encloses large balcony spaces that overlook the Royal Botanic Gardens. The balcony spaces act as a filter and transition from the busy street to the interior, and greatly extend the interior both visually and physically.
The dual core arrangement affords through-ventilation from east to west for each apartment, and cleverly planned gallery circulation draws natural light deep into the plan. In-cavity sliding wall panels allow flexible planning arrangements for living and sleeping areas, and highly refined detail and finish combine to create a new benchmark in Sydney's housing stock.
This building has asserted a tangible influence on our [nobr]medium-density[/nobr] housing market and has raised awareness and acceptance of environmental design through the broad spectrum from [nobr]cost-effective[/nobr] housing to the high end of the market.
Project Credits
AURORA PLACE, MACQUARIE APARTMENTS
Architect Renzo Piano Building Workshop in association with Lend Lease Design, Group GSA and HPA Architects—design team RPBW: Renzo Piano, Shunji Ishida, Mark Carroll, Olaf de Nooyer. LLD: Ross Bonthorne, John Moran, Graham Jones, Robert Gonano.
Documentation Renzo Piano Building Workshop (locally represented by Innovarchi) in association with Group GSA and HPA Architects. Project manager Bovis Lend Lease.
Developer Lend Lease Development, East Asia Property Group, Mirvac Group.
Structural consultant Taylor, Thompson and Whitting.
Electrical consultant Flannigan Lawson Engineers. Civil consultant Jeff Moulsdale & Associates. Hydraulic consultant D P Consulting Group. Landscape consultant Belt Collins Australia. Interior designer HPA Architects, Planners and Interiors.
Quantity consultant Page Kirkland Partnership.
Programming consultant and builder Bovis Lend Lease.
Artists John Firth-Smith, Bill Henson, Dale Frank. Retail interiors Conybeare Morrison and Partners. Authorities – Building regulations consultant Trevor R. Howse & Associates. Photographers John Gollings, Martin van der Wal.