The action on Spring Street in Melbourne has often been political – coups, changes of government and deals to form power have been made here. It is home to Victoria's classical Parliament House (which was, of course, the location of the Commonwealth Parliament for twenty-six years), the Old Treasury Building and, further down the street, the State Government Offices by architecture firm Yuncken Freeman. It's on the other side of the road that a sense of street has been returned to this precinct, particularly in a pocket just north of the end of Bourke Street. Here, a collection of establishments – started by Con Christopoulos with restaurant The European – has added an all-day-and-all-night energy to the city, one which despite our best intentions is still lacking in most urban centres.
The newest piece in this three-dimensional jigsaw puzzle – Spring Street Grocer – is perhaps the most urban; it is essentially a city corner store. Owned by Christopoulos, it is, like its sister venues, several things at once: a gelateria, a grocery, and a cheese room and function space in the basement. But despite the potential offered by the corner location on a laneway, the site was previously a neglected space, used merely as the foyer to a 1980s office building designed in the postmodern style by Bruce Henderson. In designing Spring Street Grocer, architect Kristin Green of KGA Architecture compressed the foyer to the northern side, allowing the creation of layered spatial experiences for the shop itself.
Sitting on the corner behind the curved, marble-clad facade is the first space, the gelateria. New terrazzo flooring draws passers-by in from the common Melbourne bluestone pavement. "Prima-vera" (meaning the season of spring in many Romance languages) is inscribed in gold into the floor. This space is open from 7 am until 11 pm, creating the feeling that it is a public space, and is serviced by a rich marble bench, at which gelato is sold.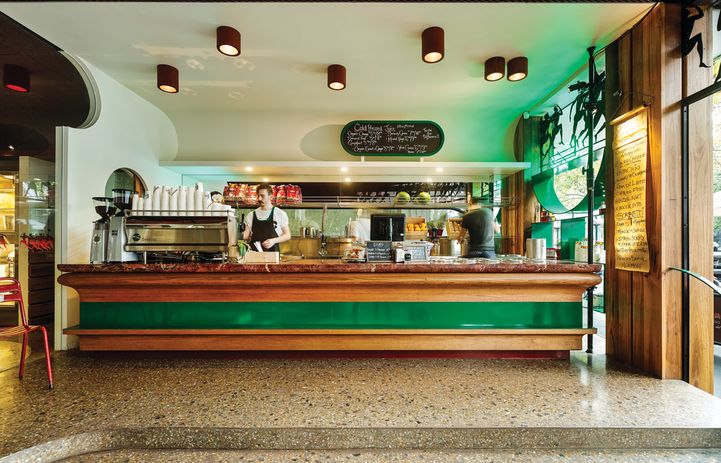 The grocery store itself starts a few metres within the space. This is a shop much like those you might find on a corner in Manhattan – not convenience stores in the 7-Eleven sense but spots where you can grab quality produce. This is a rare offering in the centre of Melbourne, as it is in many cities where the legacy of the CBD remains. When in the store, the overwhelming impression comes from both material, which is rich and plentiful, and from the architectural language that draws, in part, from Adolf Loos and Carlo Scarpa. Ultimately the store is comfortable within its postmodern host – in fact it might be far more "po-mo" than the 1980s building it sits within. This is seen in the geometry, which features full and half circles, large covings and upside down arches. This is the baroque of the 1980s – rules broken, lines crossed.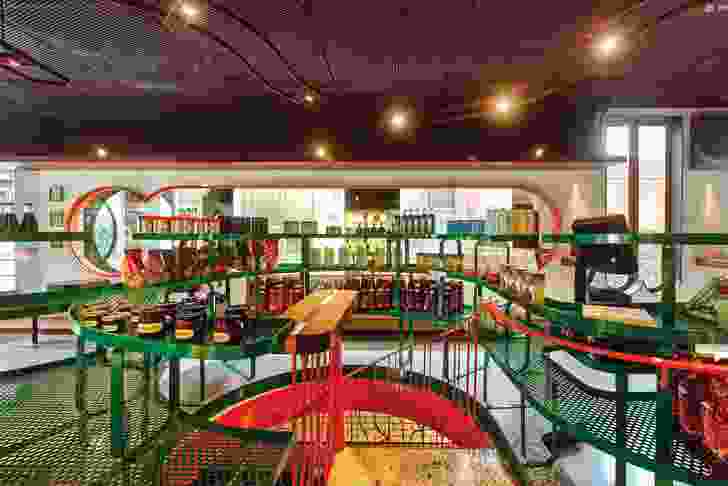 Sitting in the middle of the main store space is a descending spiral stair, at the top of which is fixed shelving for the display of products. The shelving and stair are built from steel, as are window frames and other details. The main space is forged as a series of rounded elements located around the central stair. Shelving, terrazzo upstands and the robust construction create a wonderfully inflexible space. This stuff can't be moved around – it's going to be like this for a while. With this, a sense of endeavour and permanence is created and the ordinary experience of buying stuff is transcended into a rare act. The terrazzo floor, almost a lost art, is beautifully laid. Timber features as cladding to the large external sliding screen, which is part of a series of new openings onto the side laneway. It is after considering the depth of the materials used and the skill with which the elements are designed and put together that you descend the stair thinking you may find something more rudimentary in the basement. You'd be wrong.
The basement is all about brick. It was on a morning during the recent Australian Institute of Architects National Conference, suitably named Material, that myself and several other attendees went to the Spring Street Grocer's basement to see an exhibition of photographs by Peter Bennetts, which featured a new resort under construction in Vanuatu, also by Green. I was thankful the space was relatively empty, for it is lined entirely in patterned and rounded glazed brickwork folding over itself.
"They really knew what they were doing," commented one senior architecture figure, mistaking the glazed brickwork for a product of perhaps the late-nineteenth century, an era that gave us those great underground stations in London. "This is all new," I responded to a look of amazement and delight as we inspected a junction of rounded bricks. The basement's ceiling is low enough to allow you to touch the underside of its exposed slab. Underfoot, the original slab has been ground down to reveal its interior richness. It makes us reflect on what makes a great space. Spring Street Grocer's basement has no natural light, no height and no outlook but it does have an intensive interiority and beauty – a welcome change to the clichés of interior design. In recent years, books and websites have revealed Melbourne's "secrets," from 1890s theatres and arcades to 1990s bars. Here on Spring Street, someone is still making them.
Products and materials
Walls and ceilings

Ceiling custom designed by KGA Architecture. Standard expanded aluminium mesh supplied by Locker Group. Recycled timbers supplied by builder. Dulux paint finishes to all walls and ceilings.
Windows

All windows custom designed by KGA Architecture. Steel windows with fixed glass and mirror. Dulux paint finishes to all frames and windows. Timber frame inserts by Baker & Davies Joinery.
Doors

All doors custom designed by KGA Architecture. Dorma frameless automatic EL301 compact profile, top hung. Decal custom designed by KGA Architecture and printed and installed by Tint Design. Sliding timber door by Baker & Davies Joinery.
Flooring

Polished terrazzo floor colour, stone, brass inlay and 'Primavera' signage custom designed by KGA Architecture. Concrete from Vic Mix.
Lighting

Steel sculptural lighting and neon custom designed by KGA Architecture. Neon by Technigraf.
Furniture

All shelving, benches, stools, upholstery, display and tables custom designed by KGA Architecture. Selected Rossa Impero marble supplied from CDK Stone. Stool upholstery by Bluestone Furniture & Upholstery. Recycled timbers used on side tables, sandwich bench and cheese cellar table supplied by builder. Central shelving 'Serpent' feature steel work by Bullant Industries. Dulux paint finishes.
Kitchen

Fridge design by KGA Architecture. Custom refrigeration and stainless steel manufactured and installed by Trent Refrigeration. Dulux paint finishes.
Bathroom

Tile patterns, mirrors and accessories design by KGA Architecture. Tiles supplied by De Fazio Tiles and Stone.
Heating/cooling

Celmec Heatray overhead heater.
External elements

Canopy custom designed by KGA Architecture. Standard expanded aluminium mesh supplied by Locker Group. Dulux paint finishes to canopy.
Other

Entry frieze 'Athena and the Olympians' custom designed by KGA Architecture. Laser cutting by General Laser.
Credits
Design practice

KGA Architecture
Fitzroy, Melbourne, Vic, Australia
Project Team

Kristin Green, Rebecca Wood, Brett Wittingslow, Simon Linardi
Consultants

Builder Padcon
Engineer Maurice Farrugia and Associates
Refrigeration Trent Refrigeration

Site Details

Location 157 Spring Street, Melbourne, Vic, Australia

Project Details

Status Built
Design, documentation 16 months
Construction 6 months
Category Interiors
Type Restaurants, Retail

Source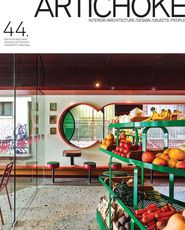 Issue
Artichoke, September 2013
Related topics