The City of Port Phillip has revealed a proposal by ARM Architecture for the contentious St Kilda Triangle that features ample open space and appears to accomodate a third gallery space for the National Gallery of Victoria (NGV). The idea of a third NGV gallery on the site was recently floated in correspondence between Mayor Amanda Stevens and the gallery.
The proposal was unveiled by the council at a recent meeting, and follows a long process of community consultation to determine what should be done with the 2.5 hectare beach side site bordered by Luna Park and the Palais Theatre.
The plans feature two pavilions, a cultural facility, a boutique hotel, an ampitheatre, a forecourt and a green space dubbed "the pleasure garden". Around 16,000 square metres would be retained as open space while 17,000 would be dedicated to a cultural institution.
The size of the third gallery for the NGV discussed in recent media reports speculated that it would be 30,000 square metres, however, the pared-down size that appears in the new proposal makes way for more open space.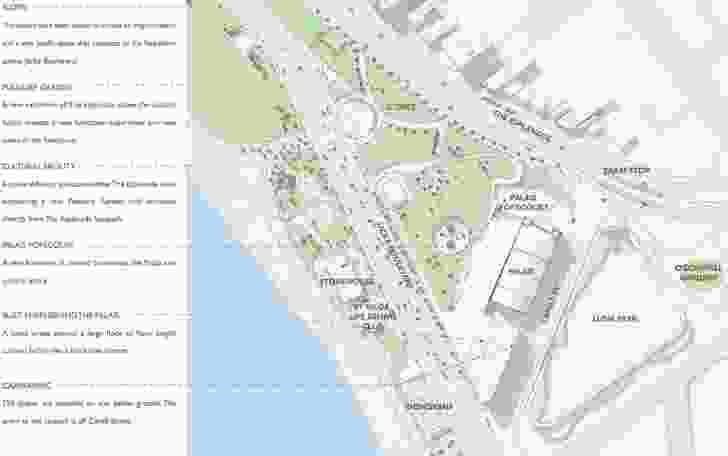 The triangle of land has a contentious history, with proposals to develop the site eliciting strong responses from local residents. In 2009 a $400 million project designed by ARM Architecture was approved by the council, but was later dropped in the face of fierce public opposition.
The council's acting mayor Anita Horvath said the plan would help to boost tourism in the popular beach area.
"This is also a welcome opportunity to create new green open space for residents and visitors to enjoy," she said.
"While the interim masterplan retains most of the distinctive grassy slopes between The Esplanade and Lower Esplanade, it also suggests remoulding part of the slopes to create grassy rooftop parkland – and new views of the foreshore, bay and horizon."
A public workshop will be held next month to give locals the chance to have a say on the design of the space, and this will be used to develop a concept design report and a staging plan.
Related topics