Having amassed quite a portfolio of inner-urban houses, the team at Kennedy Nolan Architects has found they no longer even talk about the difficulties inherent in this type of project. "It's just part of what we do," says co-director Rachel Nolan. The practice's St Kilda West House was emblematic of the infill typology – the existing dwelling had big blank walls to the long boundaries and overlooking issues to all directions, and the brief called for some serious expansion to accommodate a growing family that had returned from living and working for long periods in Asia. This meant that as the house filled the site, the spaces would naturally become internalized. The challenge was to keep the house bright, airy and comfortable, with only itself left to look at.
Instrumental to the success of this house are two generously proportioned courtyards that have been skilfully inserted by Kennedy Nolan. Far from being prisons for faded outdoor settings, the courtyards have been positioned to gather northern sunlight and provide the family with two types of experience. The first courtyard space is almost entirely filled by a pool that laps at the building's edges, ready to ease the heat of a summer's day while bouncing a rippling light deep into the house. The second courtyard is a calm, green space beyond the living area that is filled with stands of pink-flowering cedrela trees, selected and positioned by the landscape architect to allow the clients' children to move through and explore the garden. Observation of both spaces from the kitchen has been considered – large sliding and pivoting openings provide views to the courtyards and allow an unimpeded passive cross-flow of ventilation.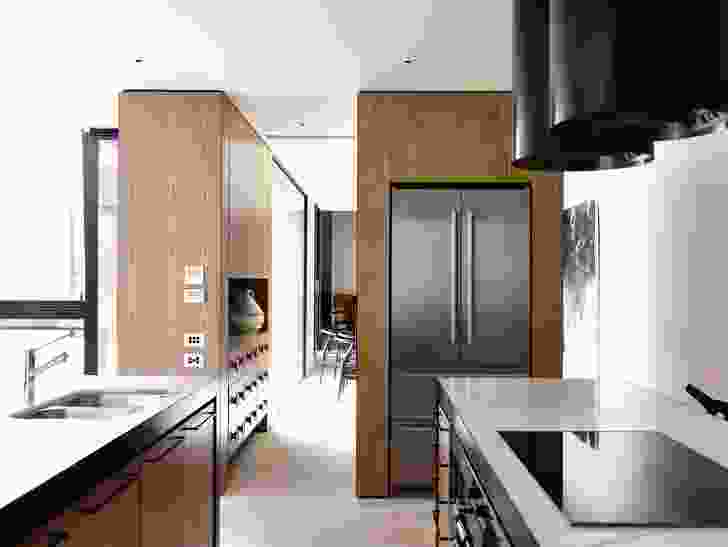 The courtyards also give the house a series of elevations, providing a strong external expression not normally found in this typology. The pool courtyard exposes the back of what remains of the existing home, itself a rare pleasure, while looking back across the water is a bold, two-storey wall of glass that is shielded by cascading black steel hoods. This stepped form is one that has been explored by the practice in earlier projects – the simple technique allows the structure and function to be lost in something a little more playful. Within the garden courtyard, the chance to read the form externally is again celebrated, this time with the facade skinned in beautifully dark zinc shingles that look paper-thin, yet are punctured by impossibly deep window recesses that give the wall serious heft.
The planning of the house unfolds slowly in what Rachel describes as a "compartmentalized experience." The addition begins in the two front "original" rooms, which have been turned into a plush office and guest bedroom and given a moody and hushed makeover that is fitting given their austere Victorian proportions. The addition reveals itself in dramatic fashion, with the sloping site navigated in one fell swoop via a broad carpeted stair leading down to the sitting room. This impressive, tall space marks the transition between the old and new with a floor-to-ceiling mirrored-glass wall, convincingly concealing a door through to the powder room. The powder room is split over the two levels, allowing it to be shared by the guest bedroom and accessed externally as a shower room for use after dips in the pool. The crux of this project was, in Rachel's words, "making spaces work as hard as possible," and this tripling up on function is case in point. Precisely accommodated on the sitting room's opposing wall is an enormous Robert Juniper landscape, one of the art-savvy clients' many acquisitions that has been meticulously documented and positioned by the architects.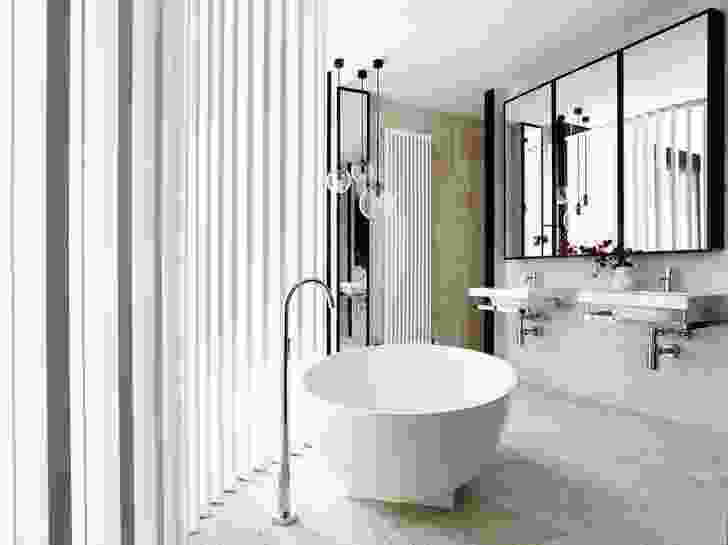 The scale of the clients' art collection goes some way toward explaining the planning of the remaining ground floor. Contending with the narrow site and two large courtyards, the demand for real estate to display art has pushed the kitchen off the wall into the middle of the plan and split it into three components. Centrestage is occupied by two impressive stone island benches, while the wings consist of two finely detailed timber pods that hide a butler's pantry and wet kitchen. This arrangement does away with overhead storage and allows the spaces to flow unimpeded into the home's prime position, the living area. Sitting between the two courtyards, this volume has a piano-shaped void carved from it. This form is explored in several Kennedy Nolan projects, but this time it is lined with an array of white battens and discreet glazing that admit light and create an elegant floor-to-ceiling screen for the ensuite above.
On finishing our visit, Rachel mentioned that this house "wasn't designed to be all one speed." Indeed, be it the calm, cosy darkness of the front rooms, the intimate and casual elegance of the first-floor bedrooms with their gold-hued carpet and linen wall panelling, or the light-filled and dramatic living areas, the spaces in this house will continue to provide for its inhabitants whatever mood it finds them in.
Products and materials
Roofing

Lysaght Custom Blue Orb roofing in Colorbond 'Woodland Grey' and Klip-Lok 406 in Zincalume finish; Welsh Penrhyn slate roof tile.
External walls

VM Zinc Anthra-Zinc cladding; smooth rendered masonry in Dulux 'Stowe White' paint.
Windows and doors

HJ Richards custom steel hoods in black finish; Aplo Facade Solutions steel-framed windows in black finish; Higgins and Cooper aluminium door and window frames in anodized black finish.
Flooring

Supertuft Escape Velour carpet in 'Blast'; Tsar Carpets Astoria custom carpet in 'Gold'; Floorspace sisal carpet in 'Gunsmoke'.
Lighting

Artemide Rastaf adjustable downlight (kitchen and bathroom); ClassiCon Selene pendant lamps (bathroom); Erco Logotec track lighting; Flos Pure and Easy KAP 105 downlights; Moooi Non Random and Emperor pendants.
Kitchen

American oak veneer panels; CDK Stone travertine tiles; Calacatta marble benchtop with black steel edges; American oak veneer cabinets; encaustic cement tiles from Popham Design; oak joinery pulls; Miele cooktop, wall oven, microwave wall oven and steam oven; Qasair rangehood; Asko integrated dishwasher; Liebherr fridge; Abey sink; Gessi sink mixer; Shin Azumi Nara stools.
Bathroom

CDK Stone travertine tiles; Academy Tiles Carrara diamond mosaics; travertine tiles; mirror-fronted cabinets with black aluminium frame; custom-made double-sided painted timber batten screen with glass infill; Astra Walker basin mixer, towel rails and freestanding bath spout; Pozzi Ginori wall basin; Apasier Haven freestanding bath; Classicon Selene pendant lamps from Anibou.
External elements

CDK Stone travertine tiles.
Other

Fanuli Flexform Mood table; Carl Hansen and Son CH24 Wishbone chairs from Corporate Culture; Moroso Redondo sofa from Hub Furniture; Jardan Vista leather couch.
Credits
Architect

Kennedy Nolan Architects
Melbourne, Vic, Australia
Project Team

Patrick Kennedy, Rachel Nolan, Matilda Blazey
Consultants

Builder Overend Constructions
Engineer Perrett Simpson
Landscape architect Katherine Rekaris Landscape

Site Details

Location Melbourne, Vic, Australia

Project Details

Status Built
Design, documentation 7 months
Construction 18 months
Category Residential
Type Alts and adds, New houses

Source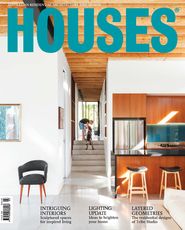 Related topics