The interventions of shade structures, an early learning centre, a hall and a library transform the primary open space of St Mary's School from a courtyard into a village. This reimagining of the school precinct from one static space to a number of dynamic spaces will increase the potential for school activities and enhance the teaching mission of the school.
An architectural replacement was needed for a series of large trees removed from the school courtyard. The architect's solution to this challenge, using a fragmented group of shed roofs, elegantly references the previous natural canopy without being too literal and provides amenity with a sense of intangible openness.
The new facilities help define linked and overlapping activity nodes that can provide for both larger and smaller gatherings, expanding across the open space network as required. A layered, structural system of elements reaches out from supporting columns to embrace space and to allow light to penetrate to the schoolyard below.
The careful modulation of built and open space within the project extends the school footprint towards the cathedral, essentially completing the precinct by drawing the cathedral into the composition as one edge of a larger complex of spaces.
– Jury citation
Our practice has learnt from the Aboriginal people of this Place that we know as the Top End, that we, in our brief times here, are also our past and our future; and that our time here is also intrinsically entwined with the things that grow, swim, crawl and fly, and the waters and earth that support them.
And this entwines with the human community around us. If we understand this and open up to it, the intricate wonder that is this natural and human environment will not only nurture us, but greatly enrich us.
– Phil Harris, NT News, 11 August 2011.
For a full list of awarded projects see 2011 National Architecture Awards – the winners and for more awards discussion see the Rachel Hurst and Rory Hyde's responses to the awards and the jury overview by Karl Fender.
Credits
Architect

Troppo Architects
Australia
Project Team

Gregory McNamara, Lena Yali, Shae Parker, Joanna Best
Consultants

Builder North West Constructions P/L (stage 1), Anderson Peters (stage 1), All Pro Builders (stage 2), Halikos Group (stage 3), P.W. Baxter and Associates (stage 3)
Electrical and mechanical consultant Irwinconsult
Hydraulic consultant Irwinconsult
Landscape consultant Inscape
Out cost consultant QS Services
Structural consultant Irwinconsult

Site Details

Location Darwin, NT, Australia
Site type Suburban

Project Details

Status Built
Category Education, Public / commercial

Source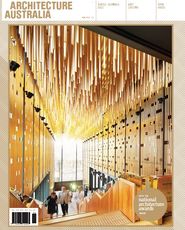 Issue
Architecture Australia, November 2011
Related topics