Positioning one theatre directly above its counterpart saves valuable space, thus affording more generous permeability throughout the site, the added bonus of an open-air courtyard theatre in the round and a street presence that seems more human than monumental in scale, for a theatre complex of state significance.
The circulation spaces are richly appointed, with gold coloured screens and "stalactites" over the grand stair to heighten a theatrical experience of arrival and mingling. All is on show to passers-by through a transparent facade, which itself is screened by a rhythm of black metal elements. By day the building conveys modesty and restfulness, contained by site geometry to a beautifully proportioned and composed rectilinear form. By night, the buzz of human activity in rehearsal spaces and golden foyers transforms its character to one of joyful exuberance.
A restrained materials palette of timber, concrete, dark brick and glass has been masterfully employed to delineate spaces of seductive atmosphere, from the darker, "below street" spaces serving Studio Underground – the robust, industrial-like and flexible performance space – to the skylight-illuminated plywood drum of the Heath Ledger Theatre as it peels away from the concrete wall.
The design alignment of interiors with the building architecture, its urban contribution and the experience of theatregoers are integral to the success and popularity of the State Theatre Centre of Western Australia.
– Jury citation
"The Australian building industry is tough and lacks flexibility. There is very little give and take and too much decision-making through consensus. The "building contract" often becomes more important than the quality of the building itself. Within this sorry context and despite the frustrations expected in bringing a complex building to fruition, we believe the State Theatre Centre is a very successful outcome. With strong support from the client, the building we see today is little different from our 2005 competition design. This makes it all worth it."
– Kerry Hill Architects
A bit of nostalgia made me want this job. I was born and educated in Perth and we, as a firm, have an interest in the performing arts so it was an attractive project to go after. Let me tell you a bit more. The reputation of our practice was built largely on hotel work and we continue to do hotels, of course. But about seven years ago, I decided I didn't want to do hotels for the rest of my career.
– Kerry Hill, The Australian, 18 April 2011.
For further coverage see State Theatre Centre by Kerry Hill Architects.
For a full list of awarded projects see 2011 National Architecture Awards – the winners and for more awards discussion see Rachel Hurst and Rory Hyde's responses to the awards and the jury overview by Karl Fender.
Credits
Architect

Kerry Hill Architects
Fremantle, WA, Australia
Project Team

Kerry Hill, Simon Cundy, Justin Hill, Patrick Kosky, Albano Daminato, Terry Galvin, Bernard Lee, Tan Cheng Ling, Helena Nikola, Andrew Yang, Chin Siew Chin, Nina van der Grinten, Elizabeth Armstrong, Ryan Brown, Rhys Bowring, Phivo Georgiou, Dean Adams, Richard Stone, Angeline Tan
Consultants

BCA consultant JMG Building Surveyors
Electrical, lift, hydraulic and fire engineer Wood & Grieve Engineers
Facade engineering Meinhardt Facade Technology
Forward works contractor Broad Construction Services
Height safety Safemaster
Heritage architect Kelsall Binet Architects
Landscape architect Tierra Design
Lighting design Electrolight
Main contractor John Holland Group
Mechanical, ESD, pedestrian analysis and fire engineer Aurecon
Project manager NS Projects
Public art coordinator Maggie Baxter
Services engineer, acoustics and ESD AECOM
Signage consultant Block Branding
Structural and civil engineer Airey Taylor Consultants
Theatre technical consultant Marshall Day Acoustics, Jands
Traffic consultant Sinclair Knight Merz

Site details

Location Perth, WA, Australia
Site type Urban
Category Commercial / public buildings
Type Culture / arts

Project Details

Status Built

Client

Client Department of Treasury and Finance, Building Management and Works; Department of Culture and the Arts, Western Australia.
Website Government of Western Australia

Source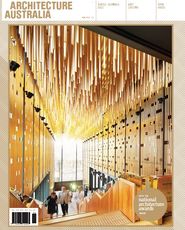 Issue
Architecture Australia, November 2011
Related topics