Stegbar introduce Jett: a black bathroom hardware range
Stegbar have released a new range of black bathroom hardware that are intended to be a step away from the "traditional design aesthetic of gleaming white and chrome features" which have long dominated bathroom design.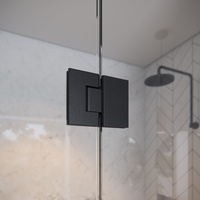 Black bathroom hardware is an excellent way to fully utilize the impact black offers – less is often more, which make pieces of accent hardware are a canny choice.
The Jett range includes shower handles, wall hinges and brackets constructed from solid brass and stainless steel and finished in matt black. The fixtures are suitable for 10mm toughened glass, although they have also been designed with marble walls and cabinetry, timber, natural stone and rock and polished concrete tiles in mind.
"Hardware is often an overlooked element when refreshing the home but is an element that shouldn't be ignored. Incorporating black hardware in shower handles or wall hinges in the bathroom is a great way to add visual impact and style to any space," said Stegbar marketing manager Christine Evans.
For more information, go here.