It is no surprise that in many facets of life, technology is changing the way we communicate with one another. This paradigm is no different in the building industry, as design processes embrace new technologies and more efficient ways of working. Engineers in the mechanical, electrical and plumbing (MEP) industry are no exception.
MEP professionals used to rely solely on CAD-based design, largely because it was most like traditional paper-based drafting. That was before the shift to Building Information Modelling (BIM). Increasingly, MEP engineering firms are embracing the intelligent model-based design approach using complementary tools that enable design, simulation and analysis of MEP systems, all before they are physically built.
The BIM process is based on information-rich, model-based designs. These models provide the foundation for more accurate analysis and simulation of designs and projects, helping MEP engineers to anticipate potential challenges and better predict the success of their designs. One example is Autodesk Revit MEP 2012 software. This software is specifically designed to help meet the needs of MEP designers and engineers focused on building mechanical, electrical and plumbing systems. Integrated analysis and simulation features support the MEP engineering design process, enabling engineers to more effectively design better performing building systems from the earliest stages of the workflow.
Change in team structures
Autodesk is a steering committee partner of the BIM-MEPAUS initative (www.bimmepaus.com.au) that provides an Australian approach for addressing the industry challenges in fully capturing the return of BIM by drawing on the expertise of many Australian leading designers, specialist MEP contractors, government agencies and partners to create a national standard for the MEP industry.
In Australia, design-bid-build processes have been the norm, traditionally kicked off by the owner's selection of an architectural firm. MEP engineers and other professionals are then hired by the architect. The architect establishes design intent, working closely with the owner to precisely understand requirements and expectations. Once the architect has come up with a design, the MEP and structural engineers are brought into the process.
With the recent shifts to BIM, team structures and dynamics have changed dramatically. Using BIM, collaboration between all the project team members is optimized from the earliest stages. In a BIM workflow environment, using Autodesk Revit Architecture and Revit MEP software, for example, the MEP engineer can collaborate with the architect much more effectively, optimizing linked, shared architectural models for more efficient coordination. Collaboration is optimized as rich, intelligent information shared between models and across the design team. "Our BIM approach was critical for helping to minimize RFIs and construction delays," says Stephen Federle, KLH electrical engineer.
Once the intelligent model is transferred to the MEP engineers, they can begin working with the benefit of the building envelope, rooms and volumes as reference points. Using Revit MEP, MEP engineers can more accurately determine spaces and zones, and can use intelligent data that provides greater detail, resulting in more precise and accurate heating and cooling load analysis for the project. With the inclusion of analysis tools within Revit MEP – for heating and cooling load, conceptual energy and more – engineers can more easily conduct heating and cooling load calculations to help determine the peak heating and cooling needs of the building.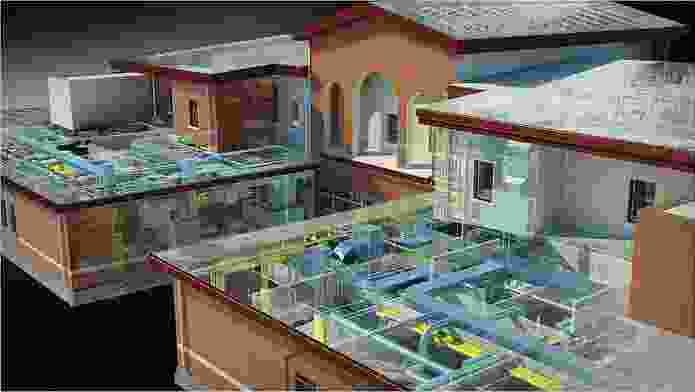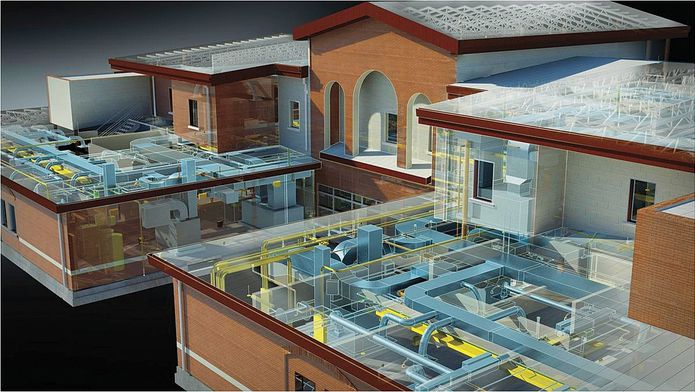 Design analysis faster with automatic updates
Autodesk Revit MEP software provides parametric tools. This means that when building designs change, spaces and zones update automatically and calculations can be more quickly and easily reanalysed. The results are produced in a report, automatically populated in the spaces and zones, and can then be exported and shared across the entire project team.
With Revit MEP, integrated analysis jumps to the forefront of the MEP engineer's workflow. For example, Revit Conceptual Energy Analysis features (available in Autodesk Revit MEP 2012) enable engineers to get involved at the earliest stages of the design process, conducting whole-building energy analysis on multiple conceptual design iterations. The availability of these features helps enhance collaboration between engineers and architects from the start of the project, providing the team with more accurate analysis results for faster iteration and optimization of more sustainable designs. Revit MEP also enables the exporting of gbXML (green building extensible markup language) files for use with Autodesk Ecotect Analysis software and Autodesk Green Building Studio web-based service, as well as third-party applications for sustainable design and analysis.
Once the analysis is complete, Revit MEP software's intuitive modelling tools can be used to design and lay out mechanical systems, while considering the specification needs determined from the analysis. With built-in calculators in Autodesk Revit MEP, MEP engineers can perform sizing and pressure loss calculations, based on industry standard methods and specifications. System sizing tools instantly update the size and design parameters of duct and pipe elements, without the need for file exchanges or third-party applications. Duct-sizing and pipe-sizing tools provide dynamic sizing methods for ductwork and piping systems in the model, including friction, velocity, static regain and equal friction sizing methods for duct-sizing, and velocity or friction methods for pipe-sizing.
Sloped piping tools enable the plumbing engineer to more easily design and model the pipes required for moving water and waste through a building. Simulation and visualization tools within Revit MEP provide greater predictability about system behaviour, connectivity and visibility into how the systems look within the building envelope.
With help from Revit MEP, engineers can create electrical lighting and power systems according to industry standards, together with designs ready to achieve and exceed LEED credits requirements. Autodesk 3ds Max Design 2012 software helps engineers perform point-by-point lighting calculations in conjunction with Revit MEP. To better understand the load requirements for the building, Revit MEP helps track all power loads, displaying the connection from the end component up through the panel to the main distribution panel.
Later in the process, Autodesk Revit MEP provides support for improved constructability through interference detection tools that simulate building systems, enabling easier identification of potential clashes before construction begins. Visualization tools provide greater project insight to the design team, as well as the means to produce powerful renderings, and helps to convey design intent to the owner.
Summary
Before BIM, it was more time consuming and challenging to produce coordinated design and documentation for building systems. With a model-based design approach, MEP engineers benefit from greater predictability by essentially housing all design information within a centralized database, enabling all design elements and documentation to remain coordinated and more accurate. The intelligent information in the model makes for more efficient visualization, analysis, simulation, detailing and documentation. Revit MEP automatically generates plan, section, elevation, detail and schedule views to more precisely reflect design intent. All views are synchronized and coordinated throughout the model from a common database. Construction documents have even been enhanced with the addition of 3D model views. Revit MEP not only creates documentation from 3D views – engineers can also annotate the building systems design in the view.
BIM for MEP engineers is revolutionizing construction design, and transforming retrofits and renovations of existing buildings. With the release of Autodesk Revit MEP 2012, support for point clouds has been introduced, enabling the connection of precise laser scans directly into the BIM process. With this feature, engineers are better positioned to tackle renovation and retrofit projects through easier capture, analysis and modelling of existing building data and conditions.
As the architecture, engineering and construction (AEC) industry continues to adopt the latest technology to accomplish increasingly complex projects, MEP engineers embracing BIM are well positioned for future growth. Intelligent models add value at all stages of the building life cycle, bringing analysis and simulation to the forefront of the MEP engineer's workflow. The BIM process, supported by information-rich models, can lead to better-informed decisions and better-performing buildings.
"BIM is a natural extension of our 'total building' approach," says Michael Warwick, a lighting and sustainable design consultant for S&T. "It greatly enhances our ability to work in an integrated fashion."
Supported by Autodesk
Autodesk
Level 5, Building C
11 Talavera Road
North Ryde NSW 2113
T +61 2 9844 8000
F +61 2 9844 8044
www.autodesk.com.au
Further Information:
Construction Users Roundtable (CURT)
CURT provides an international forum for the exchange of information, views, practices and policies on construction to create a competitive advantage for construction users.
W curt.org
BIM in Australia 2010 report
BIM in Australia 2010 provides an overview of the discussions at the BIM forums held in Brisbane, Melbourne, Perth and Sydney this year, hosted by the Australian Institute of Architects in partnership with Consult Australia and Autodesk.
W architecture.com.au/bimreport2010
Source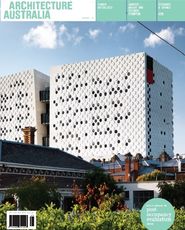 Practice
Published online: 10 Nov 2011
Words: Rob Malkin

Issue
Architecture Australia, September 2011
Related topics