With Melbourne's Stokehouse restaurant practically a St Kilda institution, any little sister offshoot elsewhere would always have to make her own mark or suffer the fate of the copycat label. However, Brisbane's new Stokehouse has a clear sense of identity and a strong presence that enhances the brand, and indeed offers a fresh take on it.
Arkhefield architects designed a sleek new building intended for two tenants. When Stokehouse owner and restaurateur Frank van Haandel saw it, he was immediately beguiled by what he refers to as its "stealth-like roof," and decided to take over the whole place.
Arkhefield's Angela Layton was then charged with designing the fitout, and went through the interesting exercise of reinterpreting her own firm's architecture for a new purpose.
"It was such an interesting thing to do," says Layton. "From the start we wanted to make this a specifically Brisbane place rather than a satellite of the St Kilda original. We realized a key difference was that St Kilda is by the beach, whereas this is decidedly urban."

Urban it may be, but the commanding position on the Brisbane River opposite the CBD means that its relationship to the water is its key feature.
The enclave of four freshly minted restaurants, all part of the Arkhefield precinct, sits at the eastern end of South Bank Parklands, completing a part of the jigsaw that had lost purpose for a while. Tucked in next to the landing point of the sweeping Goodwill Bridge with a new swathe of grass at its feet, the spot is a tranquil, end-of-the-road platform from which to observe the surrounding buzz.
The building, a beautiful object in the landscape, boasts a strong sense of form that owes much to the agile crouch and thrust of its roofline. In creating the interior space, Layton recognized the importance of the roof in the design.
"The building is all about the beauty of the roof," Layton notes. "We wanted to maintain that beauty, but also bring it down to scale so that the interior volumes weren't intimidating."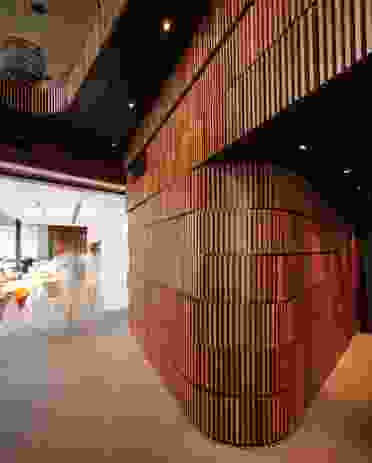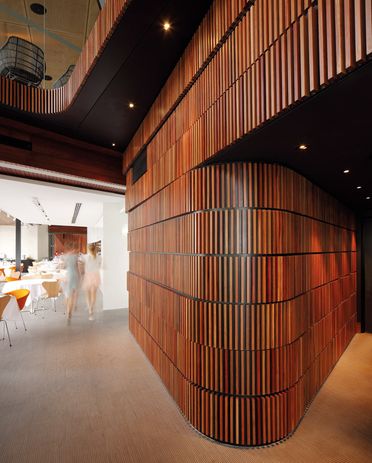 Rendering the space human and humane came through architectural gestures rather than decorative solutions. A wall of stacked, curving planes faced with vertical timber battens forms a central core that weaves together the bar and dining areas. The luscious sweeping curve lends a mobility to the space, and reaches from floor to ceiling with booth-like insertions for the bar, wine cellar and doorways to back-of-house. It also embraces a hovering mezzanine dining space above, visible from below through a wall of glass. The timber element is part of a subtle Queensland vernacular that includes wide verandah spaces and an intangible delineation between inside and out.
Picking up on the rippling effect of the timber wall's journey through space is the kinked marble bar. It has a strong geometry, like a carefully folded-in box, tilting inwards then folding outwards in crisp lines that contrast with the undulations of the wall-cum-ceiling that it tucks in under.
Floors of graphite-coloured flagged stone and mosaic tiles combine with rich spotted gum bench seats, raw concrete, black steel and glass details to keep the palette direct and masculine. The dining space at one end is a little softer and lighter, with a highly polished white plaster wall (and de rigueur peek-a-boo window into the kitchen) as the gleaming backdrop to a setting of Series 7 chairs and lush orange felt chairs. A wall of bifold doors keeps diners ever aware of the water beyond, while a couple of breezy canvases on high walls by artist Spook (aka Gary "Spook" James) also suggest messing about in boats.
The larger, abundant canvas could easily have veered out of control, but restraint is the key and clever manipulation of scale and texture has resulted in a calm delight.
Products and materials
Walls and ceilings

Polished plaster from Idea Creations. Solid timber spotted gum battens on bendy ply frame from Boral. Paint by Dulux. Ceilings by Austral Plywoods. Amenities wall tile from Ace Stone & Tiles.
Windows

Bifold Doors by AWS.
Flooring

Ironbark and spotted gum timber from Boral. Tretford carpets from Gibbon Group. TGJ Paris floor tiles from Signorino.
Lighting

Targetti downlights. Modular downlight, Spock and Giro spotlights, ACDC Galaxy light all from LAD Group.
Furniture

Tables by joiner. Bar tables by MAP. Arne Jacobsen Series 7 dining chair from Corporate Culture. Stylecraft Duna armchair upholstered in Kvadrat Divina Melange with cushion in NSW Leather Company Millennium Gunbarrel leather. Space Accademia Velina chair with charcoal PVC woven rope. Space B&B Italia Crinoline chair in bronze and black.
Kitchen

Fitout and stainless steel by Stoddarts. Equipment by Mareno, Rational, and Halton Equipment. Floor tile from Metz. Wall tile from Amber.
Bathroom

Grigio Basaltina stone from Artedomus. Boffi basin from Aquaform. Integra urinal from Harvey Norman Commercial. Spin hung pan toilet from Parisi with concealed cistern by Caroma from Harvey Norman Commercial. AquaSense taps from Zip.
Heating and cooling

Ray-Tech Gas Radiant Heater in outdoor rooms from Viva Sunscreens.
Other

Carrara marble on bar from Finestone Granite & Marble. Boffi from Aquaform ceiling fan. Art by Gary "Spook" James.
Credits
Design practice

Arkhefield
Brisbane, Qld, Australia
Project Team

Angela Layton, Aimee Turner, Monika Striel, David Lloyd, Kerry Condon, Anne Sulinski, Andrew Gutteridge, Matthew Smith, Michael Carlotto
Consultants

Base building Arkhefield
Builder ISIS Group Australia Pty Ltd
Certifier Davis Langdon
Kitchen design Chris Love Design
Lighting Arkhefield
Mechanical and electrical engineers Norman Disney Young
Project manager Arkhefield
Quantity surveyor Slattery Australia Brisbane
Structural and hydraulic engineers Opus International Brisbane

Site Details

Location Sidon Street, South Bank, Brisbane, Qld, Australia
Site type Urban

Project Details

Status Built
Design, documentation 3 months
Construction 4 months
Category Hospitality, Interiors
Type Restaurants

Client

Client name Stokehouse
Website stokehousebrisbane.com.au

Source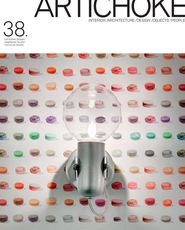 Issue
Artichoke, March 2012
Related topics