Countering Melbourne's long love affair with black was the brief for interior designer Pascale Gomes-McNabb's light and breezy renovation of the iconic Stokehouse restaurant on St Kilda's foreshore. "Because Stokehouse is near the beach, we didn't want it to have that urban feel. The client specifically said, 'I don't want any black,' " Gomes-McNabb explains.
"I have been associated with Frank van Haandel and his partner Sharon for quite a long time, and this space is all about relaxing, almost like having a holiday without getting on a plane or taking a ride down to the beach. It's an escape from everyday city life in a beach house – a very glamorous beach house!"
Before Stokehouse, it would have been easy to identify Gomes-McNabb's signature style as dark, brooding and sculptural, but it seems now it is actually materiality more than colour that sets her work apart. The colour palette is a distinct break away from Gomes-McNabb's notable interiors at Cumulus Inc. and Cutler & Co., but her love of raw materials and sculptural forms shines through. The brass dotted through the space on the faceted bar and large pillars, and a wall of mirrors, brings reference to the sun, sand and water. Inspired by the timber and brass Riva boat designed by Marc Newson, Gomes-McNabb felt the brass was the perfect choice of metal for Stokehouse.
"During the day you have the sea view, that's the main drawcard, but at night it's a black outlook. It is highlighted by lights but it's not that obvious. So I thought bringing these elements of bronze in the brass and mirrors created interest within the interior space."
The wall of mirrors also serves a practical purpose, providing the kitchen team, led by executive chef Anthony Musarra and head chef Oliver Gould, a glimpse of the dining room through the two-way mirrors. The kitchen was completely gutted and the floor plan redesigned to give more space as well as opening the menu up to more technical dishes. The result is a huge, purpose-built kitchen, now referred to by the team as the "Rolls Royce" of kitchens.
Upon arrival, the visitor is greeted by a four-metre artwork specially commissioned for the space that sits above the curved staircase to create a warm sense of welcome. The natural, raw finishes of the staircase and smoked oak boards provide a striking contemporary contrast with new banquettes and imported timber fans that circle under the exposed trusses and vaulted ceilings. Timber lining boards in shades of white and mauve, and recovered chairs in blush and cream tones, provide freshness and contrast.
When taking on a new project, Gomes-McNabb takes more than just the space into account. "I really look at each project individually and holistically. Coming from a hospitality background and owning restaurants, I look at the way it operates. For me to be able to do a design, I really need to be able to understand the concept and get a grasp and understand what the client wants."
But Gomes-McNabb has to feel the job before she takes on new work. "I have been offered a few jobs where they have said, 'Can you just do a restaurant?' and even though that's flattering, I can't take it on unless I believe in the product and completely understand what the client wants to achieve. We work together on the brief and have a total understanding of what they are and what they want to be. I guess there's a theory behind it."
With a residential project and a new restaurant in the works for 2011, the aesthetic direction Gomes-McNabb heads in is bound to be an exciting one to watch.
Products and materials
Furniture

Recycled Series 7 chairs in beechwood. Recycled Eero Saarinen chairs reupholstered in fabric from Woven Image. Recycled banquette seating reupholstered in leather.
Lighting

Supplied by Euroluce.
Credits
Design practice

Pascale Gomes-McNabb
Melbourne, Vic, Australia
Consultants

Builder Liquid Lines
Illustrator Liquid Lines
Lighting design Two Feathers (Julian and Vicki Featherston)

Site Details

Location 30 Jacka Boulevard, St Kilda, Melbourne, Vic, Australia
Site type Suburban

Project Details

Status Built
Category Hospitality, Interiors
Type Restaurants

Client

Client name Stokehouse
Website Stokehouse

Source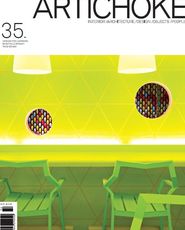 Issue
Artichoke, June 2011
Related topics