It is an all-too-rare and wonderful thing when a house, in a seemingly effortless way, liberates you to just be. When it is the vessel through which you feel a profoundly meditative sense of stillness, quiet and harmony; in which you feel a comforting sense of permanence, of connection to the past, present and future, and to the landscape and the unique spirituality of place.
The Stone House by CHROFI, set on the edge of a ninety-two-hectare property in the Byron Bay hinterland in northern New South Wales, is one of these rare delights. Many months after a short visit, this small, humble old cottage continues to evoke powerful memories of accord and respect, of silence and light, of the beauty and power of enduring architecture. The building's transformation from a neglected rural cabin to an award-winning home is a credit to both the long-term vision of its owners, Deirdre and Andy Plummer, and the exceptional ability of CHROFI architects John Choi and Jerome Cateaux.
The Plummers had approached CHROFI several years ago with an extraordinarily uncommon and ongoing plan. They were turning a former dairy farm into a sustainable timber plantation for the harvesting of native species over the next three hundred years. To this end, CHROFI was asked to create two of the most remarkable concrete and stone farm sheds imaginable, then to reinvent or reinvigorate the cottage, and more recently to design a new family pavilion (currently under construction). All were conceived as ruins in the landscape, with a sense of permanence appropriate to the venture's three-hundred-year life cycle.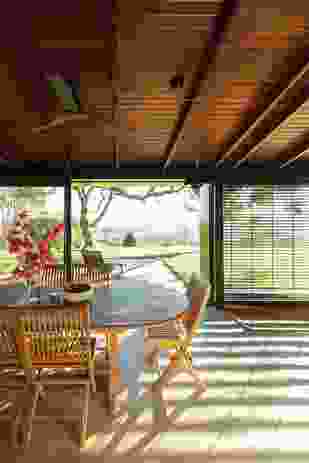 Discussing the property and project, Andy outlined both the poetic and pragmatic, referring to the beauty and seductive nature of the former, and the commercial purpose and raison d'être of the latter – to make money by growing and harvesting expensive wood for fine furniture. Not surprisingly, this combination of lyricism and practicality lay at the heart of their plans to renovate the cottage – they needed holiday accommodation for their children and friends. On a tight budget, they wanted the house reborn as an enduring piece of architecture in keeping with the sheds. It should offer both utility and beauty in the same package, along with serenity and connection to the landscape. Given its potential occupants – nine grandchildren aged eight years and under, and their parents – it should be functional with in-built indestructibility.
The original house was a single-storey rural vernacular building, presenting as a slightly awkward kit home made with local materials and craftsmanship. It was an instantly endearing house, Deirdre says, but dark and somewhat grim and creepy. It sat tucked in among the trees on a narrow ridge top, facing directly west to glorious views, which it failed to maximize at any opportunity. A hill rose to the north, closing in views and light, with a road snaking to the east. Many layers of occupation had contributed to a distracting busyness, particularly in the unbridled, even frenetic, use of materials. Externally, the original house featured the warmest, most delightful basalt stone facade (full of Bobcat-sized boulders), inappropriately balanced on three elevations with lightweight timber columns and logs. Internally, a mélange of materials and colour palettes had been mixed and matched: timber with brick, vinyl with brick paving, tiles and more. This busyness was reinforced in both structure and plan, with the rooms cellular in nature and a low western roof line restricting connections to the landscape.
CHROFI's response was carefully resolved and two-pronged – preservation followed by addition. Wanting to salvage as much of the building's fabric as possible, the architects started by identifying elements that could be preserved. Each needed to allow the building's qualities to be revealed in a meaningful way. Four key elements were identified: the stone wall, providing protection and privacy from the main road; the internal masonry walls, defining rooms at the rear of the house; the expressed timber ceiling, providing a unifying canvas within the whole house; and the concrete floor, offering a calming palette. All deleterious elements accreted over time were carefully removed.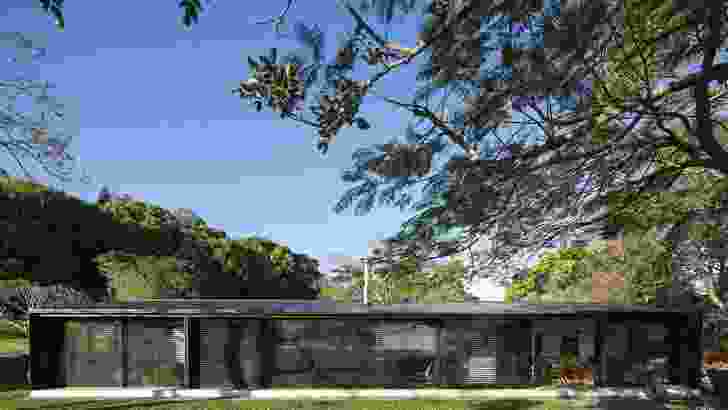 Following this, they moved to "add" a contemporary western facade. Needing to leave the footprint and orientation unchanged for budgetary and site reasons, CHROFI removed the entire closed-in western elevation, replacing it with a breathable facade of retractable glass and aluminium blinds. This singular, multifunctional feature was run the full length of the building as a perfect counterpoint to the solidity of the home's east-facing wall of stone.
Internally, the new facade creates a truly successful indoor/outdoor open plan, offering occupants a strong connection to western views and the backyard, along with security and protection from the sun. The cellular was replaced with an open plan and a series of spaces of varying sizes, with internal walls largely removed and living spaces opened to the surrounds. Materials were reduced to a calming neutral palette. Period fixtures reflecting the building's history and those who had gone before were kept, down to the doorknobs, giving a comfortable sense of familiarity and the old while simultaneously embracing the new.
The end result is an unhurried, respectful and timeless space of quiet beauty.
Stone House received the Hugh and Eva Buhrich Award for Residential Architecture – Houses (Alterations & Additions) in the 2014 NSW Architecture Awards.
Products and materials
Roofing

Existing.
External walls

Existing basalt stone.
Internal walls

Existing masonry wall; Boral plasterboard.
Windows and doors

Fairview Architectural windows and doors in anodized aluminium from Fairview Windows and Doors.
Flooring

Honed concrete.
Lighting

Gamma Illumination wall lights.
Bathroom

Astra Walker Olde English shower set in chrome.
Heating/cooling

Vollay sliding shade screens; Cheminees Philippe fireplace.
External elements

Slate and Stone basalt stone paving in split finish.
Credits
Architect

CHROFI
Sydney, NSW, Australia
Project Team

John Choi, Jerome Cateaux, Felix Rasch, Fraser Mudge
Consultants

Builder Cedar Creek Construction
Cost planner QS Plus
Engineer DW Knox & Partners
Site manager Tony Kenway

Site Details

Site type Rural

Project Details

Status Built
Design, documentation 7 months
Construction 8 months
Category Residential
Type Alts and adds, New houses

Source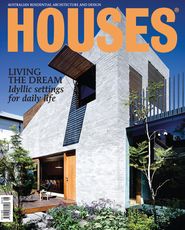 Issue
Houses, October 2014
Related topics