Panellists at AA Rountable 08 were: Donald Bates (director of Lab Architecture Studio); Tory Jones (executive coordinator of major projects at the Gold Coast City Council); Peter Skinner (professor in architecture at the University of Queensland and past president of the Queensland Chapter of the Australian Institute of Architects (2010–2012)); and Michelle Tabet (urban informatics team leader at Arup, Sydney). The roundtable was facilitated by Timothy Moore, editor of Architecture Australia at the time.
Timothy Moore: How do we view public space in the twenty-first century? I think it's clear that the public face of our cities is representative of how we are seen as a society and it's also the most important gathering space for social interaction. But the public realm has undergone significant pressures through shifting capital investment, shifting stakeholders and rapidly changing technologies.
Michelle, a lot of your work is looking at the public interface of architecture, specifically projecting to the future. I wonder can you define the civic realm in the twenty-first century and its importance to the function of the city?
Michelle Tabet: It's a really difficult thing to pinpoint because so few of our spaces end up being solely civic. So many of them are – not tainted, but augmented, let's say – by commercial spaces or completely overtaken by the shopping mall, for example. I feel like we've lost the sense of what civic is. If you look at ancient civilizations, they built civic spaces that said, this is what we mean as a society, this is what we mean as a culture and this is a space that embodies it without any other kind of competing use.
TM: Tory, you're currently looking at the Gold Coast cultural precinct and you must have a strong vision of what this civic space will mean for the Gold Coast.
Tory Jones: Well, the Gold Coast's predominant public space is the beach. And the way the city has grown, it is this polycentric urban form and that's an asset but also one of the difficulties in bringing coherence to the city – there are many disparate interests and initiatives pulling the Coast in every direction.
A lot of people say, you're not a traditional city with a centre founded around a port or an industry or a seat of government, so why would you want to build a public square, a single civic space to come together in? And we agree, but at the same time there's an innate natural yearning for people to have a central and more formal place that makes visible the creative and cultural activity of a city.
TM: But I'm interested in who's driving … because you said people are yearning for this, so where are these voices coming from?
TJ: Everywhere … there's a sort of morphic resonance that it's time for the Coast, from the new start-ups – like these groovy chicks Rabbit + Cocoon, who have got together in an old warehouse space and are setting up artist-run studios – to the current mayor who is championing the need for a cultural heart and the opportunity to showcase our cultural substance to the world when we host the 2018 Commonwealth Games. There's this sense that there's lots ofcreativity on the Gold Coast but without a powerful arts core there's something missing.
TM: When you sit down and think about a future square, what kind of issues do you come up with, especially in dealing with a country like Australia? The culture has changed to these grand civic spaces and the stereotype is of a piazza, but I think we think quite differently as a generation and also as a country.
Donald Bates: We were based in London when we did the competition for Federation Square back in 1997 and we were interested in the project because it wasn't a singular thing. It wasn't just an art gallery or plaza or public square. It had a multimedia centre, it had a large public space, it had a covered public space, it eventually had an art gallery, it had a whole range of features.
The idea that you designate something as public space and then go there to do public things is not actually what public space is about. Public space is about interacting with the adjacencies and interstices of daily life. Going to get a coffee while buying a book while going to a gallery while meeting somebody to go to the football is much more relevant than the compartmentalization of life into high culture, low culture, middle culture, daily life, commercial life, non-commercial life.
So at Federation Square we tried to embed the public plaza within a grasping hand of cafes, restaurants, retail spaces and so forth, to accommodate everything that we do daily – cultural, commercial and civic simultaneously.
TM: And what has surprised you when you've gone down to the square?
DB: I have one image that I always show, about four months after it opened, at the beginning of a worldwide series of protests against the invasion of Iraq. We were asked to design a space that would hold seven thousand people, and on that day in February 2003 there were thirty-five thousand people in Federation Square. That image where the architecture is totally submerged in a sea of bodies is an incredible thing for an architect to see.
TM: Peter, Brisbane markets itself as a new world city as well as a frontier town, and I wonder how you would rate its civic nature or public realm. Can you draw in some historical examples of what you think is successful in Brisbane?
Peter Skinner: I'd like to start by differentiating the face from the space. I think if we were talking about the public face of Federation Square, we would think about the cladding and the form of the buildings, but if we think about it as public space, we think of it as an open area interconnected with the lanes and the streets of Melbourne.
Brisbane spatially is very tough. It's a constrained CBD, we've got streets that are one bullock cart wide and there's very little we can do with it. But the South Bank zone has given us a space where we can look back on the city as well as being part of it and it's been very successful. It's a lovely thing about Brisbane that just for the moment we've got an urban structure that is memorable and intelligible.
The freeway is one of those terrible bits of 1970s American problem-solving, which acts as a girdle to the city. The area that now needs working on is the part underneath the freeway where people come down to the river.
MT: I'd like to add to your point, Don, about public space as a kind of interstitial space between all these different activities. There's that opportunity for it to be protest ground – I mean, who's going to stage a protest in a Stockland shopping mall? That's just not going to happen. So this is our voice space. And I think that's an incredible differentiator, you've set the bar way up here, when a lot of the public space that has been created is in this shopping mall artificial environment.
PS: It's an important issue globally, the challenge of our time, really. We've been through building booms where people were building faces, they were building brandable developments for sale, but the public space was left behind.
My cousin's in Dubai trying to put together management structures to link and service the separate titles within towers there. The issue that was discussed at WAF in Singapore was the development of Chinese cities where the developer has control of the built form but the public space reverts to a government that has little interest in maintaining the quality of that public entity. It's a big problem in the globalizing world.
TM: Not only is it a cultural imperative that we have a great social realm, it's also an economic imperative because cities are so competitive today. Donald, what's been your experience with this?
DB: I'm one of these people that come from outside and suddenly become the biggest advocate. In the fifteen years that I've been in Melbourne, they finished the Exhibition Centre and added on the convention centre. They completed the casino, they built the Melbourne Museum, Federation Square, the Immigration Museum, they redeveloped Hamer Hall and the NGV on St Kilda Road. There are others I could go on about … the MCG, the redevelopment of the tennis centre, the Docklands Stadium and so forth.
The strategy is to recognize the inherent benefits in the long term of creating identity. You know for the last twenty-five years it's been city against city, not nation against nation. So Melbourne is competing against Singapore, not Sydney. Melbourne is competing against Buenos Aires or Bilbao.
MT: Just to be fair, Adelaide is not quite competing with Melbourne.
DB: I was doing a talk in Perth some years ago and I was stupid enough to offend two cities simultaneously, because we were describing Melbourne and a journalist asked me, what do you think about Perth? And I said, well at least it's not as boring as Adelaide.
So Perth was upset and Adelaide, you know.
PS: I'd like to disagree with Don here. There are some great things that Melbourne does, but I think what you described is nothing to do with Melbourne really, it's just the standard kit of parts. If you look at any city in Australia it's got an airport, it's got a rectangular stadium, an oval stadium, an art gallery, an exhibition centre, a convention centre. It's the kit of parts that every city has and the reason they all have it is that the infrastructure is paid for from the superannuation funds and for them it's a safe bet.
MT: But how you weave the story around it is …
DB: I went to school in Houston and you're right, they all have the same kit of parts. The problem is the football stadium is twenty-five miles out of town, surrounded by a sea of parking. The convention centre is on the bad side of town that nobody goes to except by taxi. The art gallery is located in a posh area that nobody can get to except in their Mercedes.
PS: I don't want to bring the tone down but in Queensland just in the last month we've lost continuity of vision. Margaret Thatcher famously said, "[T]here is no such thing as society. There are individual men and women, and there are families." And I think our current government believes there's no such thing as the public, there are only individuals and companies.
For the last 153 years the government has had an architectural service responsible for designing, giving leadership across the state and maintaining our historic buildings. But in the last two months around 350 people in Project Services have been getting slips of paper. A few of the architects have been offered positions as project managers but basically the government commitment to public architecture in Queensland has been gutted and we'll soon see the results.
After the federal [Building the Education Revolution] program, Brad Orgill, who led that program across Australia, did an analysis of over three thousand education buildings. He found there were huge problems in Victoria and New South Wales, where architectural services have been outsourced, because there was no-one left in government to successfully control the procurement of buildings with powerful contractors.
TJ: Peter touches on a really important point about having the informed client rep within government to help shepherd through good design. This crowd will have heard Timothy and others from Donovan Hill regularly speak about the challenges in a procurement sense associated with the design and development of the State Library. The wonderful civic place that resulted is a miracle and a testament to strong design philosophy about collective space and civitas that carried the vision through the complexity of the contractual arrangements and the procurement.
MT: It's fascinating that we're talking about how a public space project like the library implies the existence of a civil society that it's responding to as a client. It's a very diffuse and distributed client, very plural, very hard to pin down, but we're talking about mechanisms to protect that voice in the public interest and that's what the government architect does so well, and the Integrated Design Commission.
In contrast, you've got places where the idea of a civil society is just not there. I've spent a lot of time in Beirut, for example, and they've been trying to redevelop their heritage fabric that was destroyed during the war and their major public square for the past, what, twenty years? And because the civil society client doesn't exist in the shape and form that we expect, it's a very difficult process. Whose voice do you listen to?
PS: Change comes from people who observe their environment and work with it. Our subtropical status is very important and I'm thinking back to some of the social spaces that we no longer have. The first- and second-storey verandahs that ran down Queen Street, where people ate and drank outside and looked over the street and at people on the other side of the road, like a theatre, you see traces of that but as a civic continuity it's no longer there.
People still love public space. If you go to the Suncorp Piazza any evening you'll see groups of young kids dancing
their guts out. They just take the ready-found auditorium and turn it into their place for the evening. And you know the most simple public place we keep forgetting is a tree, a spreading tree. So many people will go to eat, drink, get married underneath the spread of a Moreton Bay fig and yet we're losing them from our city. I think people who are passionate are the people who make changes.
The AA Roundtable series is presented in partnership with ISIS. AA Roundtable 08 was held in Brisbane on 11 October 2012.
Source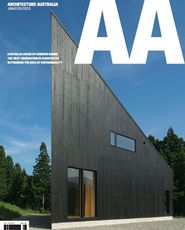 Issue
Architecture Australia, January 2013
Related topics