Stradbroke Beach House began life as a humble, make-do fibro shack on a (not surprisingly) windblown knoll on Stradbroke Island. The beach house set falls pretty neatly into two camps: devotees of luxury and its accompanying widgets and gadgets, and those who enjoy the idyllic sense of simpler times. Both conditions are patently evident on this beautiful and fragile sand island within a ferry ride of Brisbane. Grand formalist structures make their presence felt on prominent spots, while some woefully ill-conceived developers' dreams besmirch others. But generally there's a lightness here, a modesty of scale and an unpretentious eclecticism that harks back to the days when owner-built shacks came over on the barge, piece by piece, for weekend enthusiasts to cobble together over time.
With clients whose feet are firmly planted in the second camp of beach house politics, Quirk Architecture's Sarah Briant was briefed to establish an enduring dwelling for a family of five that would serve them through generational change. The original cottage was unsalvageable, but its notions of simple shelter and robustness are channelled in the new incarnation, as is its humble materiality.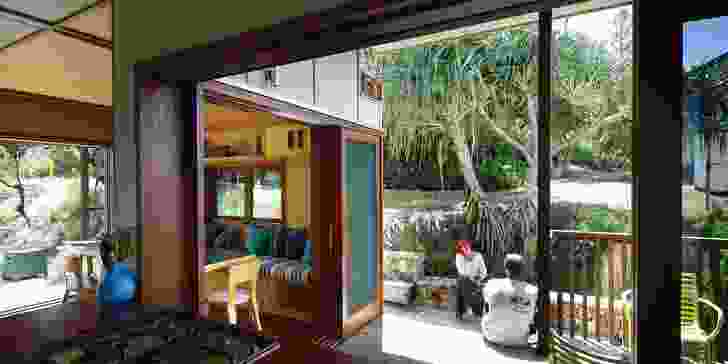 An in-depth and enjoyable dialogue between architect and client had begun some years earlier when Sarah designed new spaces for the family's Brisbane home. "The level of client involvement continued in conversations about the beach house over a six-year period of collaboration," says Sarah. "It was an intense way of delivering a project, but a great opportunity to re-engage with an informed client."
The steeply sloping site is one of the island's prize locations and the name Point Lookout says it all. To the south, Home Beach stretches to the horizon in an arc of white sand and turbulent water. On a clear day the towers of the Gold Coast are visible in the distance. On many others, migrating humpbacks put on a show closer to home. Inland, protected dunal scrub appears pristine and uninhabited, while looking east to the Coral Sea, the more protected waters are a strip of vivid blue.
With the prevailing winds whipping up from the south-east, the house turns broadside to the weather. The 8.5-metre-high wall is punched with batten-down apertures and a significant light-filled stairwell that allow for the magnificent view from three levels. The wall is chiselled into a sharp point at the western corner, before shearing off to the living spaces tucked into the protected northern landscape. The point was indeed a point of discussion between Sarah and clients – to square off or not to square off the corner, to follow the site's geometry to a T or not. The point was favoured not just for its quirkiness and redolence of jaunty beachside forms, but also because it afforded some extra stretching of walls and windows inside, and some more capturing of breathtaking views south.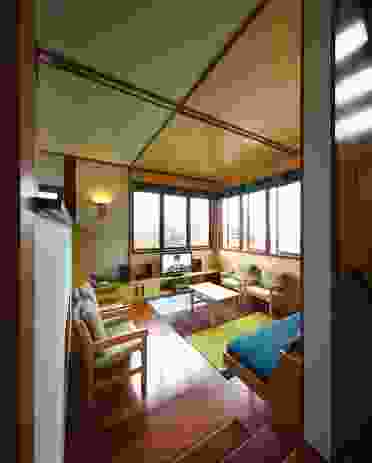 A series of protected courtyard spaces nestles into the vegetated slope on the north, trapping sunlight and breezes. These leeside rooms are also key to the entry sequence. Arriving from the street above, there's a post-beach ritual established in the landscaped paths that guide visitors through an outdoor shower pavilion, past a laundry-cum-surfboard cupboard and onto the deck that substitutes as a front door. Living spaces flow from here, with sleeping boxes set to the side and above.
The grounded courtyard spaces are pivotal to the ethos of casual relaxation. More is to come in the democratic, communal nature of the bunkrooms, the shared bathrooms (ensuites are eschewed) with their cut-down doors, and even a public sleeping box suspended in the stairwell. The humble fibro exterior and ply interiors also do their bit for informality. Boltholes for private escape (a whale watch tower for cocktails en plein air, a poop deck for morning coffee and a sunken lounge) knit into the varied levels afforded by the site's natural contours. Far from behaving like a sampler of parts, there's an easy connection between levels and spaces here. And there's still enough delightful willy-nilly and whimsy to declare that the place is about holidays, fun and days of lazing on the beach.
Products and materials
Roofing

Trimdek, Colorbond finish.
External walls

CSR fibre cement sheeting with clear protectant; beech cover battens.
Internal walls

Plasterboard, painted; hoop pine plywood, finished with Intergrain Ultra Clear.
Windows and doors

Darra Joinery New Guinea rosewood window frames and bronze mesh screens; Greyglass.
Flooring

Tongue-and-groove red ironbark, finished with satin polyurethane; Regupol recycled rubber sheet; Arden Architectural Staircases red ironbark stairs.
Lighting

Lumen 8 recessed fluorescent; Lumascape exterior lighting; copper lights designed by Quirk Architecture, manufactured by Laws Laser; copper pendant light from Retro Moderne.
Kitchen

Concept Stainless stainless steel bench and sink; Luke Bland timber bench, clear finish and plywood cabinets; Beacon tapware; Highlands cooktop; Gaggenau oven; Miele dishwasher; Leibherr fridge.
Bathroom

Concept Stainless custom sink; Britex stainless steel toilet pan; Caroma in-wall cistern; Beacon tapware; Aeria tiles.
External elements

Green Element landscape construction; stone wall by Michael Bulloch.
Other

Upholstered built-in seating designed by Coop Creative, fabrics by Verde Agency; cabinets designed by Coop Creative.
Source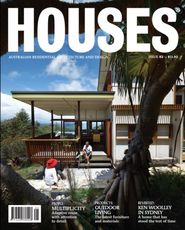 Issue
Houses, October 2011
Related topics