When a simple project can be seriously considered in a wide range of categories including Small Projects, Residential, Heritage, Interiors and Sustainability, you know you have an architectural gem.
The creative and sensitive conversion of a 170-year-old stone barn into a compact but exciting contemporary residence is a superb example of how to reuse old building stock.
The texture and warmth of the existing fabric of stone and timber have been retained and restored, while new insertions for modern living are clearly defined and well crafted. Technical problems such as retaining the battened ceiling but adding necessary insulation are handled with skill, in this case by the insertion of an internal steel frame to support a new thin insulated roof.
Material and objects from the old building have been recycled and skilfully integrated.
The richness of the past combines easily with modern fittings to form a compact two-level home. The addition of a front porch with glazed roof adds light and warmth to the interior but is clearly separate from the original structure so as not to challenge the strong external form of the barn.
Sustainable credentials are reinforced not only by the economical reuse of the historic fabric, but also by the clever planning that shows how a rich, practical home can occupy a small volume.
For such a small project, the Strangio House demonstrates on many levels a positive future for creative reuse.
– Jury citation
Source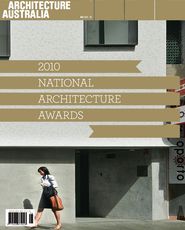 Issue
Architecture Australia, November 2010
Related topics