Building an interior design studio is not an easy thing to do. In tough economic times, media coverage, winning awards and understanding and communicating well with clients are all vital elements in the progress of a design business. For this fifth session of Artichoke Night School, three guest speakers – Michael McCann from Dreamtime Australia Design, Sam Davy, brand director at Crumpler, and Angela Ferguson from Futurespace – discussed the ins and outs of the subject.
Famous for hospitality interiors including Flying Fish, Pony and Victor Churchill, McCann spoke about how media exposure and winning awards have helped his design studio and, in particular, about the importance of a good photographer. Davy spoke about the shift in his own career from designer to "client" at Crumpler, acting in this role in the creation of the new Melbourne and Sydney Crumpler stores, designed by Ryan Russell of Russell and George (featured in issue 36 of Artichoke). Ferguson, whose studio, Ferguson Design Studio, merged with Futurespace, spoke about its passion for workplace interiors – including its most well-known project, Google – and how to manage a growing practice.
During the panel discussion, moderated by Artichoke editor Penny Craswell, more tips, tricks and differences of opinion revealed that while there may be more than one way to run a design business, in the end it all comes down to people. This includes getting your name out to the wider public, building relationships with clients and managing staff. This Artichoke Night School was the first in an ongoing collaboration with Space. A report of the Brisbane event appears in Artichoke 38.
The Artichoke Night School series is presented by Artichoke magazine in partnership with Space Furniture. Night School No. 5 was held on 27 July 2011 at the Space Sydney showroom.
Source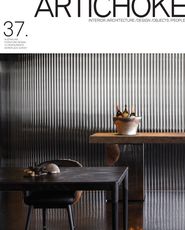 Discussion
Published online: 1 Oct 2011
Images: Neil Fenelon
Issue
Artichoke, December 2011
Related topics